musings from the studio and beyond ~
dawn chandler's reflections on art and life. . . .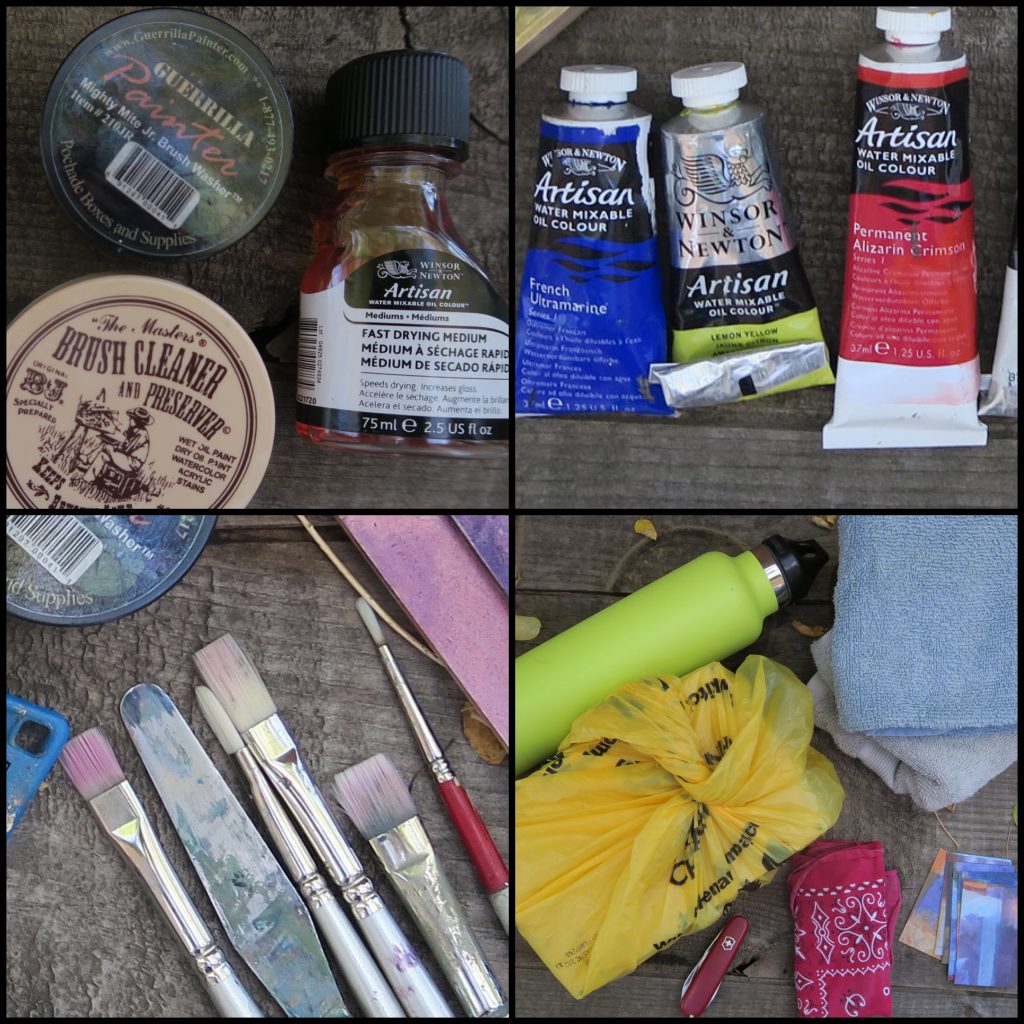 Before I share the mechanics of painting my little New Hampshire scenes, perhaps I should spend a bit of time talking about the [cool] tools of a traveling painter.
This was the first time I traveled by plane with tubes of oil paint, and I wasn't sure how that would go with TSA. Online research indicated that most artists have no problem checking a bag with oil paint, as long as certain packing precautions are taken. I decided Winsor & Newton water-mixable oil paints would be a pretty safe bet with the TSA. Plus, they would be much easier in terms of clean-up after a painting session, since you can use soap and water. (Crazy, huh? Read more about water-mixable oil paints in my post from a couple years ago.). When I packed up the paints, I double-bagged them in zip-lock bags, with printed labels that  stated clearly: WATER-MIXABLE ART SUPPLIES, and included the manufacturer's statement that they are non-hazardous and safe for air travel
I ended up checking two bags: One with my clothes, and the other, a medium duffle with my art supplies and hiking boots.
Because this trip was more about spending time with family and friends, and less about solitary hiking and painting, I decided to bring my day pack (rather than my backpack) and my small paint box. The day pack would be my carry-on bag/purse as well as my pack for short hikes and plein air sessions.

I own two Guerrilla plein air paint boxes, and both which I just love. They are incredibly well-made and sturdy (hat's off to Carl Judson, modern-day rancher turned Guerilla plein air painter, who thought of everything when he designed these boxes). My larger box is relatively bulky and heavy as it accommodates paint panels up to 9" x 12". For excursions with this box, I use my backpack to carry it.
My small Guerrilla Pocket Box is for 5" x 7" panels and fits easily into my daypack.
My daypack, by the way, is a Patagonia Refugio Backpack 28L. (When not painting, and just ambling around town from cafe to cafe, it has a large padded sleeve for a laptop. The newest version of the pack now has an extra exterior pocket for travel documents which is such a frickin' cool addition that I'm dang tempted to buy a new pack just for that pocket!)
For my painting surface, I use Ampersand gessobord, which I have pre-stained back in my studio with a couple of layers of Golden acrylic paint (remember you can paint with oils over acrylic, but you cannot paint acrylics over oils). Lately I've been staining them a warm purplish (varying combinations of burnt sienna, burnt umber, dioxanine purple and ultramarine blue), which adds a nice undercurrent of warm shadow as I develop the paintings.
Contained within my sweet little pochade box is all that I need to paint a masterpiece (…except, umm, skill….. which comes much less easily…. ). Here's the list (asterisked items are discussed in more detail further down)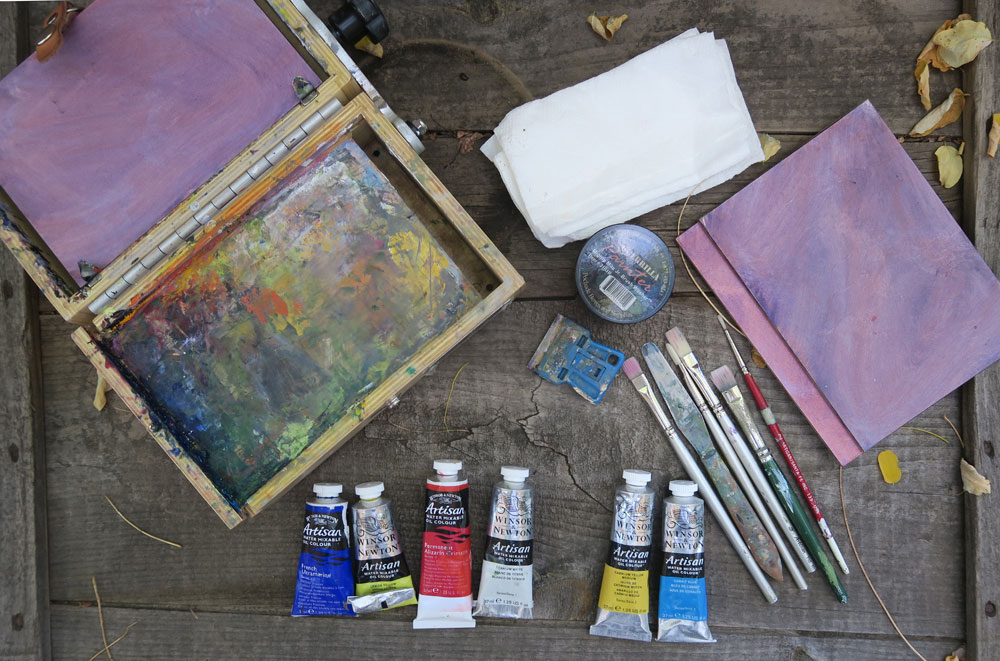 COOL TOOLS OF A TRAVELING PAINTER
IN THE BOX

— 2 – 3 Ampersand stained gessobord
— paper towels cut into 1/4ers*
— vessel for painting medium with secure top
— mini palette scraper
— assortment of brushes*
— palette knife
— pencil*
— 4 – 6 tubes of paint*
ADDITIONAL ART SUPPLIES:
— painting medium*
— brush soap*
— wet painting carrier*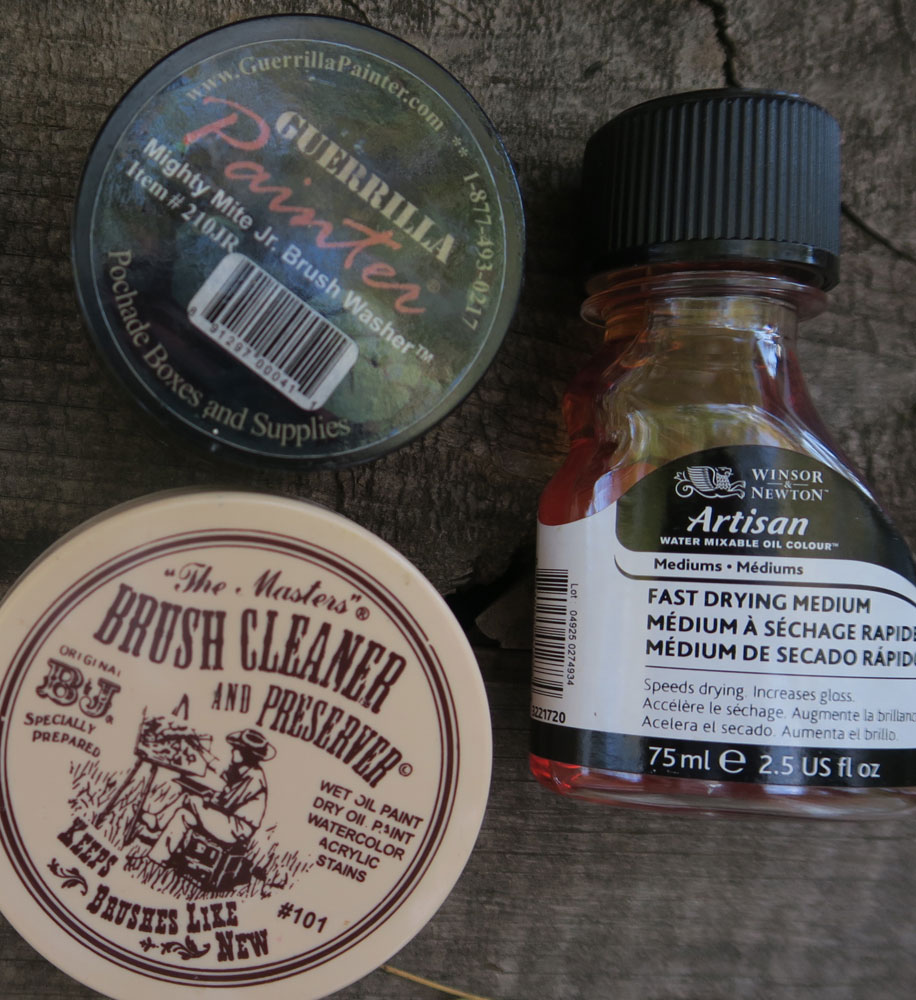 ALSO IN MY PACK…
— plastic bags*
— 2 small towels or large rags*
— water bottle
— pocket knife
— bandana
— TP
— business cards
— sketchbook & pen
— snacks
—  tea/coffee thermos
— wallet
— camera
— glasses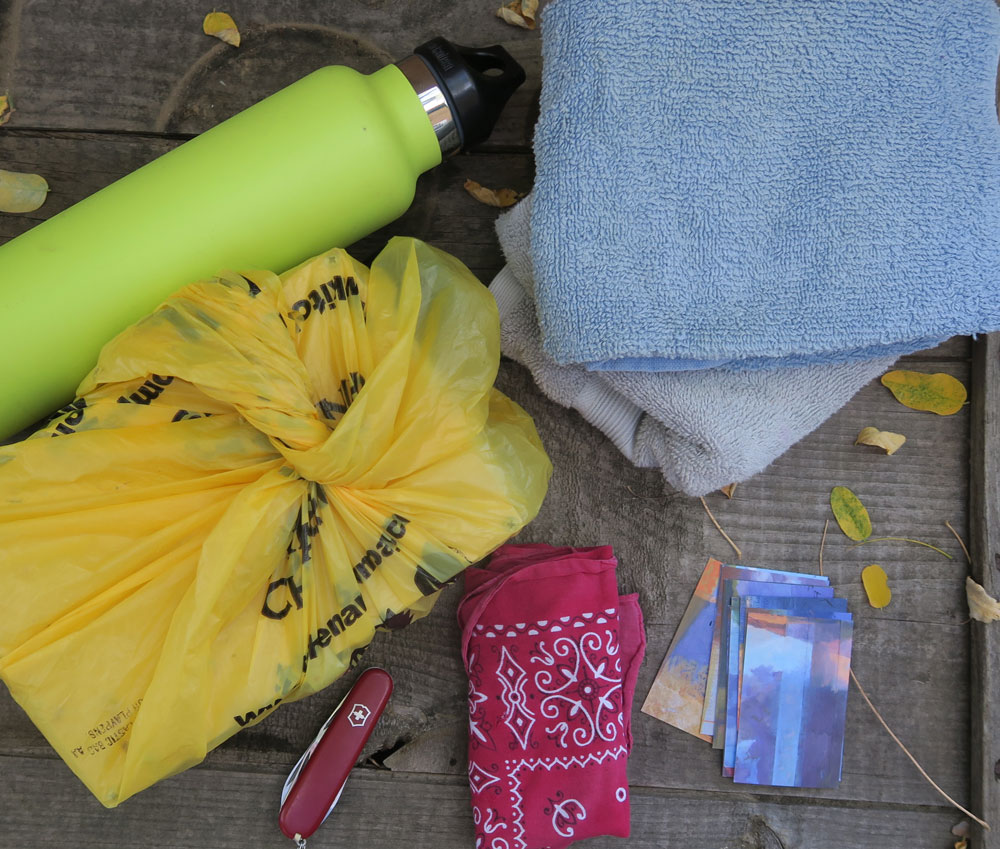 COOL TOOL DETAILS:
paper towels cut into 1/4ers — for wiping my brush off, which I do all the time when switching between colors. Also for use when occasionally wiping out a section of the painting. When painting, I have my brush in my right hand an a folded piece of paper towel in my left. I find small pieces of paper towel much easier to wield
assortment of brushes — I brought 4 and only used 1 — the one farthest on the left. (Actually that slender red-handled one is a renegade; I had not brought that one with me, but will next time, for fine details like tree branches.) Although you can't tell from these pictures, I have sawed off the handles of these paint brushes so they; fit in my pochade box. While you can buy brushes custom shaped to fit, I prefer my usual brushes. (My current favorite is a Silver Brush Bristlon Synthetic Bright #4.)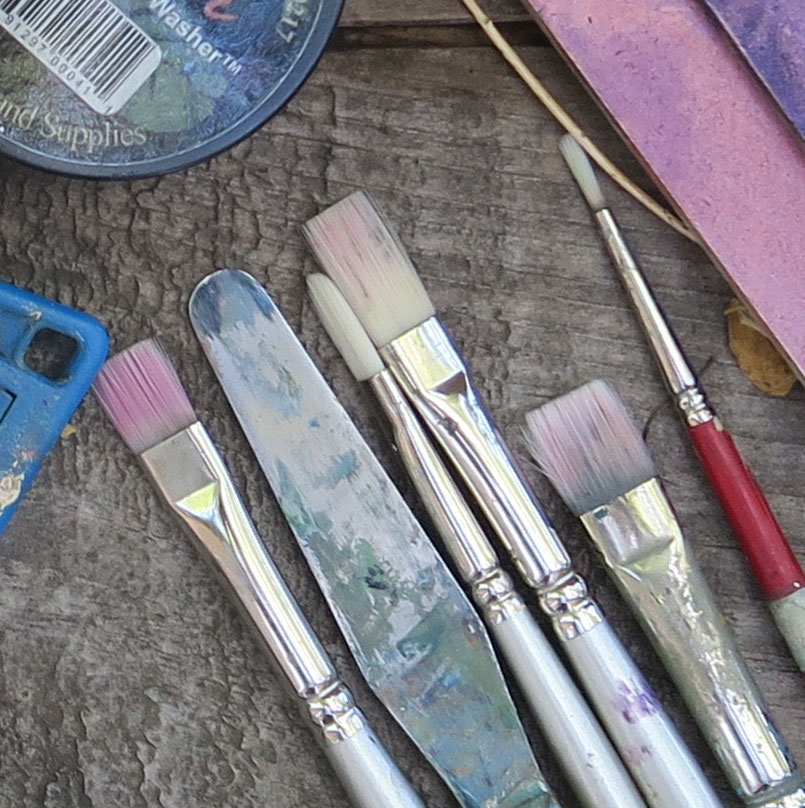 pencil — for sketching the basic preliminary composition on the panel (though I never did that this trip), as well as for scratching my signature into the wet paint once the painting was deemed finished.
4 – 6 tubes of paint — doubtless the items of most interest to the painters among my readers.
Because this pochade box is so small, it can carry only a few tubes of paint — making these sessions the PERFECT excuse to paint with a limited palette. The first time I used water-mixable paints my limited palette was Alizarin Crimson + Ultramarine Blue + Cadmium Yellow Medium + Titanium White. I found the Cad Yellow Medium made the greens a little too acrid, so this time around I brought some Lemon Yellow, which, when mixed with Ultramarine Blue, would make for more a cooler, richer green. I also brought a tube of Cobalt Blue, just because I had it — however, I never used it. For the first four paintings, I only used Alizarin Crimson + Ultramarine Blue + Lemon Yellow + Titanium White. (Eventually I did pull out the Cad Yellow Medium, for reasons to be explained when I share that painting a few posts from now.)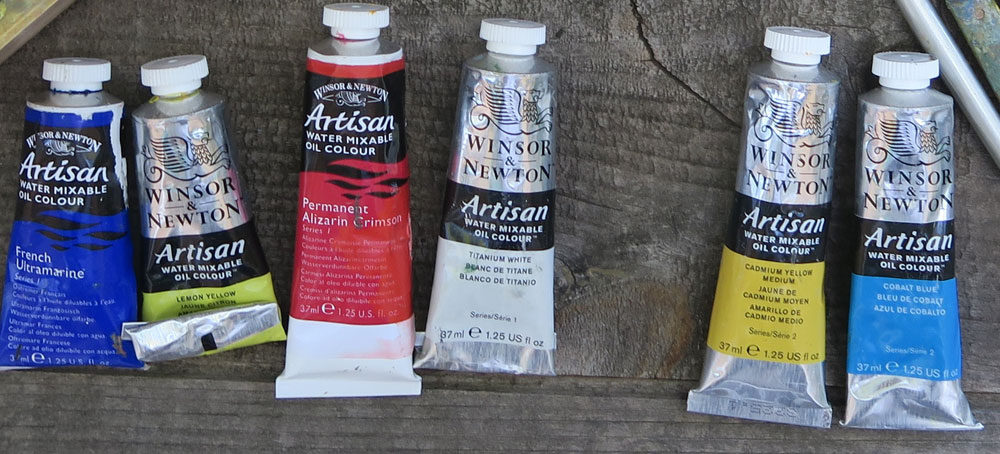 painting medium — ultimately I decided I neither like nor need the medium for water-miscible oils. The paint was smooth enough that the colors mixed just fine without it, and the medium itself was just too sticky for my liking. Mind you, when I paint with traditional oils, then I do like to bring along a small vessel of Gamsol, which I do use fairly frequently when painting.)
wet painting carrier — how else to get paintings home? This model was made by Guerilla and, I believe, is no longer available. Rather, they now sell cardboard carriers (I just ordered some). They also make wooden carriers that are beautifully crafted and extremely durable; worth the price.
brush soap — used it once on this trip; after that I just used dish soap.
plastic bags — at least two: one for my paint box, when it's in my pack, to protect the pack interior from rogue paint splotches; the other for dirty papertowels
2 small towels or large rags — for when I'm sitting to paint: one to place on my lap, so that that paint box doesn't slip around, especially if I'm wearing hiking pants made of slick microfiber; the other to sit on if where I'm sitting is damp.
Get all this together, load your pack and… You're ready to get out there and do some paintin'!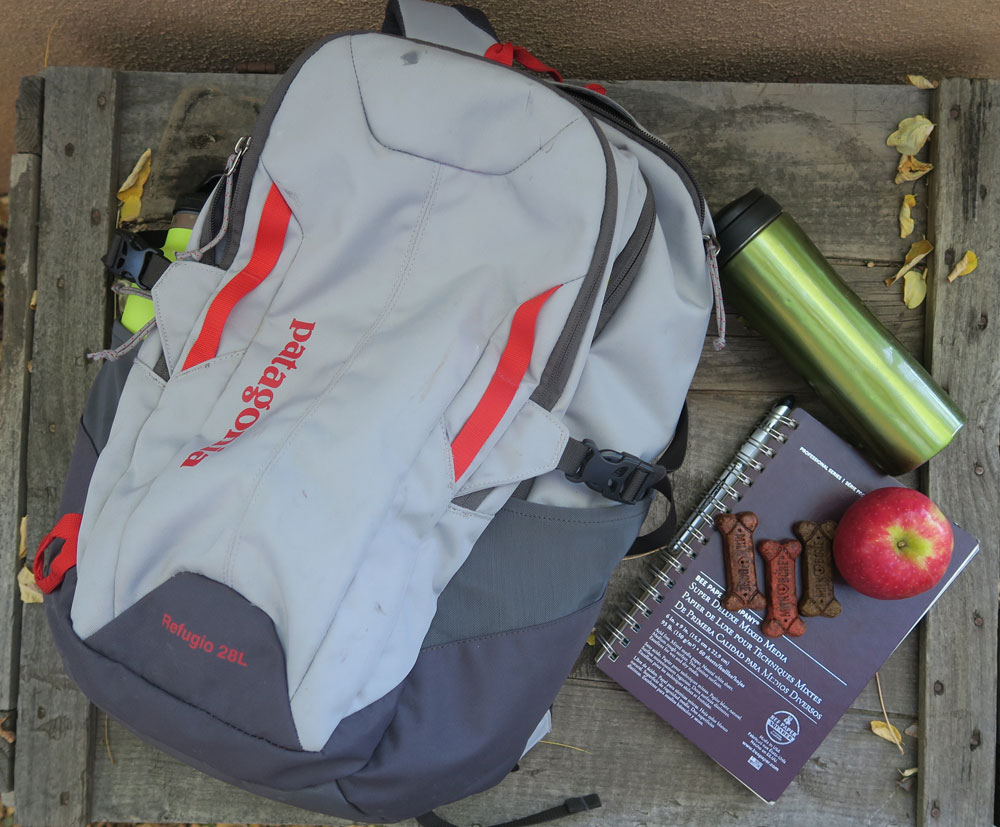 ---
Save
Links to Dawn Chandler's posts about her New Hampshire plein air painting trip below
cool tools of a traveling painter
of painting tidal rivers and tool sheds…..
of sunrise clouds and sunset boats….
of lakeside chairs, vermont gardens, & the contemplation of a new hampshire river….
Thank you for reading
---
Save
Save
Save
Save
Save
Save
Save
Save
Save
Save
Save
Save
Save
Save