"The answer is 'YES!' If you are asking me a question about your painting, the answer is 'YES'!"
His point being that most of his students are looking for permission to paint the way they want to paint — the way they've always dreamed of painting — but were too intimidated to try, too scared that the critics in their lives and in their heads might rise up in disapproval.
Which is why he handed out to each of us bracelets with the word PERMISSION emblazoned across them.
Three weeks later and I'm still wearing mine.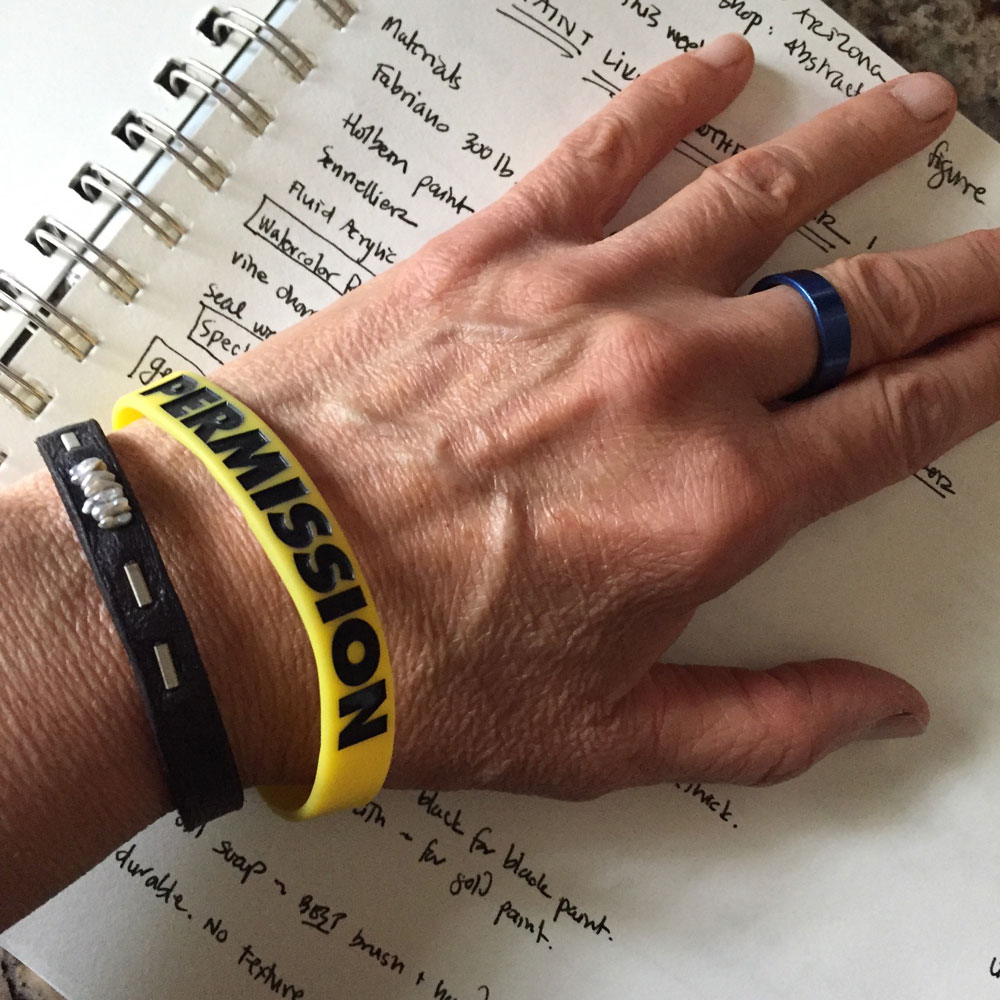 For me, the bracelet is less about permission to paint what I want to paint, and more about wanting to be reminded of the terrific energy of those five days in May being an art student again.
Earlier this year, when I decided to take an art workshop, I didn't quite know where to begin. I knew I wanted to be anonymous, and go with an instructor who was unfamiliar with me and my work. Beyond that I knew nothing. So I did what most people in this day do when they are seeking knowledge: I did a Google search.
A few minutes lost in the warren of Goggle, and eventually I came to the Sedona Art Center, where I spotted a 5-day "Artist Retreat: Abstract/Figurative Workshop" taught by Robert Burridge.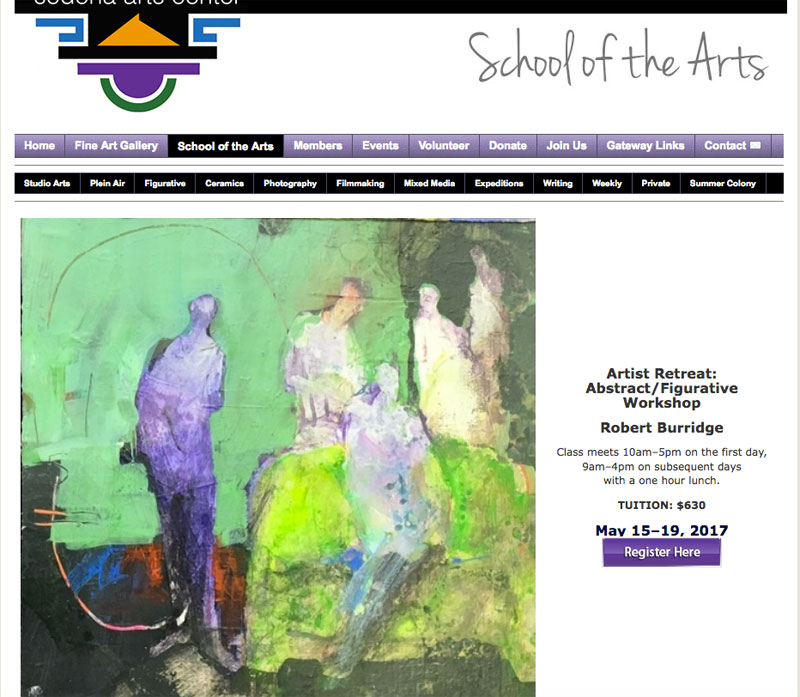 I was vaguely familiar with Bob Burridge, and his expressive semi-abstract paintings of figures and color-rich still lives and florals. There have been a lot of knock-offs of his style, but his work is strong, and overall I rather like it.
I also knew — or had heard rumor — that he was known for having a bit of an ego, as well as a ready throng of followers of "women over a certain age." (I wondered if that weirdly qualified me….) More to the point, his classes were known to be energetic and engaging, "with lots of great handouts." I signed up.
You might be wondering why
an artist mostly focused on landscape would sign up for a class focused on the figure. The truth is I've always been interested in the figure, it just hasn't been the focus of my work for many years. But back in college, drawing — particularly the nude model — was my strength. I even inquired about majoring in figure drawing, but a drawing major wasn't offered (the thinking being that ALL artists should be masters of drawing).
Café and airport doodling have always lead my eye and hand toward noting the people around me. And few years ago, I created a number of mixed media paintings incorporating photos of figures, many of them sculptures of solitary women.
Rarely, though, is there a figure in my landscape paintings. But whenever I have included figures — almost always quite small, seen from a distance — patrons and fans respond very positively. I suspect it's because the figure is an invitation for them to place themselves in the picture; to escape for a spell, more deeply into the vista, perhaps, than a straightforward landscape without a figure.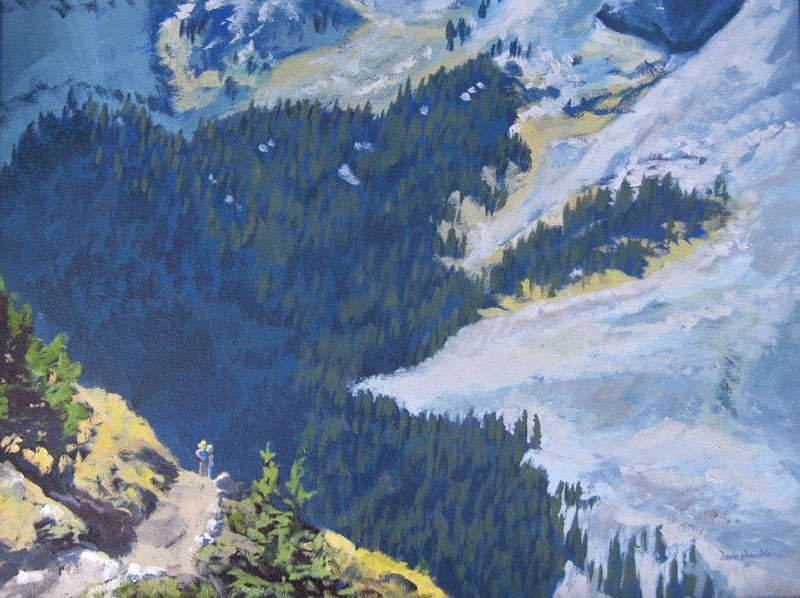 And then there's the fact that after a near 30-year hiatus from formally studying the nude figure, I started attending figure drawing sessions earlier this year.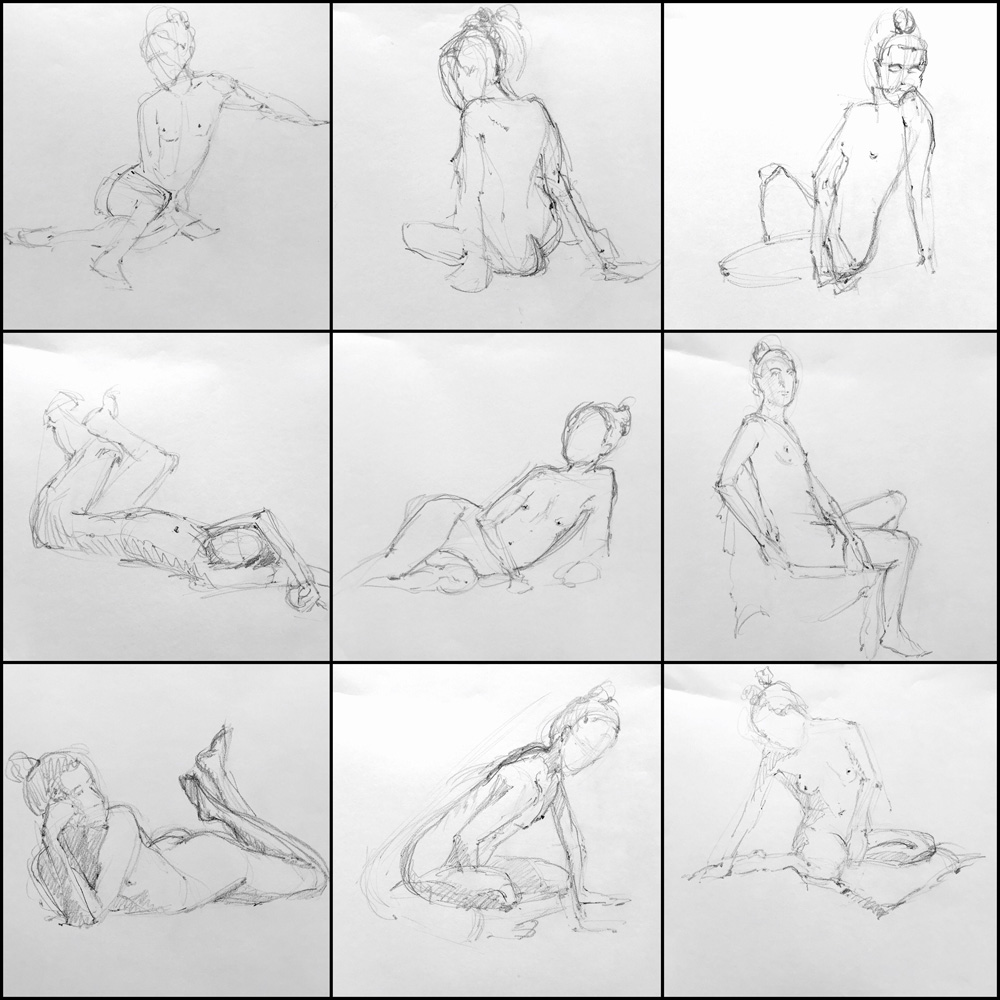 Lately I've been thinking of bringing the figure into my landscapes more, especially after I created this painting last year: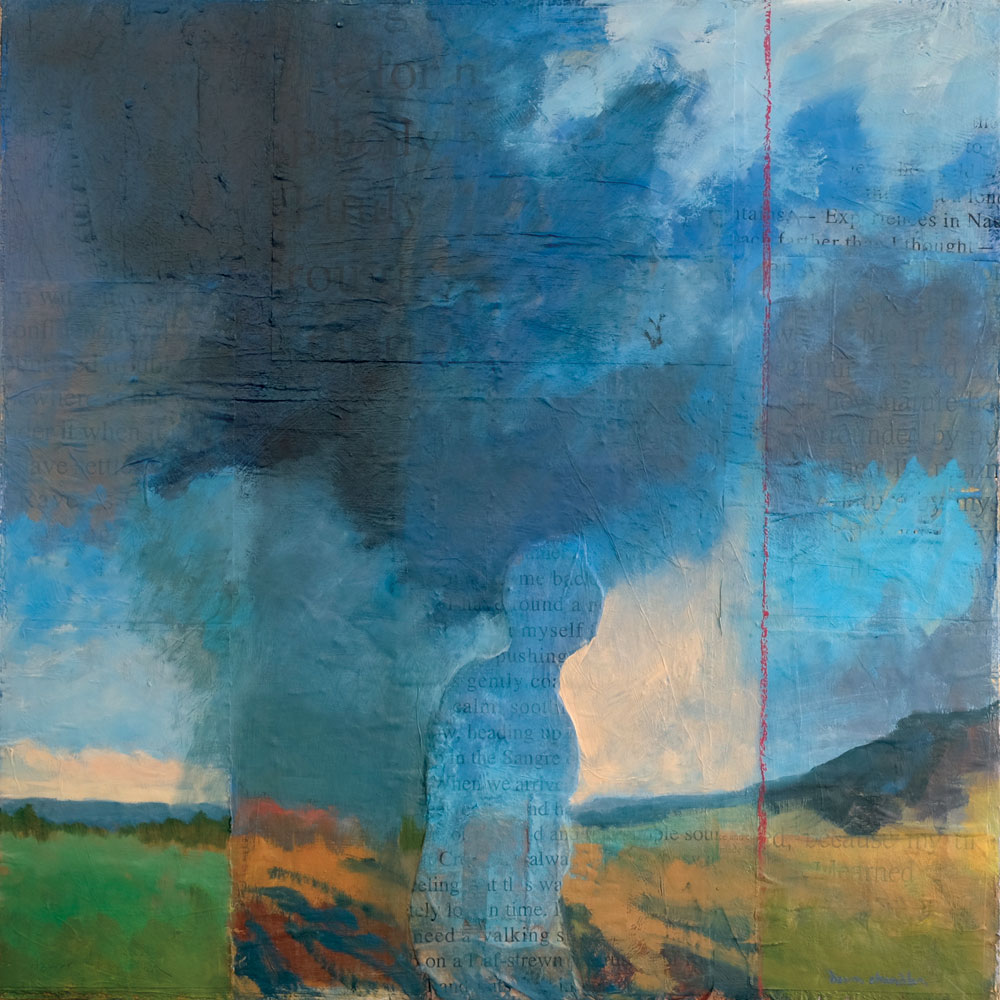 All this to say it really isn't such a surprise that I signed up for a class about abstracting the figure. Besides, I'm the kind of student who is just excited to learn darn near ANYTHING as long as the teacher is good and the class is engaging.
And so it was that twenty of us from all over the country gathered for five days of intensive, guided art-making in the beautiful work space of the decades-old Sedona Art Center. Of the students, four or five of us were pretty advanced, while the others were less experienced, some much less so. Yet everyone had a palpable desire to learn, to stretch themselves. The energy in the rooms each day was buoyant and generous.
On day one, our first instruction from Bob was:
Write down what you want to get out of the class.
Write just a line or two. Do not write a paragraph. Do not be self-conscious. This is for no one's eyes but your own.
With a tip of the hat to Dear Sugar/Cheryl Strayed, I wrote this:

I just wanted to paint like crazy. What ever assignments he gave us, I wanted to create with abandon. To paint and paint and paint and paint. Without the distractions of household chores, office work, walking the dog and visitors and email and errands and news and all those other temptations that conspire every day to pull me from my work.
Further — more technically — I wanted to break out of the grid.
Look at any of my mixed media paintings — and especially my 'textual landscapes,' and there is a very definite underlying grid. There's another whole blog post waiting to be written on this subject. For now, suffice it to say I wanted to challenge my "usual" orderly composition style.
And finally, I wanted to play with color. For the past couple of years when working in acrylic, I've mostly used the same palette. I wanted to change this up — for a few days, at least — and play with new combinations.
Next came a discussion of materials, and why Bob insists on things like using Holbein or Golden paints (pure pigment = pure color = superb quality),  Utrecth gesso (it's smoother and thicker than other brands), Viva paper towels (they're incredibly thick and absorbent, and there's no quilted pattern to be accidentally pressed into your paint) and Murphy's oil soap for cleaning hands and brushes (great product, readily available, inexpensive)
Then on to concepts, and our first art exercise: value and thinking about light and dark.
When planning your painting, decide on lighting first.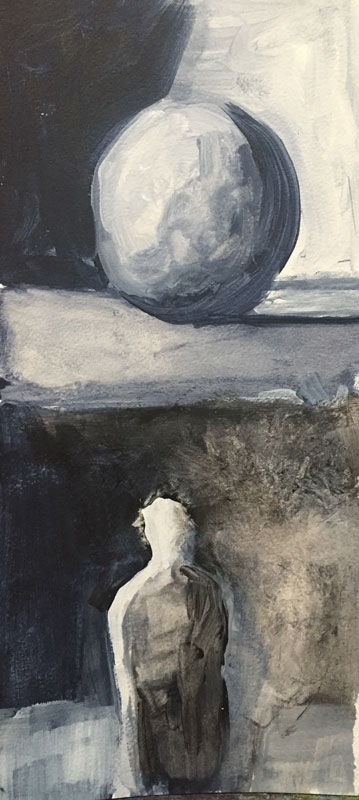 With the exception of certain materials, all of the concepts Bob taught were ones I was already familiar with — so familiar, in fact, that I take all of them for granted. But that's exactly why it was so cool to review them. Indeed, quite a few were things I simply hadn't thought about in a while — like color relationships or articulating the twelve standard design compositions for paintings.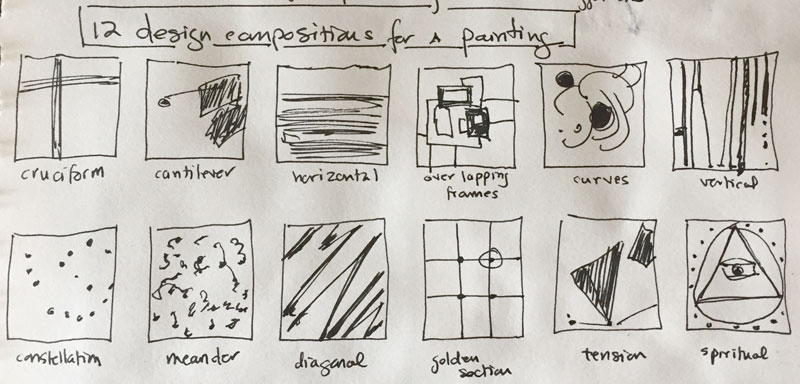 I delighted in the review, and took copious notes throughout.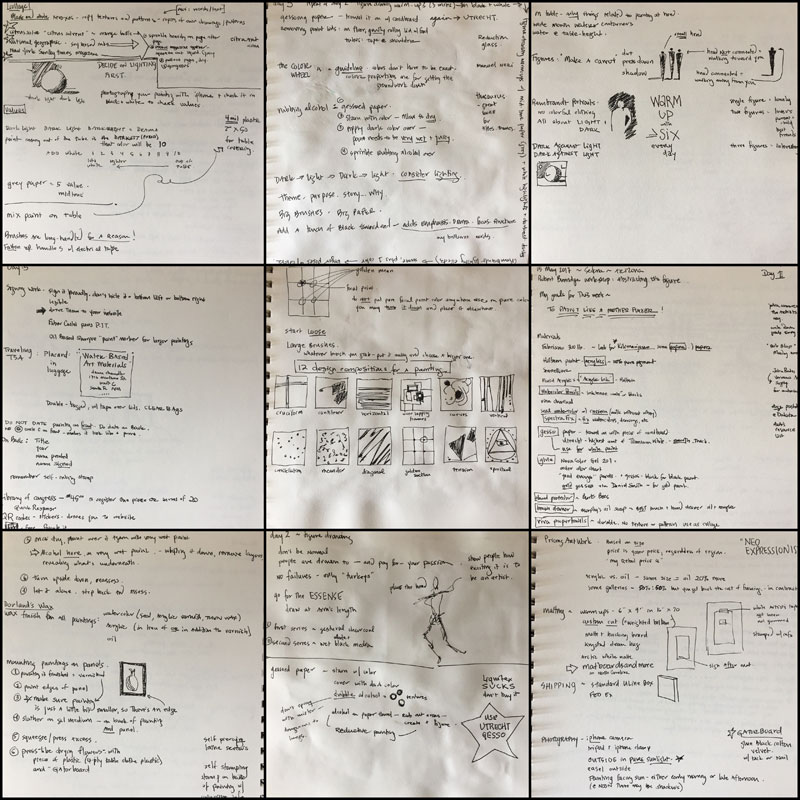 Ahhh, the joy of giving myself permission to be a student again. . . .
Save
Save
Save
Save
Save
Save
Save
Save
Save