faq: tuesday dawnings
Why are you creating the Tuesday Dawnings?
For two main reasons. One is that I've heard from a number of people who enjoy my work that they would like to hear from me on a more regular basis. And so this is a way to stay connected in a creative way with my circle of people who are interested in my artistic life.
But just as important, I've become deeply disturbed by the dark shadow that has been cast across the world of late. People are feeling more anxious, more out of touch with themselves, their communities, with Nature.
In no way do I think I have the answers to the worlds' problems. But I want, at least, to strive to be a source of joy if I possibly can be.
I want to strive to reflect light — not shadow — whenever and wherever I can.
I want to inspire people in my circle of connection to look around and notice the beauty that is all around — beauty and small delights that too many of us too often overlook.
And I especially want to inspire people to get outside in nature whenever they can and connect with, as Wendell Berry so eloquently put it, "the peace of wild things…. the grace of the world."
The best way that I know how to do this is by sharing some of the joy and light — some of the peacefulness and calm and wonderment — that I notice in the world around me.
How are the Tuesday Dawnings different from your newsletters?
Though they are somewhat similar in content — uplifting, artful, thoughtful with beautiful imagery — the Tuesday Dawnings are more condensed, digestible within a minute or two.
Also, my newsletter only comes out 3 – 4 times per year, while my Tuesday Dawnings come out weekly and are therefore more timely, especially in terms of my current creative projects.
How are the Tuesday Dawnings different from your blog?
My blog is where I go into some depth and detail about aspects of my art & life. The Tuesday Dawnings are much shorter morsels.
Are you nervous about embarking on the Tuesday Dawnings?
Hell yes I'm nervous! It's going to take a lot of effort and I have no idea if anyone will be interested in what I seek to share! But…
I'm doing it anyway. "When in doubt, go to the fear."
Does it cost anything to subscribe to Tuesday Dawnings?
It doesn't cost a thing to subscribe!
What if I subscribe but then decide the Tuesday Dawnings aren't for me?
You may unsubscribe at anytime!
What will I receive if I subscribe?
Upon subscribing, you will ….
— be whisked away to a welcome message from me (Dawn) where you'll find a link to my gift for you for joining my Tuesday Dawnings' community. That gift is my TaosDawns' Daily Practices for Cultivating Calm, Clarity, Curiosity & Creativity, which is a downloadable & printable guide filled with some of my daily practices, favorite books, useful tools and inspiring resources;
— receive each Tuesday a short and uplifting message from me filled with beautiful imagery, thoughtful words, glimpses of art, and other spirit-nourishing treasures I've found worth sharing;
— receive exceptional discounts and early VIP notice of special opportunities;
— be part of a special inner circle of friends and fans.
— be deeply appreciated!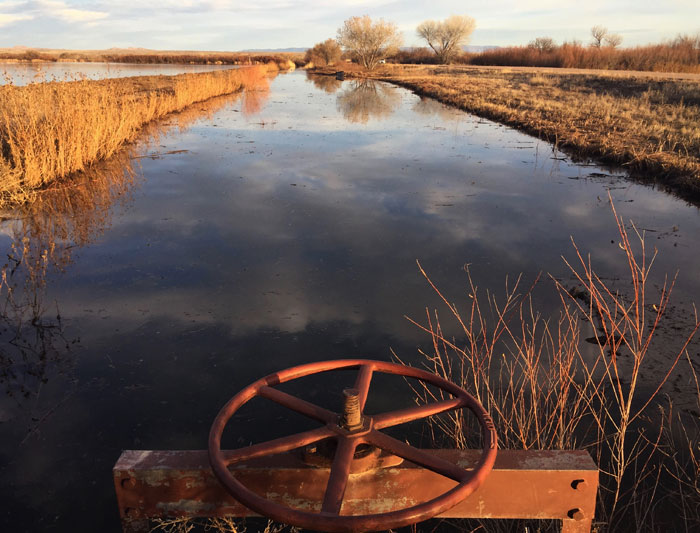 Late afternoon at New Mexico's Bosque del Apache National Wildlife Refuge. Photo by Dawn Chandler
so come ~ join me for tuesday dawnings! thanks so much — i hope to share a deep breath with you each tuesday!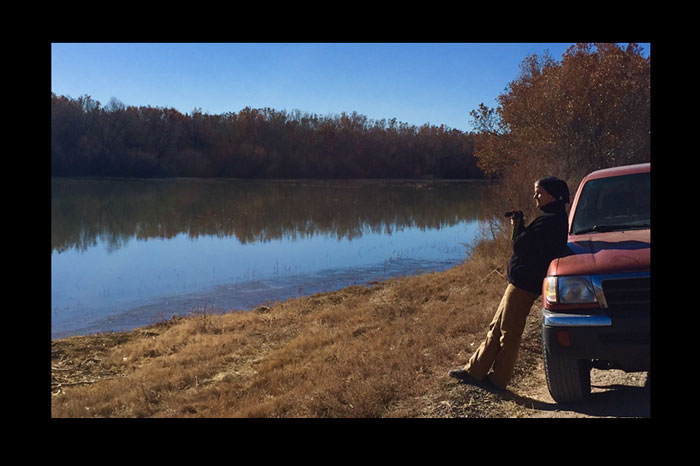 Tuesday Dawnings creator artist Dawn Chandler taking a deep breath of calm at the Bosque del Apache. Photo by Joseph Beman, ace photographer.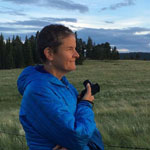 Dawn Chandler is an artist and avid outdoorswoman who celebrates life and her love of nature via her writing, photography and most especially through her traditional & abstract landscape paintings. She feels blessed every day to live in New Mexico, the Land of Enchantment. Learn more about Dawn & her story on her website at taosdawn.com. Dawn awaiting sunset at Philmont Scout Ranch. Photo by Mary Stuever.