The final installment of my August painting trip in New Hampshire…
Of all the scenes in this small New Hampshire tract where I spent a few days in early August, none captivated me more than a little corner between my aunt's tool shed and her guest house. Here, catching the forest-filtered light, are two metal chairs as old as I, maybe even older. They sit there as though conversing with each other under the tall pines. I think my aunt said she painted them with enamel paint some 40+ years ago, and still their color holds up. Every time I look at them I feel a little well of satisfaction at her artistic brilliance in deciding to paint one yellow and one blue. Their surprising jolt of color against the dark brown buildings and even darker backdrop of shadowy evergreens just make my eyes and heart sing.
Needless to say, I just had to try to capture them with paint. Because of that determination I finally pulled out my tube of Cadmium Yellow Medium — to get that yellow chair right — for the Lemon Yellow that I had been using for all my previous paintings is simply the wrong hue.
Funny thing is I don't know that I've ever sat on these chairs. Rather, I'm content to look at them, and appreciate their quiet invitation: Come, sit among us. Enjoy the company of another, whoever they may be, whatever they believe. You are family. You are safe here.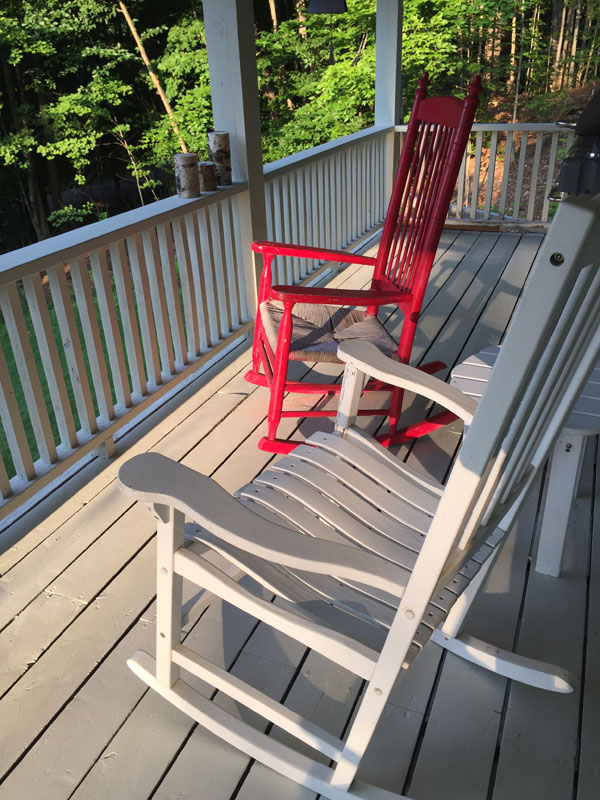 Three lakeside paintings now tucked in my wet-painting-storage box and I was ready to continue on my journey…
The following morning brought rain to the lake region …and me to Vermont. For if I'm going to go to the trouble to travel from New Mexico to New Hampshire, then I may as well drive the couple hours west to the Green Mountain State and check in with that part of my soul that's harbored there in the Les Monts Verts. Just a short visit though of two or three nights, staying in Stowe with my First Friend who is also the blessed owner of one of my favorite porches anywhere, ever.
And so it was there, from My Favorite Porch, on the second day of my visit, that I cranked out this little painting. All during my long walk across Vermont in 2015/16, my eye kept catching on the beautiful contrast of bright leaves against dark forest — especially when the leaves began to turn. (One of my countless art dreams is to do a series of paintings focusing on those very contrasts….) Here, from the porch, the brilliant sun-filled yellow flowers just seemed to sing against the darker backdrop of woodlands.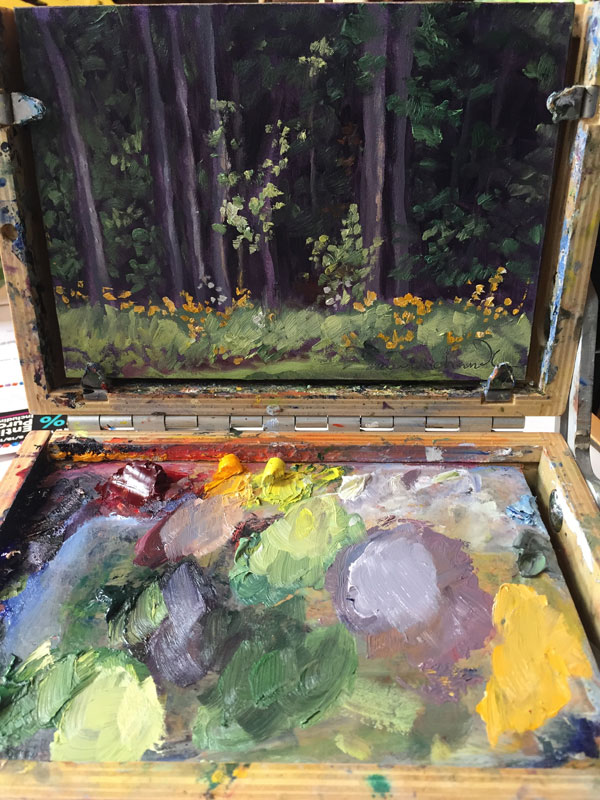 Alas, two days in Vermont is not nearly long enough, but I'm hoping to return for a longer spell later this year to really focus on painting (more about that sometime later….) For now, short and sweet would have to suffice, as I loaded my paints back into my sporty little rental car and made my way back to Exeter, for one last night.
My last August morning in New England involved two walks — the first, with my aunt (who, at 87, I can still barely keep up with) over to the cemetery to check in with our beloveds who are lain to rest there among the shading hardwoods. A beautiful sunny day to take in the quiet, pay our respects, and share memories.
My second morning walk was once again fueled with Me & Ollie's coffee, as I ambled through the streets of Exeter on down to the river. The sun was higher than my first excursion there a week earlier, and shade was limited, but I finally found a cool seat at the opposite end of the river path. The best view here was looking back toward the Power House that I'd painted the week before. From this vantage, the Powder House was hidden, tucked as it was back behind the dark cloak of evergreens, but the flag pole was in view, as well as the roof of a nearby dwelling.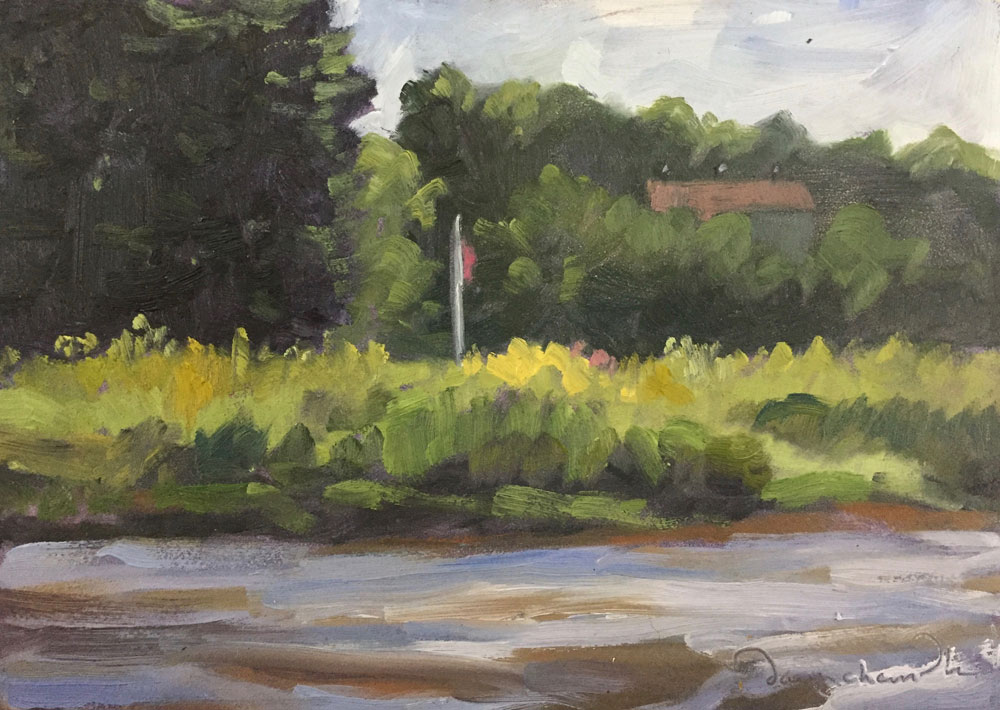 As I sat there with the river in front of me, a large raft of ducks slowly swam toward me, and then turned around directly in front of me and swam back down the river. Really, it was almost as if they were trying to get my attention, "strutting their stuff." That, or they were checking me out. Either way, it delighted me — as did every moment of this trip.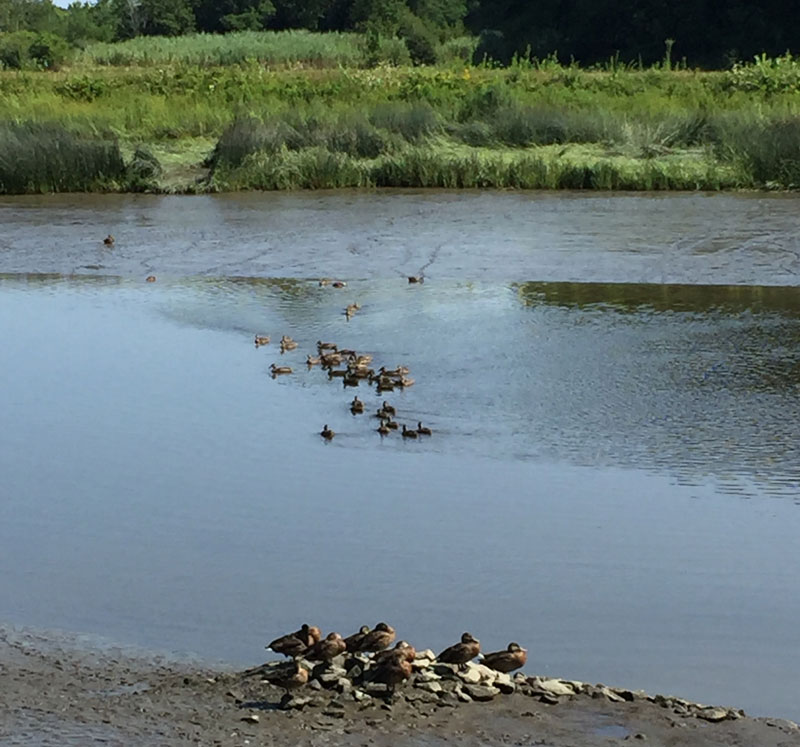 But the moment that delighted me most of all on this trip, was when my aunt said to me — as did my cousin, in her own words later — that my painting her surroundings made her see her surroundings differently. 'Caused her to notice color and light in a way she hadn't really noticed color and light before. "I'll never see this place the same again," they each confessed to me, with tones of appreciation.
Getting people to see the world differently — to notice the small, quiet, beautiful passages of the world around them.. This might be my greatest source of joy in being a painter.
This noticing. It takes time to notice the world around you. To pause, take a deep breath, and, in silence, look.

Notice.
I can't think of a better use of one's time.
I'm reminded of one of my favorite Mary Oliver poems, one which I've memorized by heart. I'll close this post here, with her beautiful words. as you read it, consider well those last four lines.
Snow Geese
by Mary Oliver
Oh, to love what is lovely, and will not last!
What a task
to ask
of anything, or anyone,
yet it is ours,
and not by the century or the year, but by the hours.
One fall day I heard
above me, and above the sting of the wind, a sound
I did not know, and my look shot upward; it was
a flock of snow geese, winging it
faster than the ones we usually see,
and, being the color of snow, catching the sun
so they were, in part at least, golden. I
held my breath
as we do
sometimes
to stop time
when something wonderful
has touched us
as with a match,
which is lit, and bright,
but does not hurt
in the common way,
but delightfully,
as if delight
were the most serious thing
you ever felt.
The geese
flew on,
I have never seen them again.
Maybe I will, someday, somewhere.
Maybe I won't.
It doesn't matter.
What matters
is that, when I saw them,
I saw them
as through the veil, secretly, joyfully, clearly.
---
Links to Dawn Chandler's posts about her New Hampshire plein air painting trip below
cool tools of a traveling painter
of painting tidal rivers and tool sheds…..
of sunrise clouds and sunset boats….
of lakeside chairs, vermont gardens, & the contemplation of a new hampshire river….
Thank you for reading
---

Save
Save
Save
Save
Save
Save
Save
Save