The first three weeks of the New Year I had been up to my eyeballs in office work — the soul-sucking mind-numbing numbers-crunching paper-cut-inducing head-banging end-of-year secretarial & administrative chores required of being a self-employed sole-proprietor small business owner.
But I promised myself if I could bear to stay out of the studio for a couple of weeks and instead focus all my energy on New Year administrative chores, then I would be free to dive — PLUNGE! — into art again.
At the end of three weeks of solitary secretarial confinement, my whimpering Muse was gasping for breath.
Art…. I… need…. ART.
FINALLY My Muse was resuscitated at 9:15am Monday, January 27th.

For that's when I walked into the Monet show at the Denver Art Museum.

And again on Tuesday, January 28th at 9:15 in the morning, yet more breath was breathed into my Muse. For that's when I walked into the Monet show at the Denver Art Museum for a second time.
OH! What a luxury to get to see the show twice!
Honestly, I have to give myself a little pat on the back for being oh-so-clever as to anticipate that one visit wasn't going to be enough to satisfy, and that really two trips two days in a row would be just perfectly luscious — especially if I could go early in the morning before the afternoon throngs.
Oh so clever indeed; my back is downright bruised from pats of self satisfaction.
But back to that first Monday and the supreme joy I felt walking into that exhibit.
That joy was deep, seeped in decades of warm memories of attending museum shows with my family. For museum excursions were as much a part of the Chandler Family modus operandi as backpacking excursions on the Appalachian Trail. My brothers and I were fed a steady, richly nourishing diet of museums, which continued — intensified! — into our adulthood. Any time we visited home, a family museum trip was always on the itinerary. Always. It could be any museum anywhere, but 95% of the time those trips were to New York, and 75% of those NYC trips involved a visit to The Met. (NYC was an easy hour train ride away.)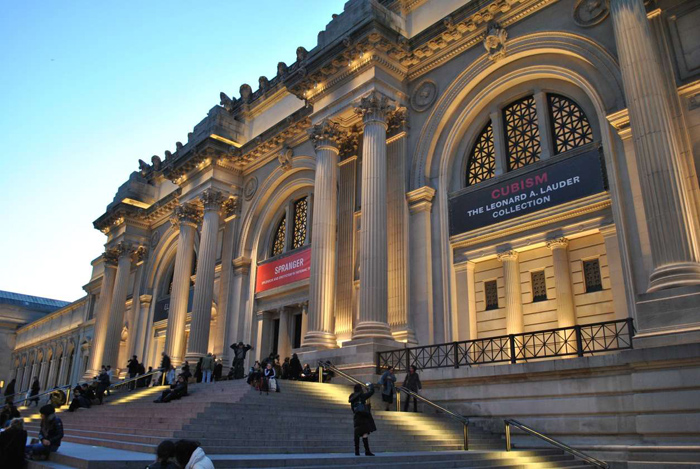 The Metropolitan Museum of Art in New York City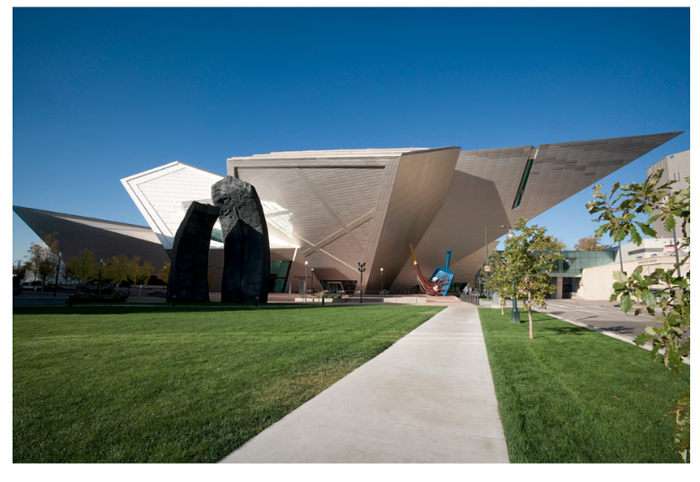 The Denver Art Museum.
Here's the exciting possibility — probability — of entering a museum with curiosity:
You're going to learn something.
You're going to be enlightened, you're going to be enriched.
Maybe it'll be just a tiny soupçon of information that lodges itself into your head — a little fact that you didn't know before but with which you'll now wow your friends in a round of Trivial Pursuit later on.
Enter a museum with openness and you will be changed.
How WONDERFUL!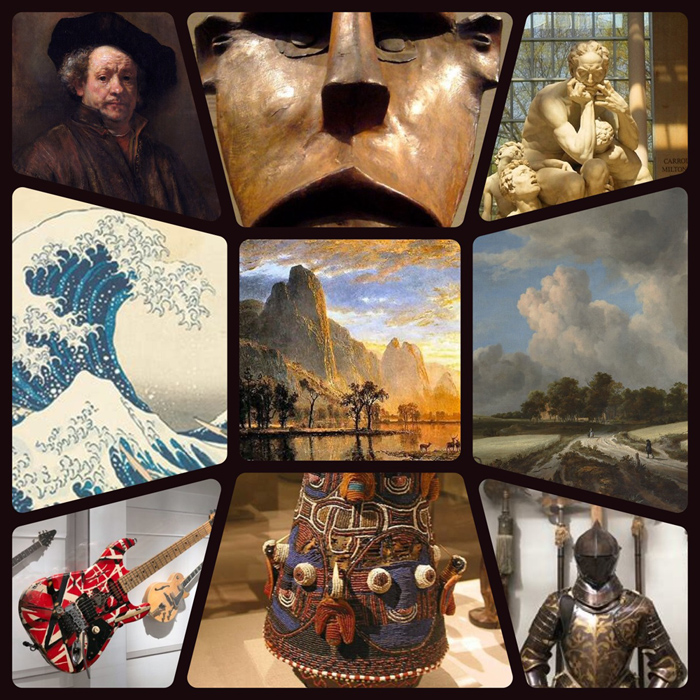 SO….. Brimming anticipation, I felt positively giddy walking into that Monet show at DAM because I KNEW I was going to learn something. I KNEW I was going to see some lovely, peaceful scenes. But even more I KNEW I was going to see lots of gorgeous color and juicy paint and I knew all THAT was going to intoxicate me. I KNEW I was going to exit that exhibit with my fingers twitching uncontrollably with the desire to paint.
Sure enough.
You know, it's interesting about Monet. His work has become so popular — it's reproduced ad nauseam on so much STUFF from posters and puzzles to umbrellas and scarves and bags, to coffee mugs and neckties and notebooks — that his work and the paintings of so many of the French Impressionists has become a sort of cliché. So many sweetly soft pastel colors, it's enough to make your teeth hurt.
And so when a friend tells me he'd never really had an appreciation for Monet, I get it.
A better appreciation of Monet may be possible with a deeper understanding of his place in the history of western landscape painting. [Here is a terrific quick synopsis of the evolution of western landscape painting in the 19th-century.]
Essentially, when Monet began to get serious about painting in the 1860s, painting landscape en plein air [outdoors from life] was still a relatively new concept, thanks to recent inventions like portable paints in tubes, foldable easels and compact paint boxes.
Before Monet's generation, landscape paintings were usually highly detailed, tightly rendered, and often highly idealized depictions that were labored over by the artist for months in their studio.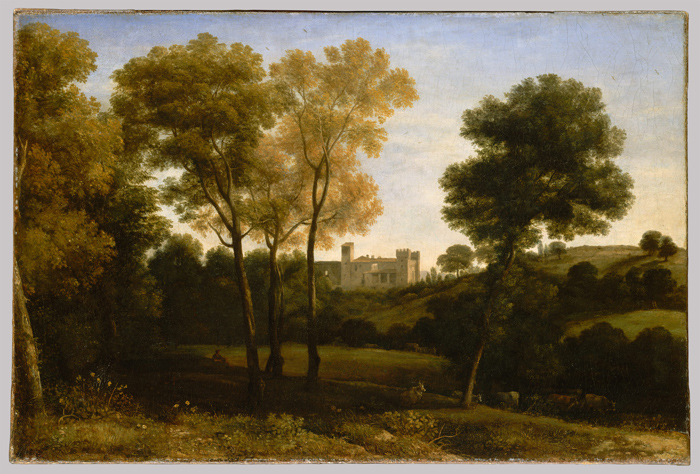 Claude Lorrain, View of La Crescenza, 1648-50.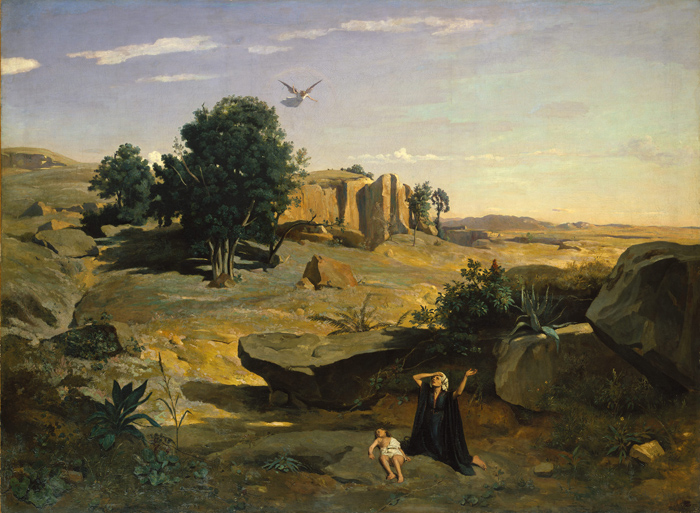 Camille Corot, Hagar in the Wilderness, 1835.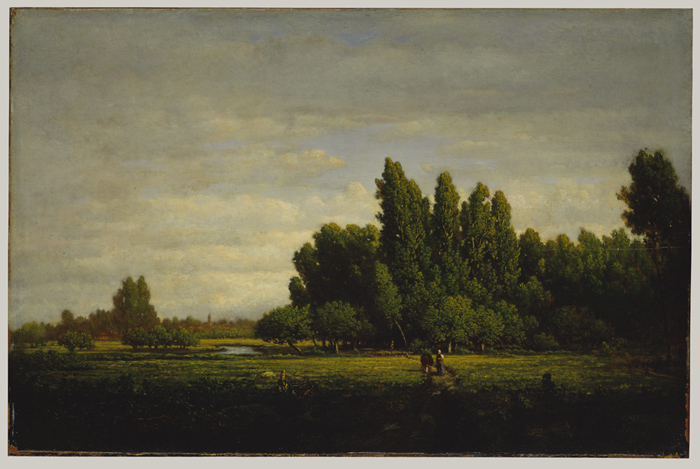 Theodore Rousseau, A Meadow Bordered by Trees, 1845.
Rather than getting caught up in painstaking details, Monet and his generation of landscape painters sought to capture the impression — the effects of light and shadow and color — of a landscape. And they felt the best way to capture the impression was to paint it directly from life, sometimes within the course of just a few hours. That was revolutionary!
Monet was particularly interested in conveying the atmosphere of a place. How do you paint air — or the envellope, as he referred to it — of a place? Monet was determined to figure it out.

And the idea of motif.
He returned again and again to the same subject, studying it in different seasons, at various times of day, it in all sorts of weather and light. This simply wasn't done before — at least not to the extent nor with the obsession of Monet.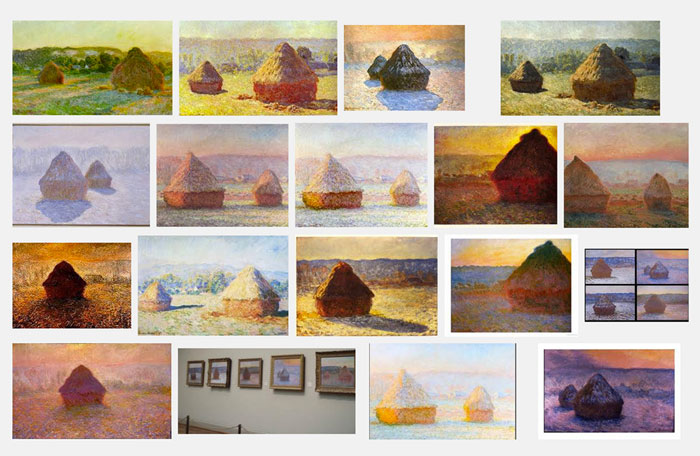 Claude Monet, painting in series: the haystack paintings, 1890s.
Just look at those haystacks above and how different the light and colors are!
Just look at all those gorgeous paintings below Monet did of Rouen Cathedral!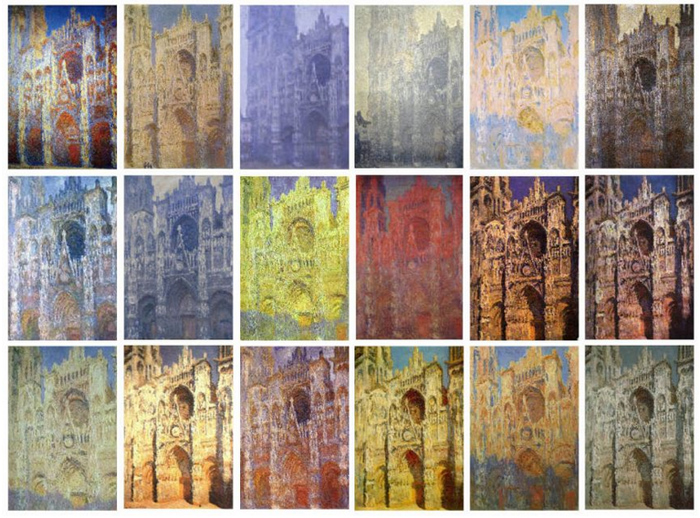 Claude Monet, painting motif, in series: Rouen Cathedral, 1890s.
Interesting to note that with the cathedral he painted it from the same angle every time (perfect example of a motif!) What's changing, is the light, of course, depending on the time of day, and that in turn changes the color.
(Did you ever think one place could look so different depending on the light?)
A related aside: As I've been thinking about Monet's paintings lately, it occurs to me that my first awareness of Impressionism — my first memory of noticing and being aware of an individual Impressionist painting — was of a painting I first saw in a book when I was a junior in high school. It was Monet's 1896 painting La Grenouillere: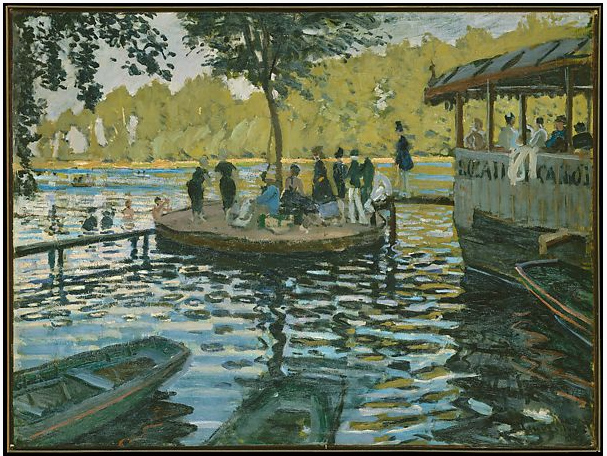 Claude Monet, La Grenouillere, 1869.
I remember being blown away by the water in that painting. I think I may have even audibly gasped. HOW did he get that water to look so wet, so fluid? What the heck colors are those? How did he mix them?
Disappointed though I was that La Grenouillere was not on display in Denver, several other of his paintings of water were, including some I had never seen before, as I shared in this week's Tuesday Dawnings.
The paintings of Monet's that I really wanted to see though were at the end of the exhibition — and that's the main reason I planned on a second morning to attend the exhibit. On the first day I took my time, listened to the audio, read every descriptive placard, admired every painting, and generally walked slowly through the galleries among the crowd. But on the second day I bolted through the doors, jumped through the crowd, leaped down the steps and fled to the last galleries. Here were his later paintings and I wanted time alone to linger with these….
….his River Seine series…..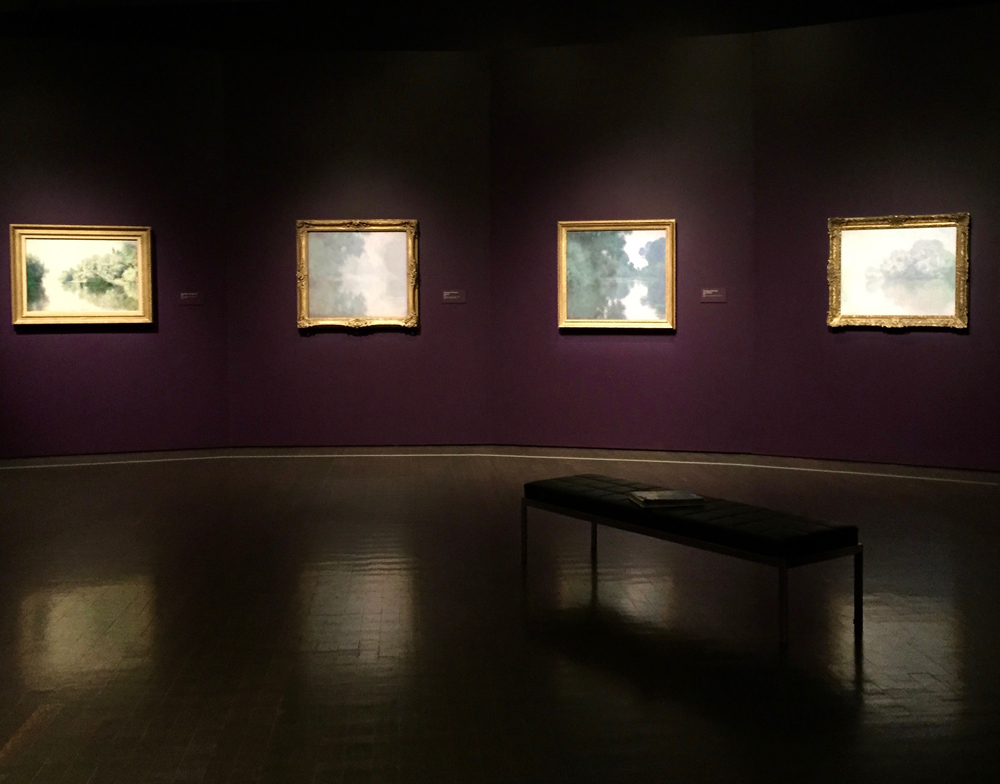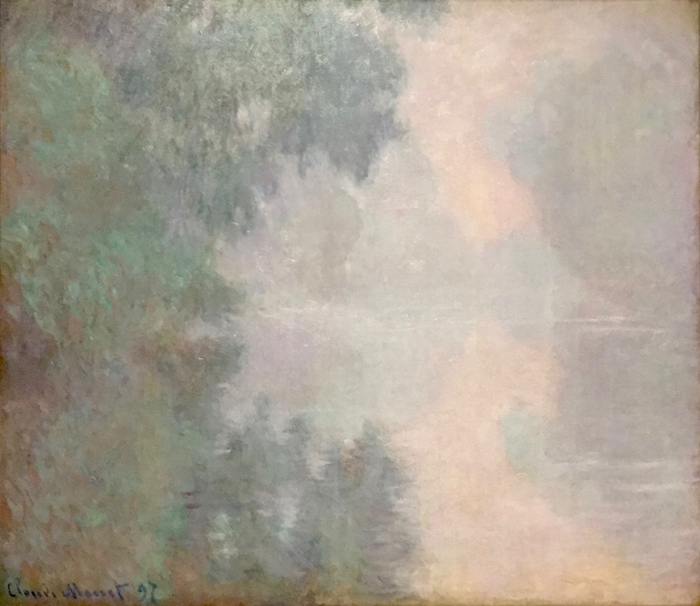 Claude Monet, Morning on the Seine, Giverny, 1897.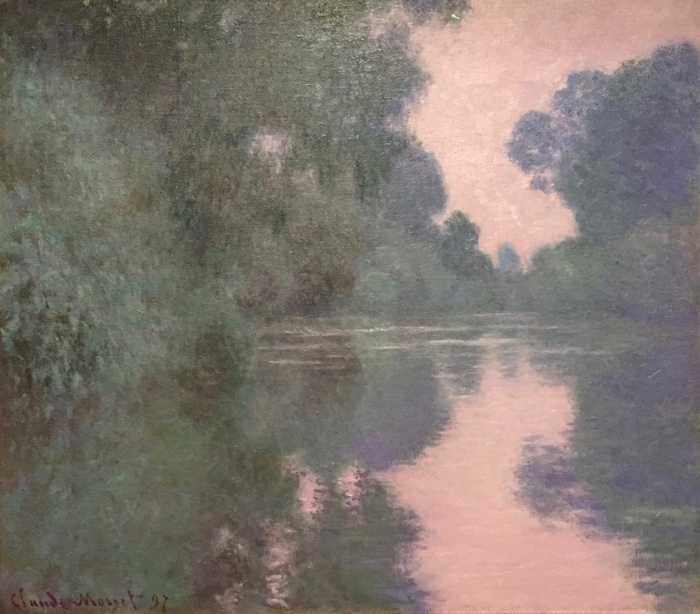 Claude Monet, Morning on the Seine Near Giverny, 1897.
and these, his Waterlilies….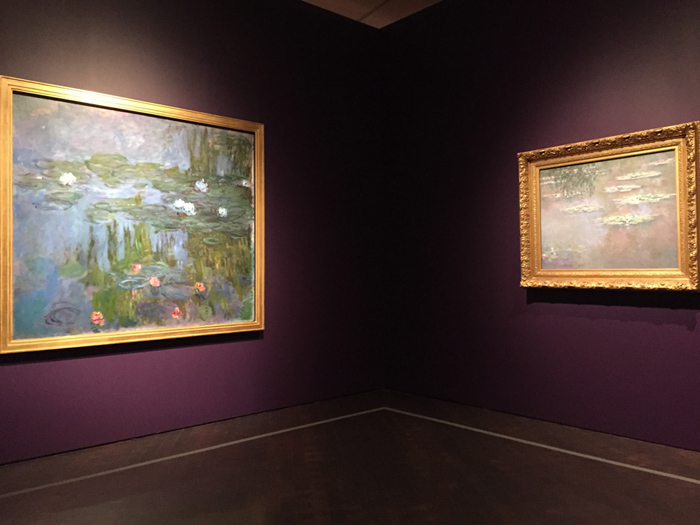 What moves me — what delights me — what fuels me with excitement about these paintings is how nearly abstract they are.
And that got me in a pensive state…..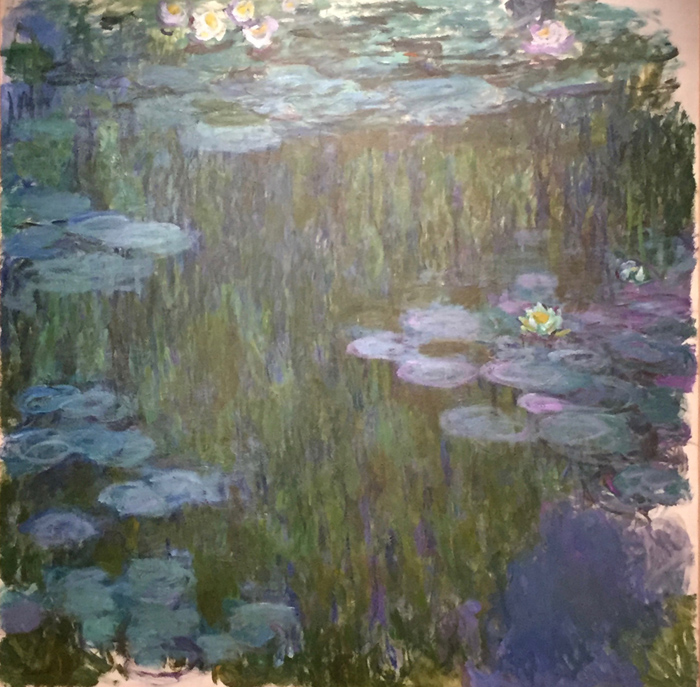 Claude Monet, Water-Lilies, 1914-17.
Last year I had intended to focus intently on my abstract landscape paintings — my 'textual landscapes' — which for me are my most deeply personal, satisfying and soulful work. But for lots of reasons I allowed myself to be distracted from that goal. I derailed myself. So much so that come year's end I felt regret, like I'd let myself and my Muse down.
Maybe that's why after pondering these paintings alone in the galleries, I felt a sharpness in my throat and kept blinking my eyes as I stood in front of this painting as though before an alter.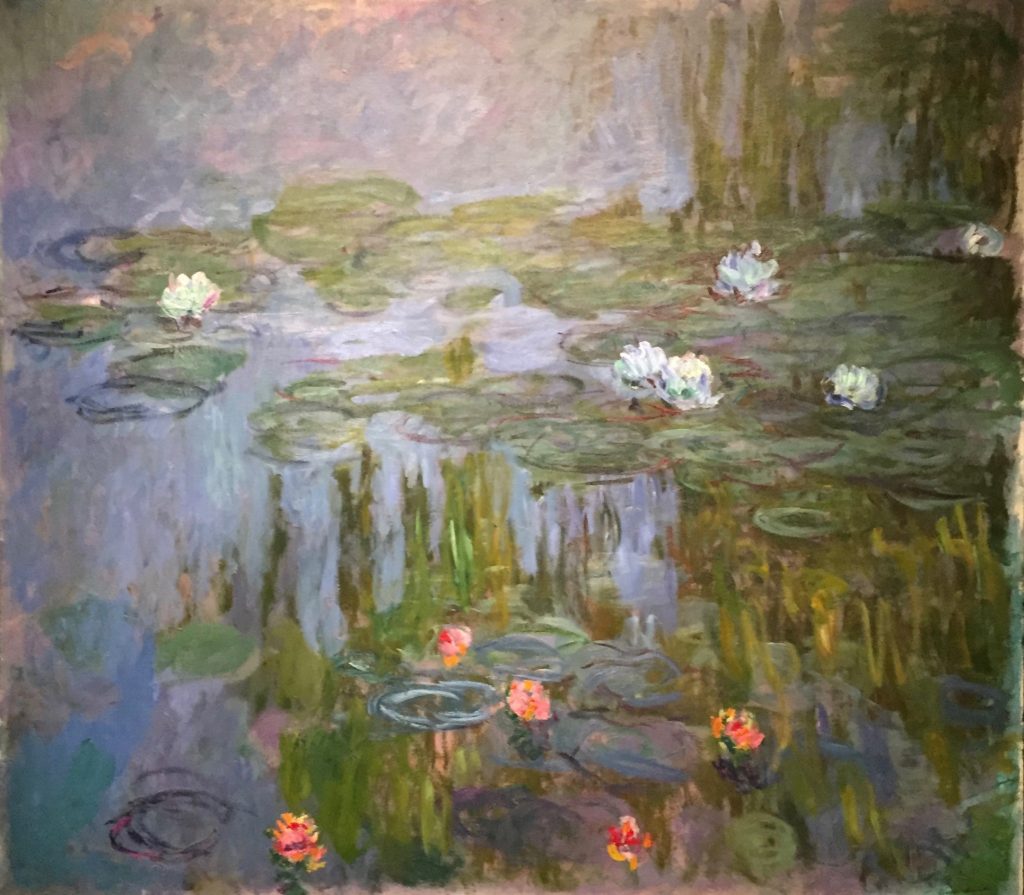 Claude Monet, Water-Lilies, 1914-15. (Details below)
I could so easily imagine myself in this artist's shoes. Staring at this canvas I could smell the oils, the turpentine; I could hear — I could feel — the movement of my arm and wrist curving the brush across the canvas to carve those ovals, to push and scumble paint on canvas. I could breathe the deep breath of satisfaction and delight with the placement of each juicy daub of color.
I just so know what he was feeling when in the flow of painting….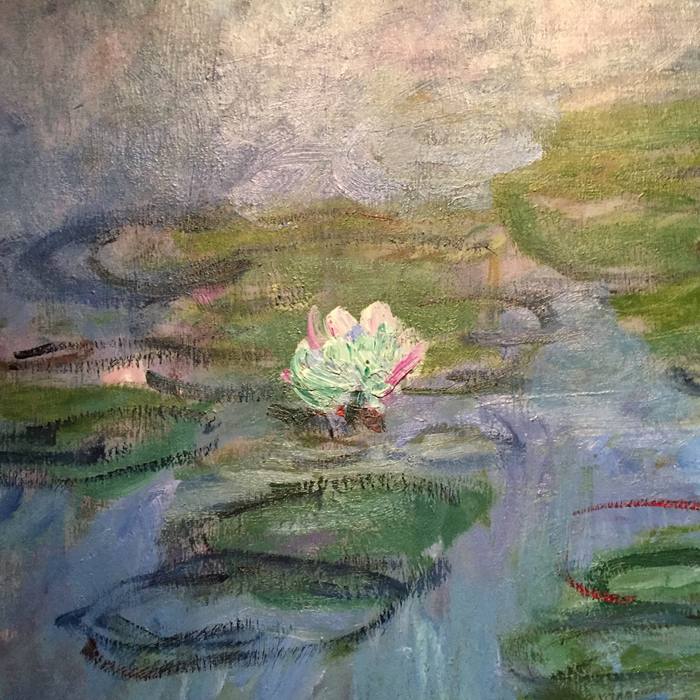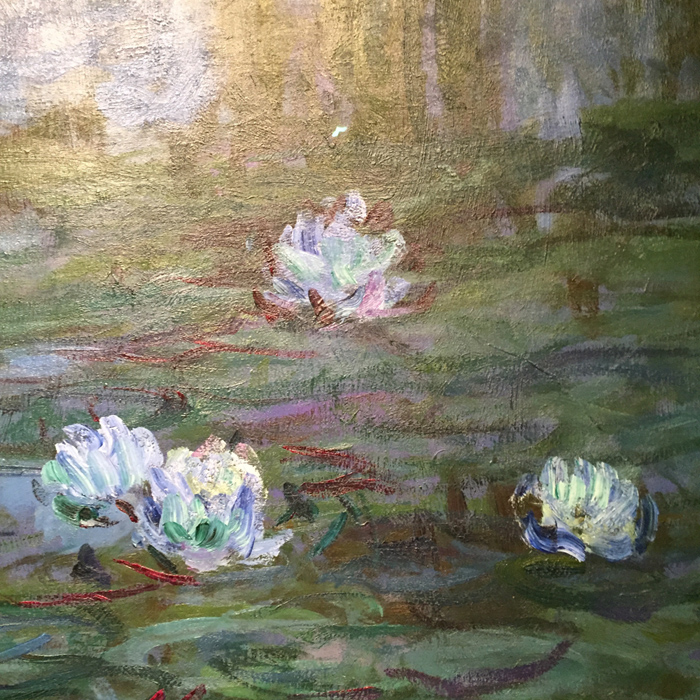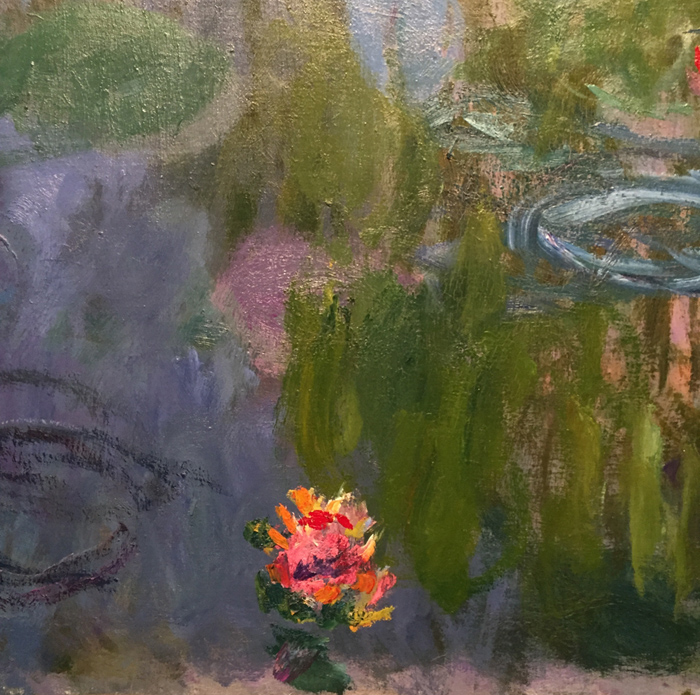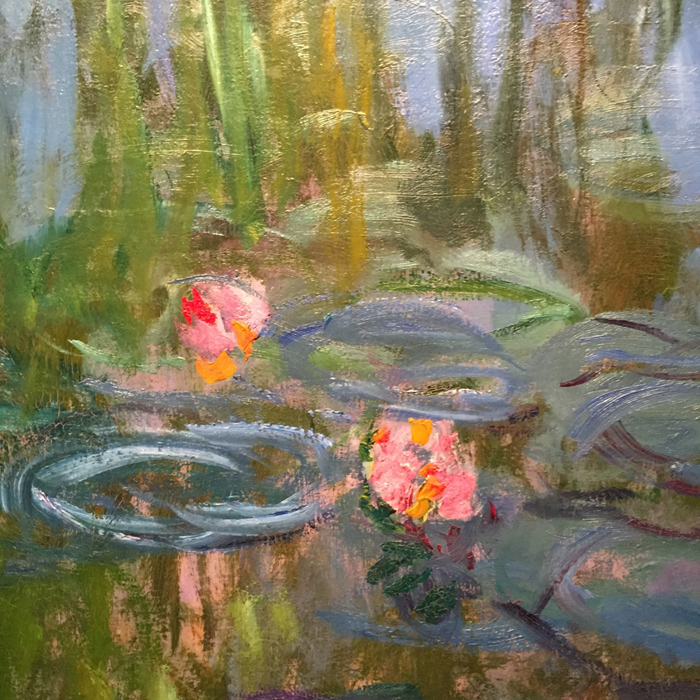 .
. .
. . .
. . . .
. . . . .
. . . . . .
. . . . . . .
. . . . . . . .
. . . . . . . . .
. . . . . . . . . . It's a new year, a chance for new beginnings.
THANK YOU, MONET!

I am diving — PLUNGING! — in!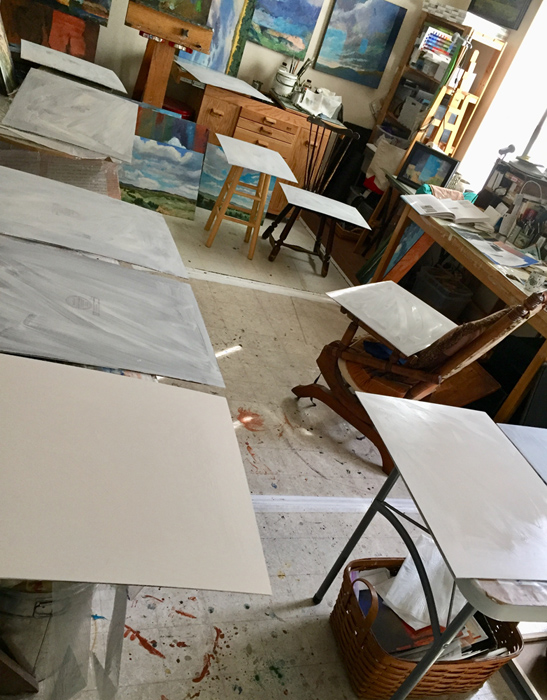 This week in my Santa Fe studio … prepping new panels for new paintings….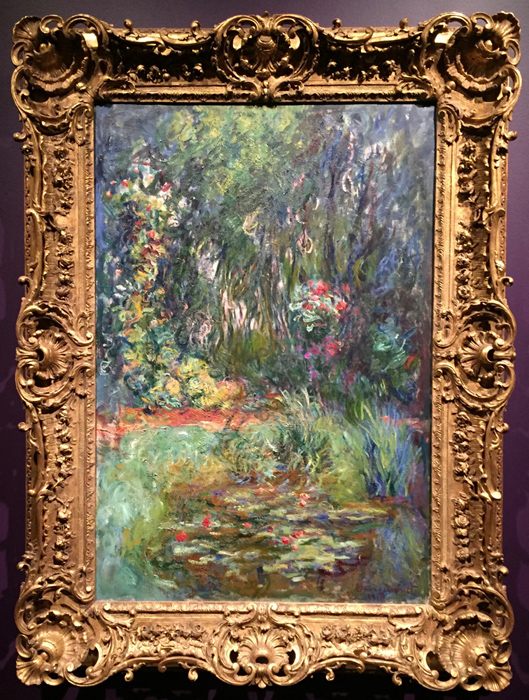 Claude Monet, The Water-Lily Pond, 1918.
---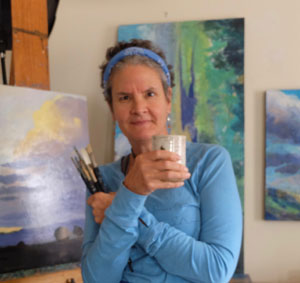 Thank you for reading my blog and appreciating my musings!
If you enjoy my posts and know others who might enjoy them too, please feel free to share this.
Find more of my stories, insights and art here on my website, www.taosdawn.com, as well as on Instagram and Facebook. Peruse and shop for my art here. And please consider joining me for Tuesday Dawnings, my weekly deep breath of uplift, insight, contemplation & creativity. Learn more about it here.
~ Dawn Chandler
Santa Fe , New Mexico
---