nature does not hurry,

yet everything is accomplished

~ Lao Tzu ~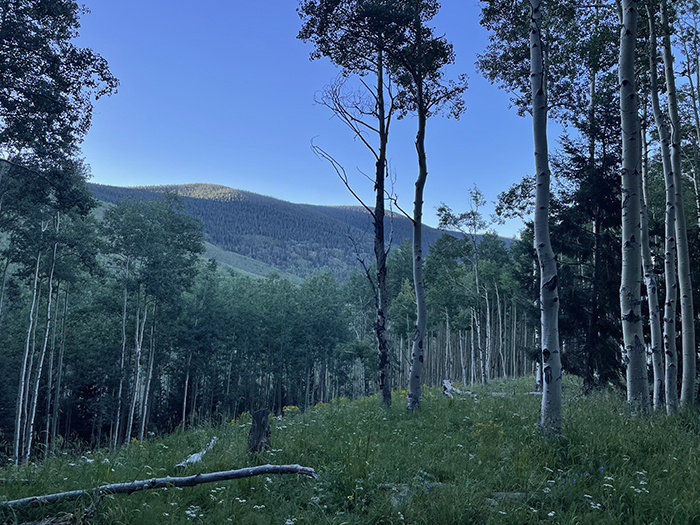 I'd been feeling nervous about an upcoming backpacking trip. Though overall I'm in good shape (thank you Peloton), I hadn't put in a whole lot of high-altitude hiking miles this season. My "hiking legs" weren't well developed yet. Problem was that getting to my favorite hiking trails involves at least an hour round-trip drive, and I was short on time with a long "To Do" list weighing on me. But I also knew that early morning hiking nourishes my mental well-being as much as my physical health, and my head was begging for some woodland solace.
Which is why I decided on a whim one recent early morning to load my pack with weight, fill a thermos with tea, grab a snack and my sketchbook and head for the mountains before sunrise.
Forty minutes after changing out of my pajamas I was at the trailhead. Now the question was how far to push myself. The trail I chose is extremely steep the first half mile, when it levels out through a magical aspen forest and then courses up through a high meadow. At the far end of the meadow the trail enters deep forest and gets steep again.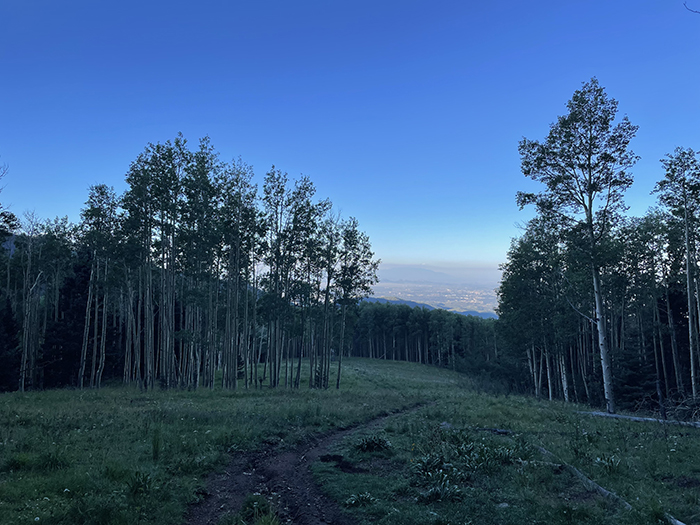 From there it climbs up, up, up, eventually gaining altitude by way of eroded switchbacks, and then pops you out of the dense forest onto a clearing high above Santa Fe.

To hike that far would be a terrific workout, but it would also mean that this whole excursion would consume most of my morning. I could push myself further physically to train more for my backpacking trip….But…..Ohhhhh ….that would leave me no time for stillness.
This mental debate of how hard to push myself nagged at me as I hiked through the lower forest, across the meadow, and back into the woods. A few more minutes of climbing the slope and I began to scan the land in search of a level area. Just up ahead I spotted one on the south side of the trail. I turned off the path, brushing branches and leaves aside as I cut through the trees to where the ground leveled off. I then found a downed aspen and, with a long exhale, took a seat. "This is good enough. You can get in an intense workout another day," I thought to myself, attempting to quell the guilt for not pushing myself more rigorously up the mountainside.
I pulled out my thermos, opened my sketchbook, and began to draw there in the flickering aspen light. All was silent.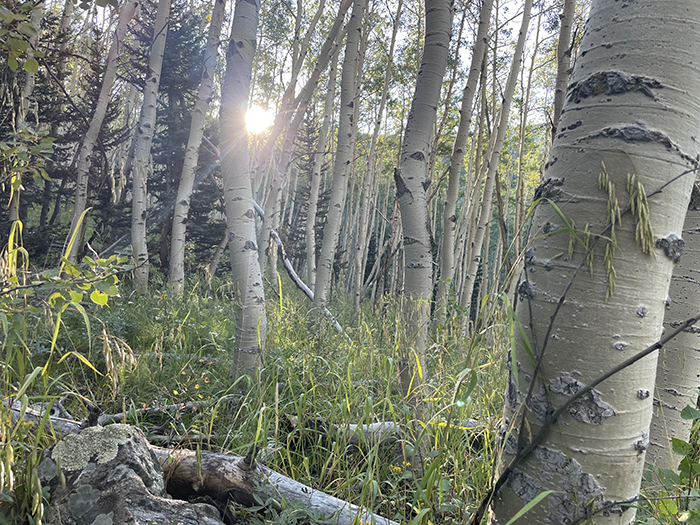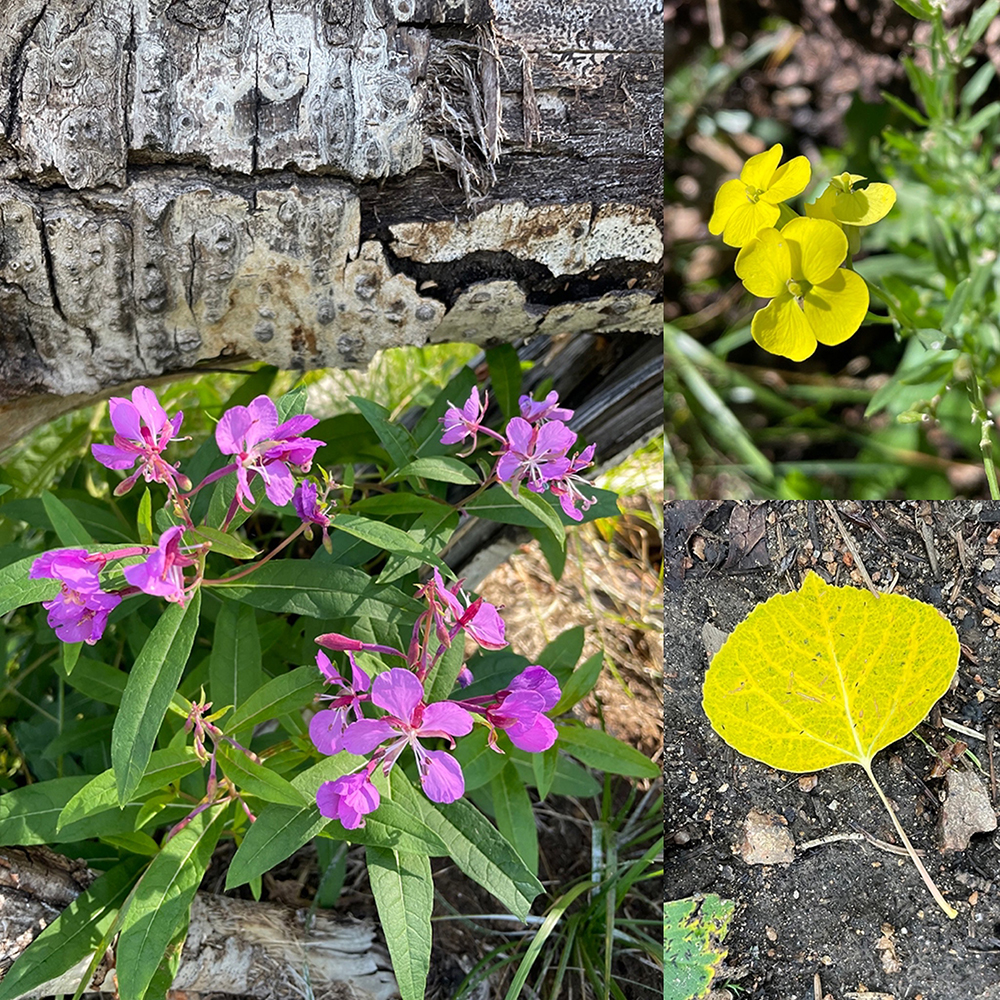 I don't know how long I sat there in stillness consumed with my drawing. But my sketch was nearly finished when I put down my pen and reached over absentmindedly to grab my thermos. Suddenly there was a thunderous eruption to my right. My eyes jolted up to see a deer just a few feet from me. In that instant she sprang up, twisted in midair and bounded away. Just as quickly as she'd jumped, she stopped and turned to look at me.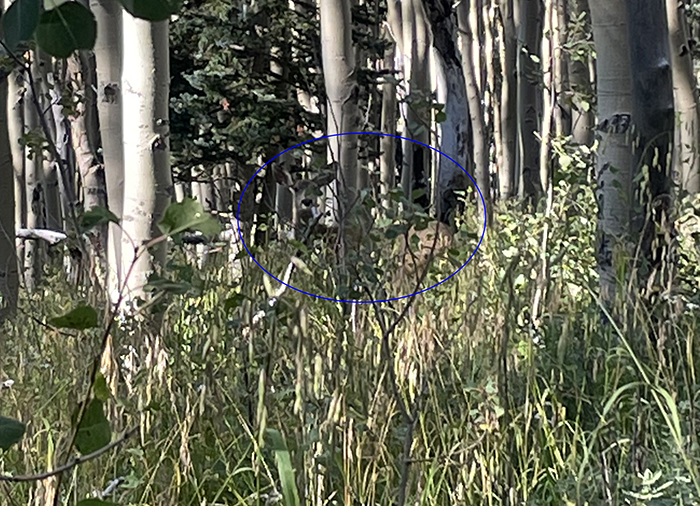 We stared at each other. Surely her heart was hammering as hard as mine.
After a few breaths, with eyes locked, I ever so slowly stood up, hoping for a better view of her.
To my surprise she permitted me this; I felt the flush of approval.
A few more breaths and the pounding in my chest subdued.
She turned her gaze and slowly, silently moved down-slope through the trees.
There, following behind her, was a yearling.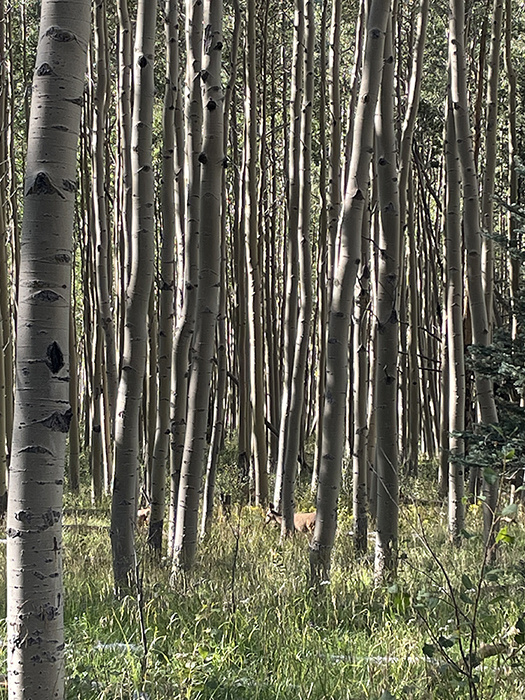 I lowered myself back down to my log and watched them weave gracefully through the aspens. Sunlight painted bright light across their sienna coats, amidst a mosaic of white tree trunks, lime-green leaves, dancing wildflowers and grasses.
I zoomed in my camera and — what's that? — there was another deer — a young buck. He seemed to greet them, as though he'd been waiting for them. Had he strolled past me earlier, both of us unaware of each other in our silence?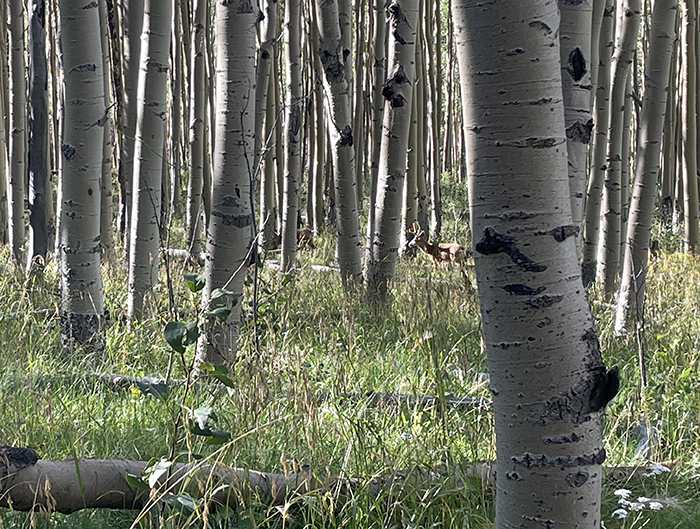 A friend once told me about an encounter he'd had on a trail in the foothills high above Albuquerque. He was riding his mountain bike and just starting to descend when he spotted a trail runner coming up trail toward him. All of sudden a deer sprang out on the trail between them. Cyclist and biker stopped in the their tracks as the deer made its way across their path. The runner made a motion of rapidly scooping air with his hand and pulling it toward his face, inhaling deeply. "Deer energy. Breathe it in!"
My deer family grazed easily, unperturbed, till eventually they disappeared through shimmering stripes of aspen light.
I took a deep breath.
Benediction. That's what a friend in Maine calls it whenever she has a chance encounter with wildlife.
A Benediction.
Feeling radiant, I packed up my things, and made my way back to the trail, grateful that I chose stillness over pushing myself this day.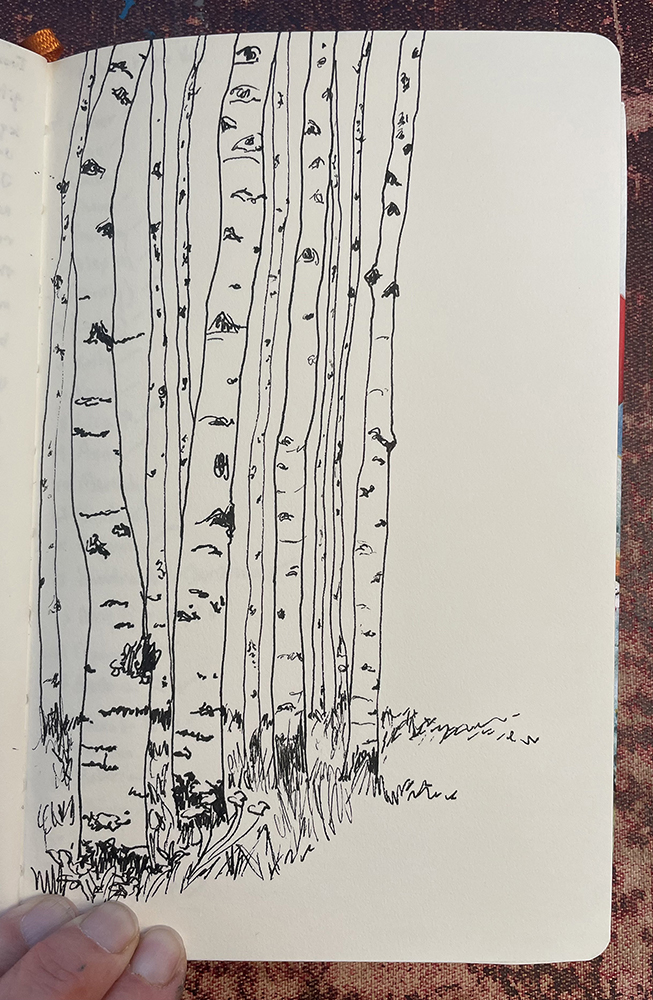 ---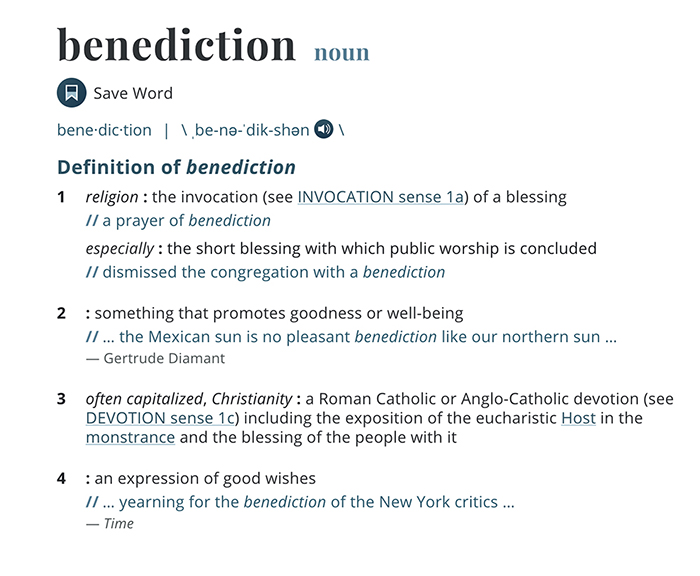 ---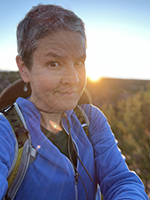 Thank you for reading my musings. If you think others might appreciate them, feel free to share this post. And if you'd like to read more of my musings please consider subscribing to this, my blog.
Meanwhile, find more of my stories, insights and art here on my website www.taosdawn.com. Shop my art via my Etsy shop. And please consider joining me for Tuesday Dawnings, my weekly deep breath of uplift, insight, contemplation & creativity. Find other ways to keep tabs on me via my connect page.
Thanks for finding your way here.
Stay safe. Be kind.
Peace on Earth.
~ Dawn Chandler
Santa Fe , New Mexico
Free from social media since 2020