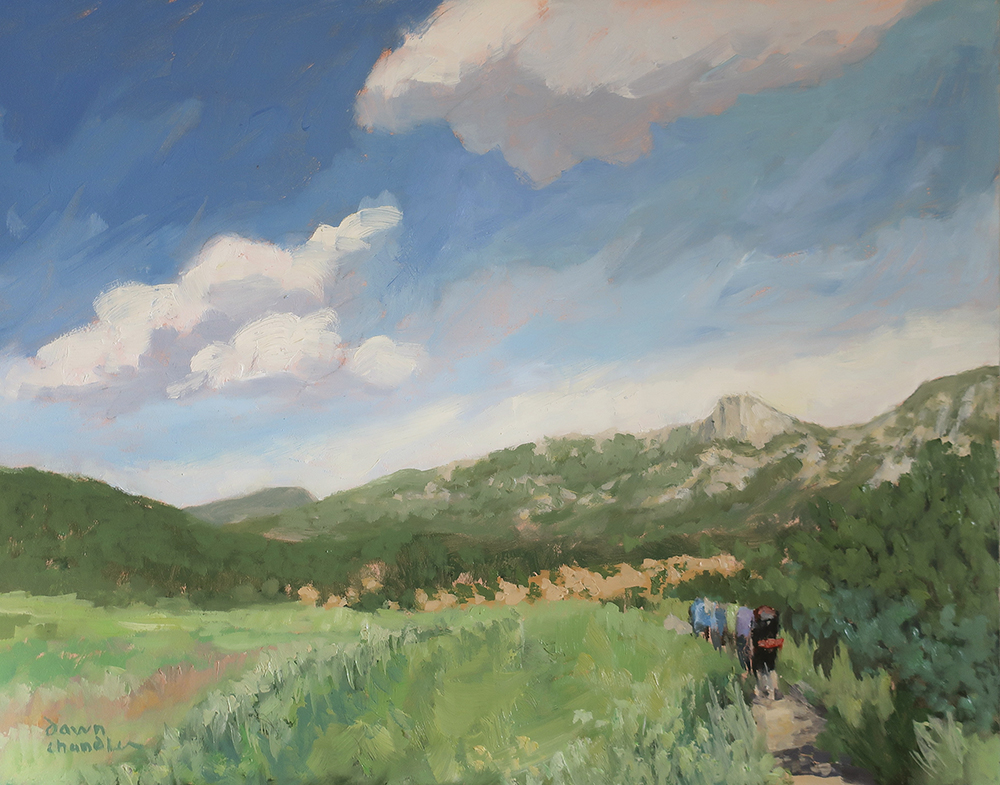 I am so pleased to offer my painting We All Made It for auction to raise money for Philmont's incredible Rayado Women program.
BOOM! We are LIVE! Find the auction here.
If you have the interest and the means, please bid to help raise funds for this great cause. If you aren't able to bid, please then share the link with others who may be interested. Thank you!
Meanwhile, here are the details of We All Made It, the story behind the painting, and Philmont's Rayado program. Thanks for your interest — and special thanks if you bid on the painting!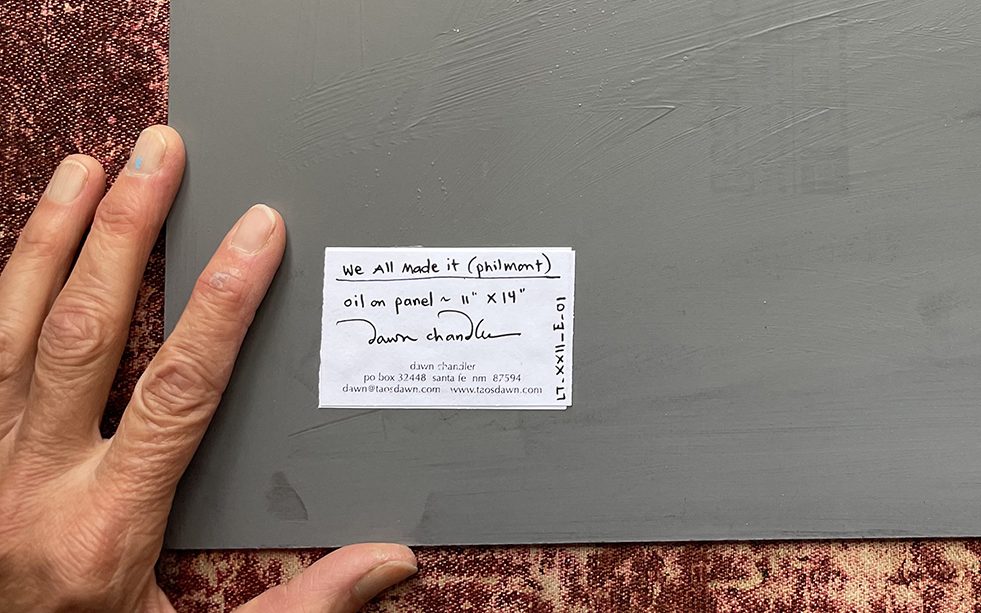 RAYADO

2022 marks the 50th anniversary of Women Rangers at Philmont. As part of that celebration I — a Ranger alumna — am auctioning my painting We All Made It to raise money for scholarships for Philmont's Rayado Women program.
Rayado is Philmont's equivalent of OutwardBound and NOLS. It's an intense two-three week backpacking adventure for older teenagers, with the purpose of challenging and inspiring participants to push themselves beyond their perceived physical and mental boundaries. Both of my brothers had been Rayado Men as well as Rayado Rangers. Inspired by their experiences and example, I became a Rayado Woman in 1982 and was fortunate to be chosen to be a Rayado Ranger in 1984. Rayado remains one of the most challenging, positively transformative experiences of my and countless others' lives.
100% of the proceeds from the auction will be donated to Philmont's Rayado Women Scholarships. An anonymous donor will match the winning bid to further the money raised for future Rayado Women.
WE ALL MADE IT (PHILMONT) — THE PAINTING
The Scene

The first time I ever stepped foot on Philmont I was disappointed. The place was hot, dry and dusty, with hardly any color to the landscape beyond sun-baked drab greens and browns. I was also filled with nervousness, wondering what the coming two weeks of backpacking had in store for me. I wondered if I could make it — wondered if I even wanted to.
We all know how this story ends, because you, too, may have lived this same story:
After two weeks backpacking with my crew in Philmont's backcountry, I'd become hopelessly besotted with the place. By our last day on the trail I was already dreaming of coming back. And my crew? We all made it.
Lucky me I got to work at Philmont for several summers, first as a Ranger, then in the Backcountry. Yet it wasn't until some 35 years after that first trek that I returned to the trail as a "camper." Again I was nervous — only this time it was wondering if my middle-aged body could handle carrying a heavy pack on those trails. But this time I knew the beauty and comradery that the backcountry held. And I knew for sure that I wanted to be there. This time I was returning to Philmont as part of the incredible "Sole Sisters" crew of former Philmont staff women. Included in our crew were several Philmont pioneers, among them some of Philmont's first ever Women Rangers.
Our 5-day itinerary wove through the verdant south country. We hiked along lush musical streams (Rayado…Agua Fria….), across meadows spangled with wildflowers (Apache Springs…. Carson Meadows….) through cheerful aspen forests (near Beaubien…. Bonita….). We watched the sunset and sunrise over the Sangres, and sang along with the raucous campfires at Beaubien and Crater.

On our last morning the Tooth of Time was our constant companion as we hiked down through towering ponderosas, eventually to Lovers Leap, and from there to the turn-around.
This painting is based on a photo I took that last morning. There's a bit of wistfulness knowing our journey together on these trails will soon end. But there's also joy and deep, deep satisfaction at having backpacked together at Philmont.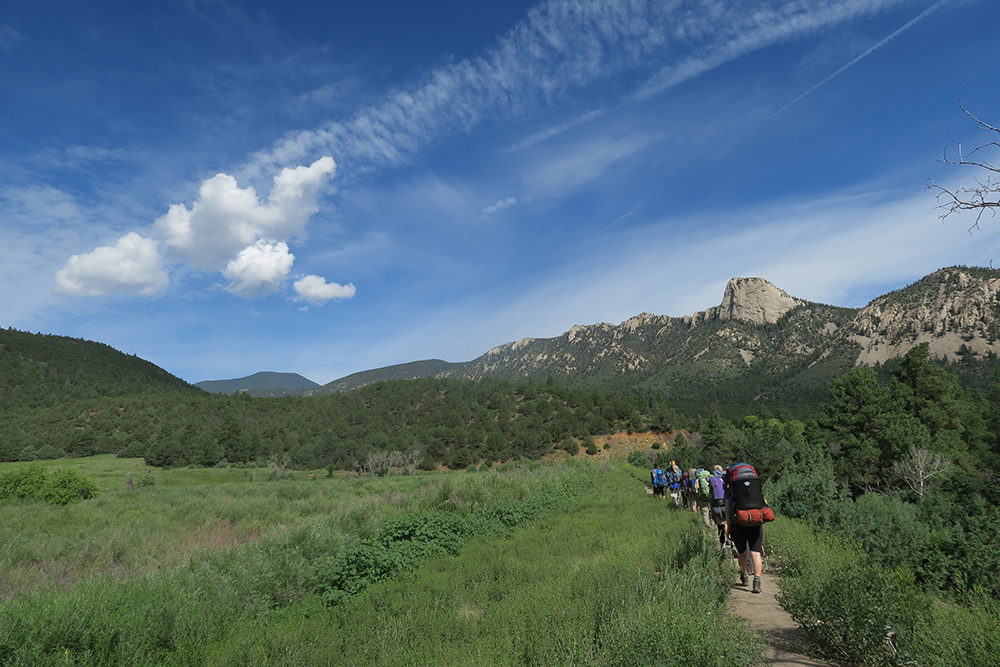 That is, of course, the Tooth straight ahead. As soon as we got to the road, we hung a right, walked through through the gate and formed a pack-line under the scrub oak. There we waited for our bus to transport us back to hot showers and "real" food. We were grubby, we stank, and we were feeling not a few aches and pains. But we were positively radiant knowing We All Made It.
If you appreciate this painting and have the means, please bid on it! And if it's beyond your means but you'd like to support future Rayado Women, please help spread the word and encourage others to bid.
Thank you!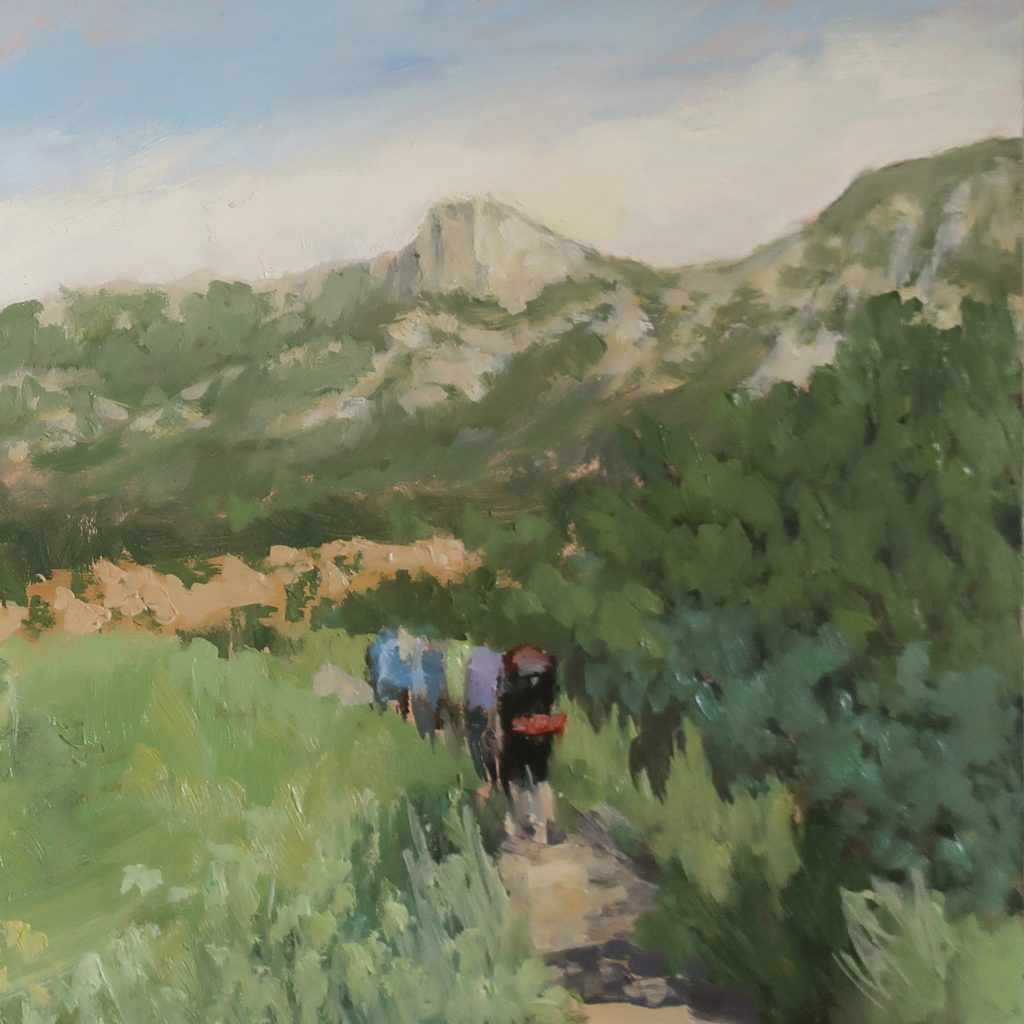 The Details
Title: We All Made It (Philmont)
Artist: Dawn Chandler
Kind: Original, one of a kind painting
Medium: Oil on panel
Size: 11″ x 14″
Frame: Unframed*
Normal Painting Price: $725.00
Matching gift: The final selling price will be matched by an anonymous donor, to double the funds raised for Rayado Women scholarships.
Starting Bid: $0.99 cents with no reserve.
Shipping: Via insured UPS or USPS; signature required.
Start: Thursday 18 August 2022 at 8:00pm New Mexico/MT time.
Duration/Ends: 3 days, ending at 8:00pm MT/New Mexico time Sunday 21 August 2022.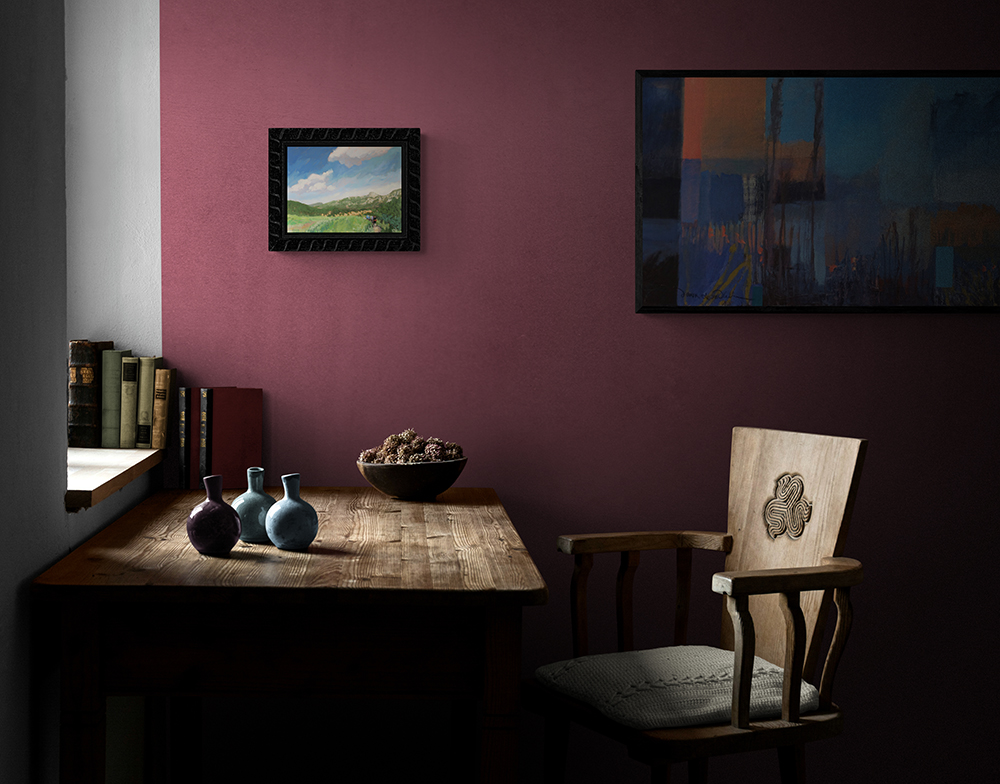 *Note that the photos of the painting framed are digital mock-ups to give a sense of what the painting looks like framed; the painting is unframed.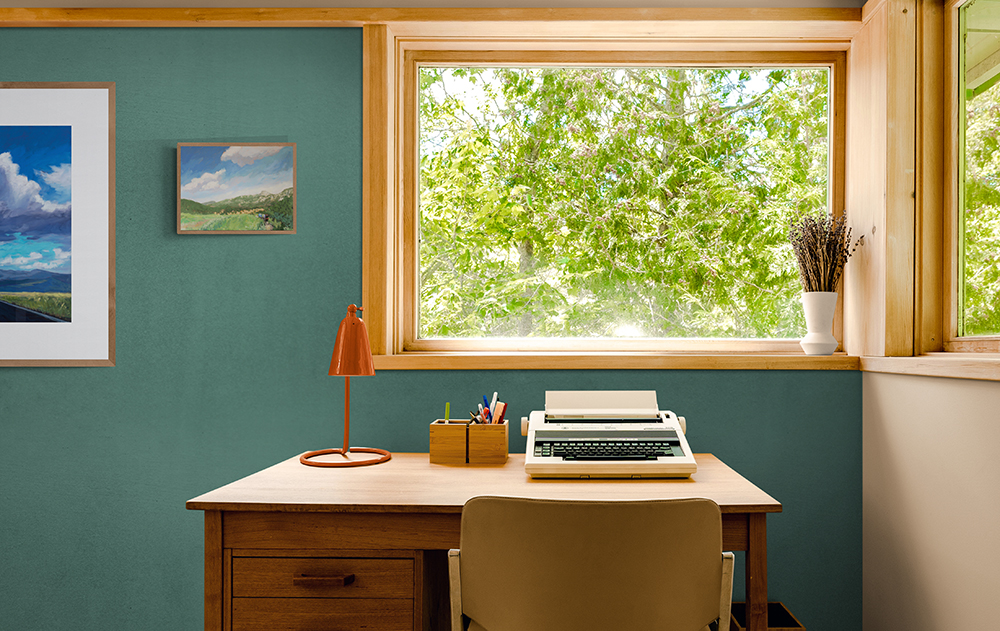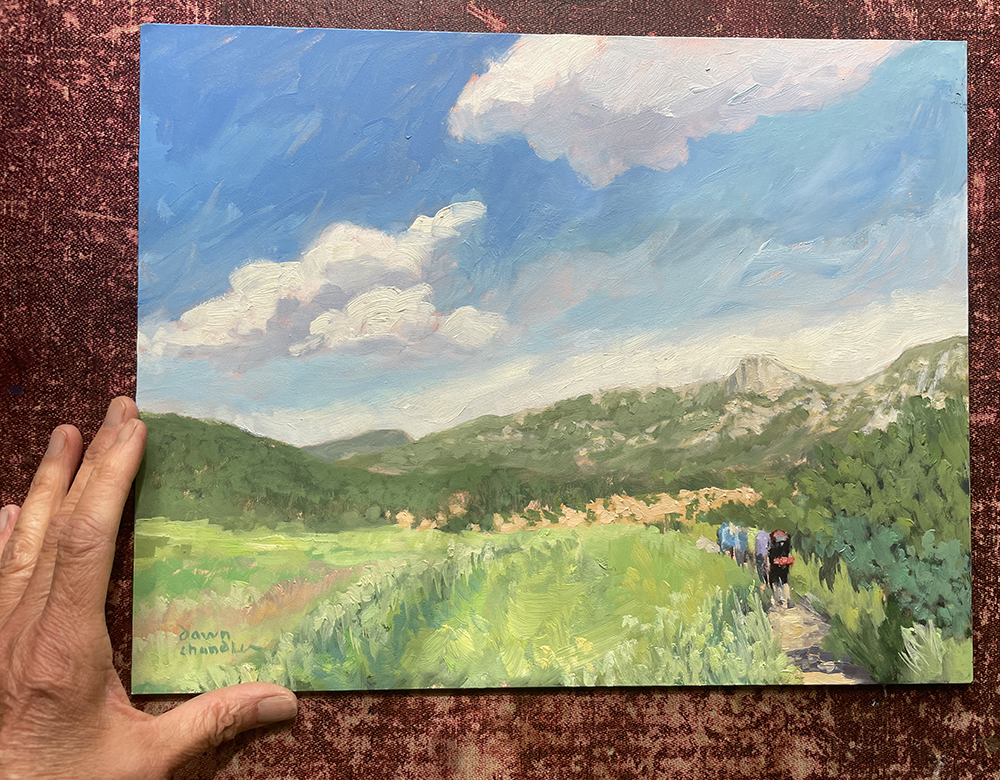 ABOUT ARTIST DAWN CHANDLER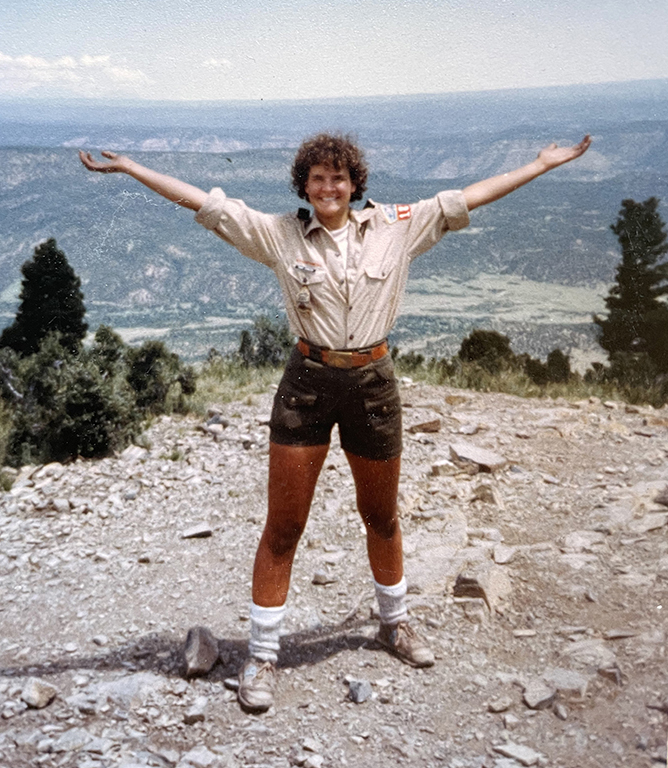 New Mexico artist Dawn Chandler first visited the Land of Enchantment as a teenager on a backpacking trek at Philmont Scout Ranch. She later returned to Philmont and New Mexico for many more summers to teach backpacking and camping skills to Scouts. She became a landscape painter in college, when her homesickness for New Mexico ached so badly it drove her to pick up her paintbrush and, through art, attempt to transport herself back to the Southwest.
Dawn has pursued painting ever since, and holds a BFA in painting from Miami University of Ohio and an MFA in painting from the University of Pennsylvania. A resident of New Mexico for 25+ years, Dawn supports herself as a full-time artist, striving to transport people to the Land of Enchantment through her traditional and abstract landscape paintings.
First-year Ranger Dawn Chandler atop the Tooth of Time, Philmont, New Mexico. c 1983
---