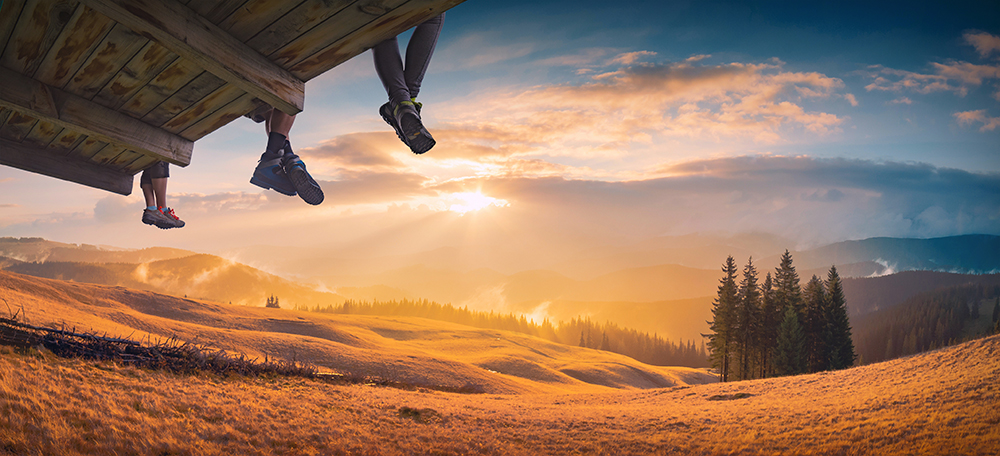 Image by Vitalii Bashkatov
A year ago I got a tattoo. It's my second, my first one having been inked in 1983, when I was 18.
Now I'm nearly 60.
I'd been thinking about a new tattoo since listening to the audio of Celeste Headlee's book We Need to Talk: How to Have Conversations that Matter. I first listened to it on a road trip to Wisconsin, and kept having to pull over to jot down notes. Once the book concluded, I started it again.
The book catapulted me into self-reflection. It lead me to ink a Word on my skin. I took out a Sharpie and printed the Word on my wrist.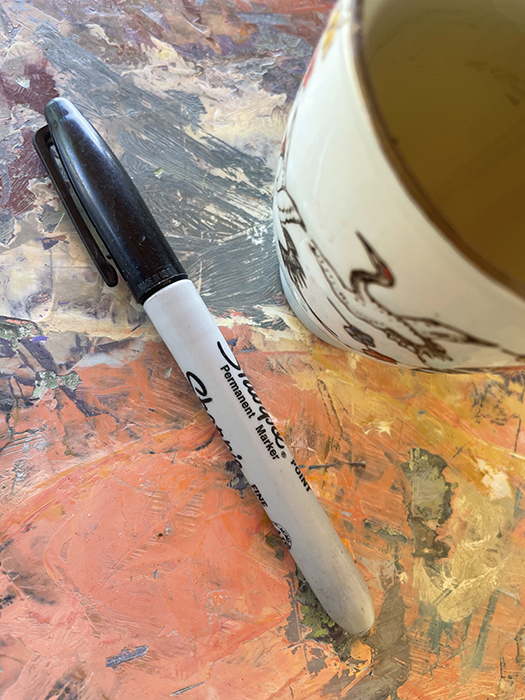 After a few days the ink faded, and I rewrote it.

Fade. Rewrite.

Fade. Rewrite.

Finally I ordered a custom bracelet from Etsy with the Word engraved on a band of silver. It was pretty. The problem was the font was small and I couldn't really see the engraved Word at a glance. And being cuff-style the bracelet kept twisting oddly or snagging on clothes. My Word just wasn't permanent enough.
Then one day last year I realized I desperately needed a permanent reminder of that Word. I needed it as a reminder for when I engage with myself, but especially when I engage with others. Too many times without that Word I had jumped to conclusions; I had miscalculated; I had misunderstood. I had missed. So much. So much of what my gut was trying to tell me, what my better angels were trying to tell me. And, most especially, what friends and family were trying to convey to me.
I needed that Word.
---
This spring I took my Word on a camping road trip. 'Drove from New Mexico to West Virginia and back. Solo outbound, then picked up My Good Man in Harper's Ferry and turned around and drove back together. Saw some beautiful, beautiful country greening up with springtime. During our drive he thoughtfully asked me: "What was the best part of your solo trip?"
"The conversations."
There were many of them. But one in particular stood out.
It was the second night of my journey, when I camped in Osage Hills State Park in northeastern Oklahoma. That evening after supper, as I walked the campground loop, a big brown lab barked and barreled over to me. As I got the Big Lean from him, one of his owners called out to me from her folding chair by their campfire, 'I love your tent!" Mine was the only rooftop tent in the campground, and she and her husband had a good view of it from their camper.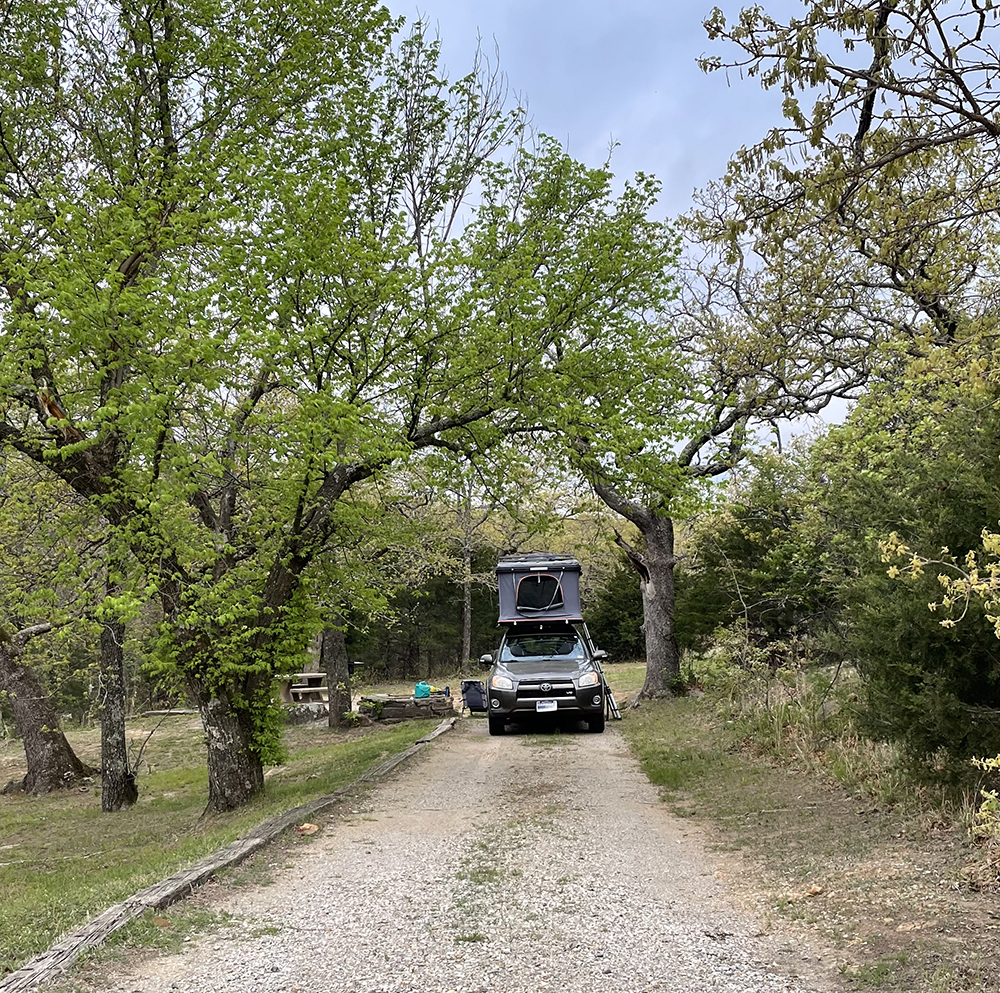 "Thanks! It's pretty cool!," I replied, as I scratched their pup behind the ears. We continued to converse, when her husband asked me if I'd like a glass of wine and a seat by their campfire. I paused for a moment, thinking of my journal and watercolors sitting on the picnic table back at my campsite, and my earlier decision to paint and write that evening.
But this is why you're here.
Appreciating the spontaneous graciousness of their invitation, I accepted. They gave me their best chair and handed me a large glass of red wine. "Aren't you going to have wine, too?" I asked, seeing they were empty handed. "We've already had ours, but you go ahead." I gratefully raised my glass to them, taking note of my new tattoo on my wrist, and settled in beside their campfire.

Next thing we knew, three hours had passed. Over the course of that evening we had shared stories. We'd shared insights. We shared book recommendations, and most enjoyable of all we shared light-hearted laughter.
Here we were three people — three souls — enjoying the joy of good conversation.
In real time.
Eye to eye.
Fully present.
And what I loved most about it is that, based on a few subtle indicators, I suspect that when it comes to political views, we're likely opposites.
It just didn't matter. Nor does it. Nor should it.
Yet how often do we do this anymore? Lightheartedly and respectfully converse with complete strangers? Especially those who may have ideas and opinions completely different from our own?
This was one of the motivations for me in making this trip: To talk with people. With friends and family of course. But maybe even more so with strangers. Engage with them. Seek out their stories, their humanity. To…
Listen.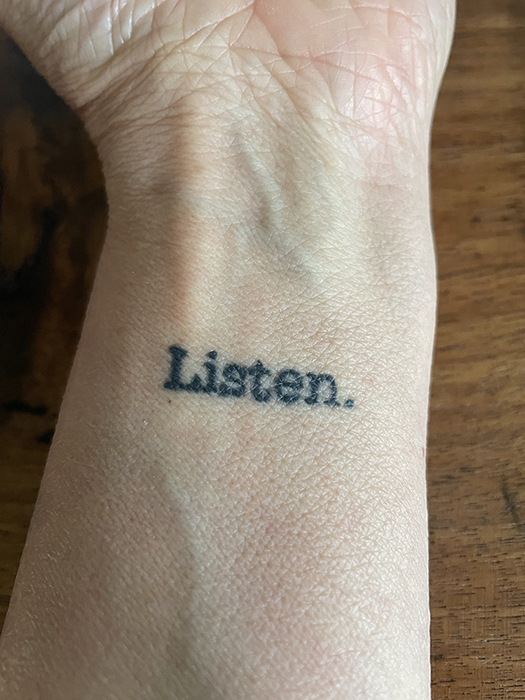 ---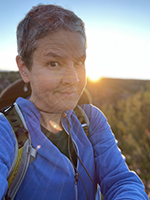 Thank you for reading my musings. If you think others might appreciate them, feel free to share this post. And if you'd like to read more of my musings please consider subscribing to this, my blog.
Meanwhile, find more of my stories, insights and art here on my website, www.taosdawn.com. Shop my art via my Etsy shop. And please consider joining me for Tuesday Dawnings, my weekly deep breath of uplift, insight, contemplation & creativity. Find other ways to keep tabs on me here.
Thanks for finding your way here.
Stay safe. Be kind.
Peace on Earth.
~ Dawn Chandler
Santa Fe , New Mexico
Free from social media since 2020