Not all the art I made during my little solo sojourn were in my sketchbook. Another of my goals was to do some plein air painting — something I hadn't done since late December when, the day after my car accident and day of my 53rd birthday, my pup and I went for a little afternoon hike in the ABQ foothills, to welcome another year of life with hiking, paint & stillness.
But that was December. And now it was mid February, and I was feeling the itch to pull out my plein air kit again.
So off to southern Colorado I went. Why there?
Can you believe it but I've never been to Mesa Verde?
I know. Almost a quarter-century in New Mexico and I've never gazed upon those ancient ruins.
Okay, that's not quite true. I buzzed in there one afternoon in 1989 on my way from Santa Fe to Salt Lake City…. I mean literally buzzed in for a slap-dash-drive-by-looksee-visit to the first ruin, and then turned around darted out of the park and continued on my way to Utah. What can you expect from an out-of-touch teary-eyed young woman anxious and confused from a ridiculously crippled & confused heart…. But that's another story.
Then there was June of 2011 or 2012 when My Man and I set out for a weekend camping trip to Cortez, CO with the sole intention of visiting Mesa Verde, but had to turn around due to car troubles, only to be assisted by gang-member-Good-Samaritans, and limp back home to find my neighbor's house on fire and be among the first-responders in putting out a potentially biblical fire disaster during one of the worst droughts and fire seasons of the century.
That, too, is another story.
All this to say it was high time I spent some time at Mesa Verde.
So I thought, go in February… There's likely few visitors there, and if there's snow, it will be especially beautiful… If nothing else, you can get some wonderful photos….
Of course going in February also meant that the roads might be kind of dicey. 'Cause something you need to keep in mind is that while the Visitor's Center is just off the main paved highway at the base of The Mesa, the dwellings are 20 miles away, and the only way to get to them is to drive a remote and winding road up and over The Mesa. So when I left the Visitor's Center only to have the overcast sky spitting sleet and the vista ahead shrouded in a pale gauze of grey, I had to wonder Do I really want to do this?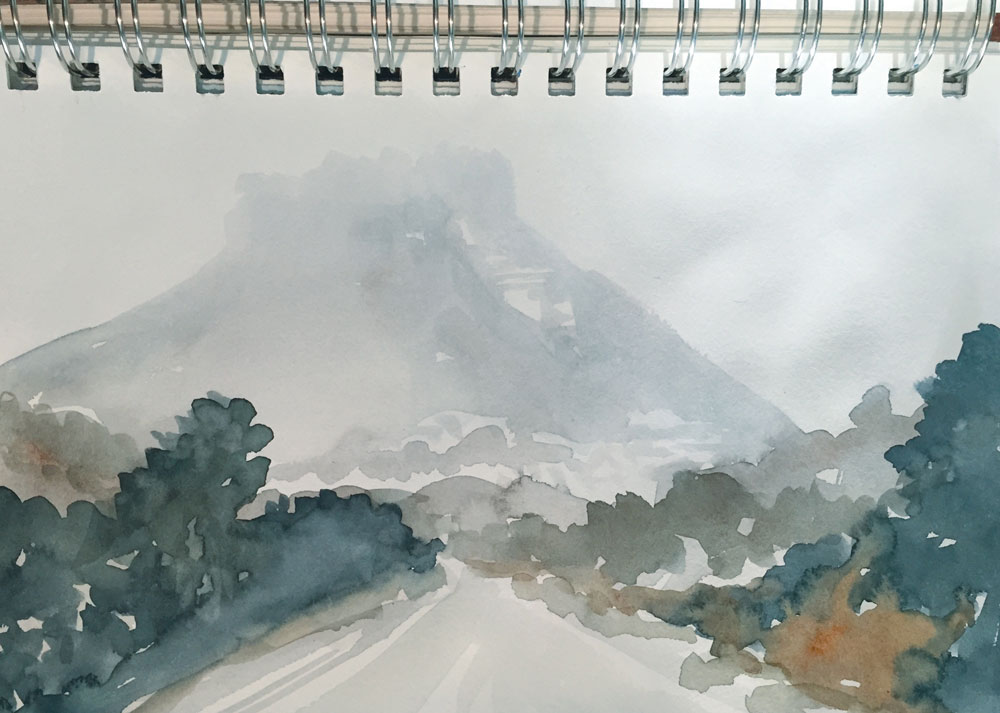 Yes, I do.
Wouldn't you know it but within five minutes the sun was out and all the rest of the day the sky was a gorgeous dance of cloud and sun color. I couldn't have asked for a more splendid day!
And…
Eight people.
That's how many people I saw the first day. Eight people.

Eight people in a National Park.
I had the place to myself.
Of course at this time of year you can't go down into the dwellings, due to potentially icy conditions. But you can still drive one of the loops and take in the views….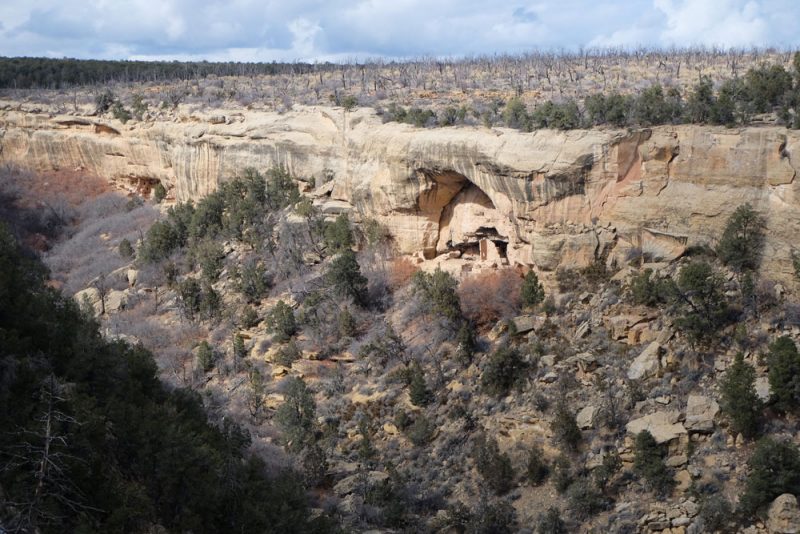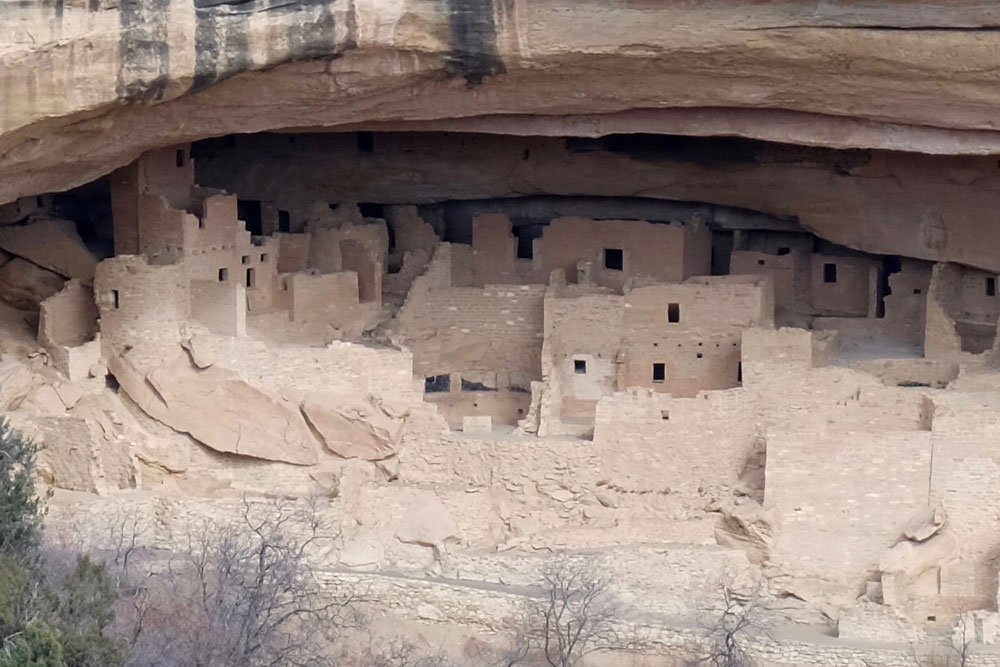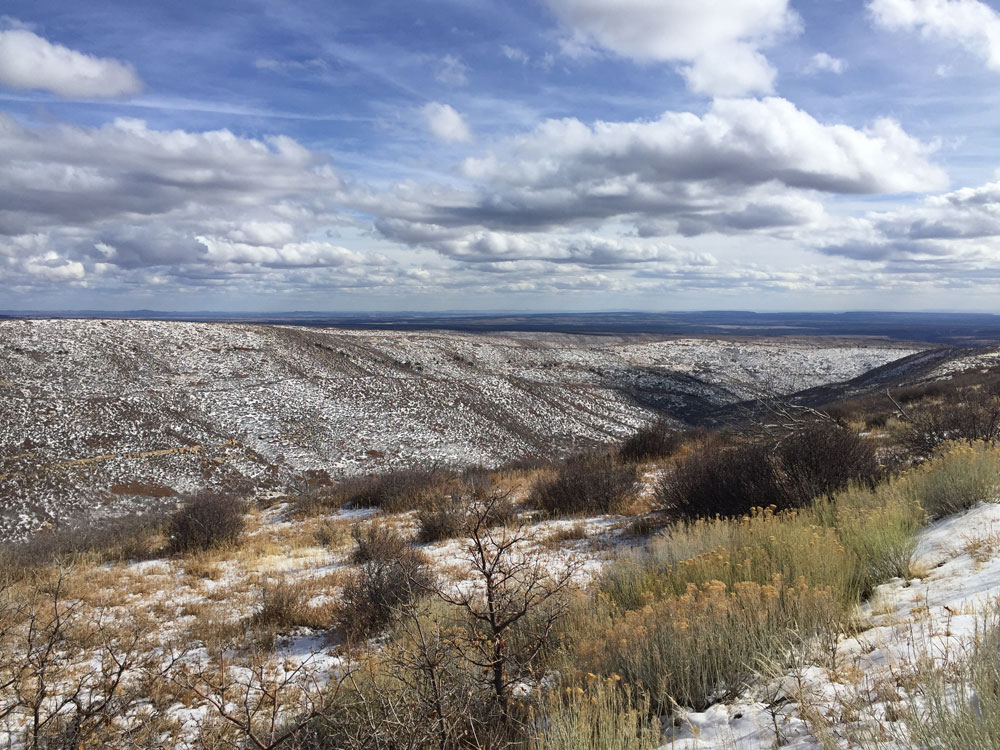 Because I was so eager to drive the full loop and make every stop along the way, I did not make time to paint — until the very end of the day, when the late afternoon light just made me nearly cry out with enchantment, So the pup and I pulled over, and while she napped in the back, I pulled my paint box onto my lap…..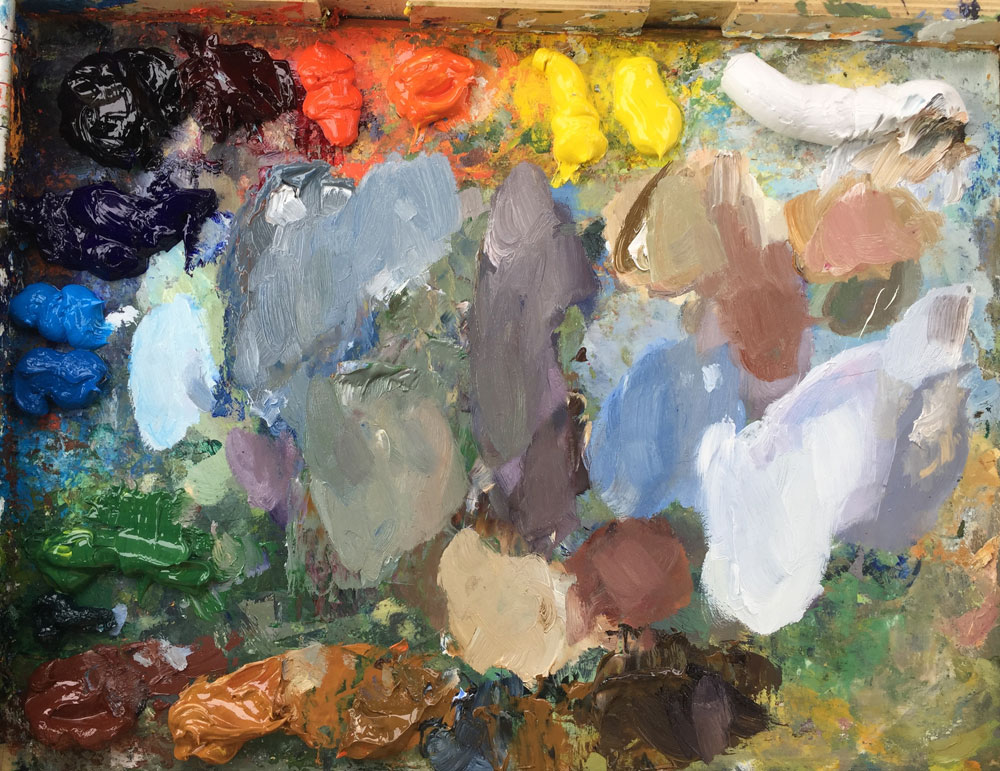 …and attempted to catch the view from my car window, of late afternoon light illuminating an outcrop — FINALLY! my first attempt at plein air of the New Year. The result certainly wasn't my best plein air painting ever, but I was thrilled to have at least pushed some paint around and wet my brushes. I could hardly wait to do it again tomorrow!
But "tomorrow" was overcast, with nary a sign of blue sky. UGH. This meant there would be no sharp shadows and bright light to create contrast — two things I really appreciate when painting plein air, for they add interest and help give a sense of spacial depth by helping to describe volume to the shapes in the composition. When handled well — really well — they make a painting sing.
Of course master plein air painters can make a painting of an overcast day — or  painting of anything — sing. But I'm a far cry from a master at this, and so overcast days — in terms of plein air painting — fill me with dread. How am I going to convey a sense of depth without sharp shadows?! I was temped — really tempted — to stay in my cozy cottage all day and just read, write and play with watercolors in my sketchbook…Actually that sounded really inviting….
But visiting Mesa Verde and painting plein air is a big reason why I came here, so DAMNIT! I need to get out there and paint!
So, armed with a thermos of strong coffee and my companion in the back seat, I headed out under the overcast sky, and returned to a favorite vista in the park. The wind was whipping, so we stayed in the car. While sipping coffee, I considered the view ahead, and lack of contrasts, lack of much going on in the sky, and all those closely-valued shades of earth.. How the hell do I even start this? With some dread I pulled my paint box onto my lap again….

Well, my Muse must have been happy, for I somehow ended up with a new favorite painting!
Hmmm….Thinking maybe I need to get out and paint under more overcast skies!
---
Thanks so much for reading my blog. If you enjoy my musings here, please feel free to share this post!
And remember that you can always find more of my stories, insights and art on Instagram, Facebook and Inside the Studio Notes.
Have a lovely day!