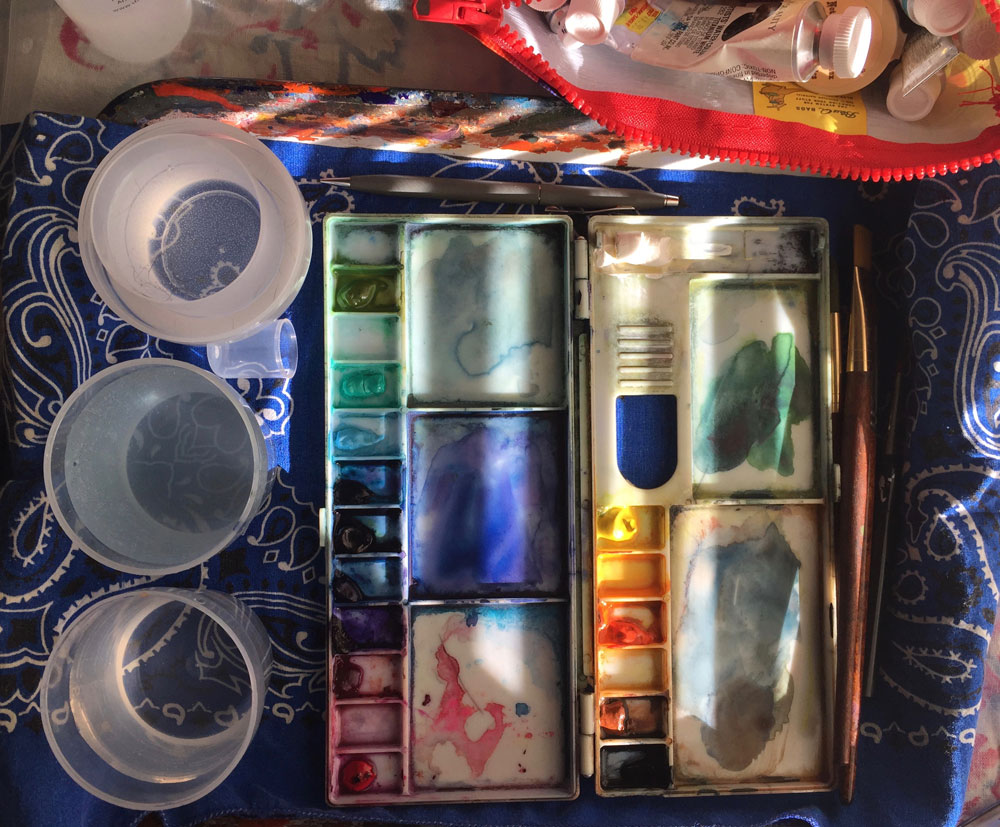 I knew I needed a break. I knew I needed to unplug. I knew I wanted to remove myself from the familiar, and just paint, just read, just write.
Just think. Just not think.
Just be.
Without chatter. Without pinging and lights and alerts and the mind-numbing busy-ness of constant connection.
Without news. Without media.
Without appointments — except with my dog, and perhaps a meal or two with a warm and wise elder.
Basically I needed to breathe, to connect again with my muse — my deeper spirit — who'd been hibernating a bit this winter, waiting patiently for some solitude and fresh air.
So I took her — my deeper spirit — away, to let her bloom again.
A couple weeks ago.
We went on a road trip, my muse and I, in the company of my sweet pup. And stayed in a tiny little place in the shadow of ancients.
No computer. No internet. No cell coverage.
Just imagine.
Here is a bit of what one can accomplish at a small kitchen table with no distractions, and nothing to listen to but a single superb classical music LP on an old record player, and your pup's contented snores from her warm bed beside you…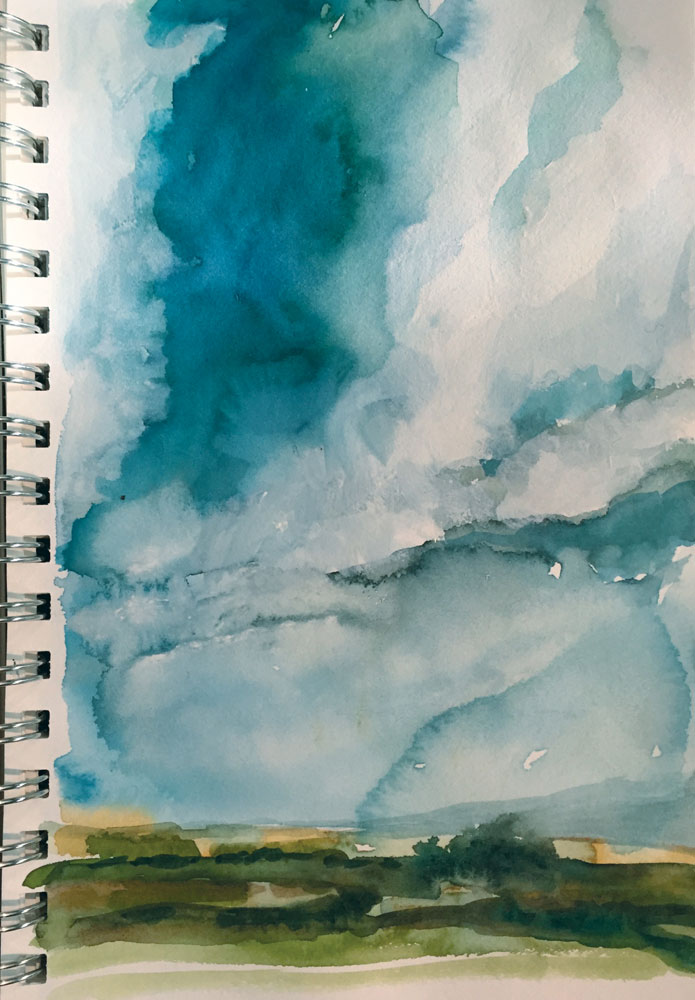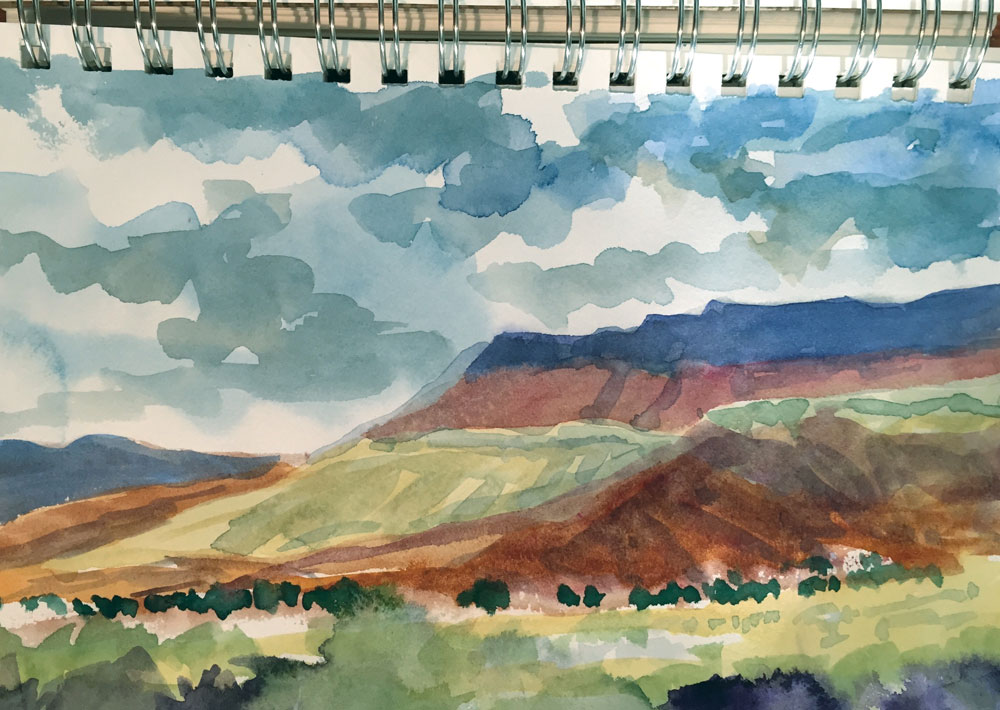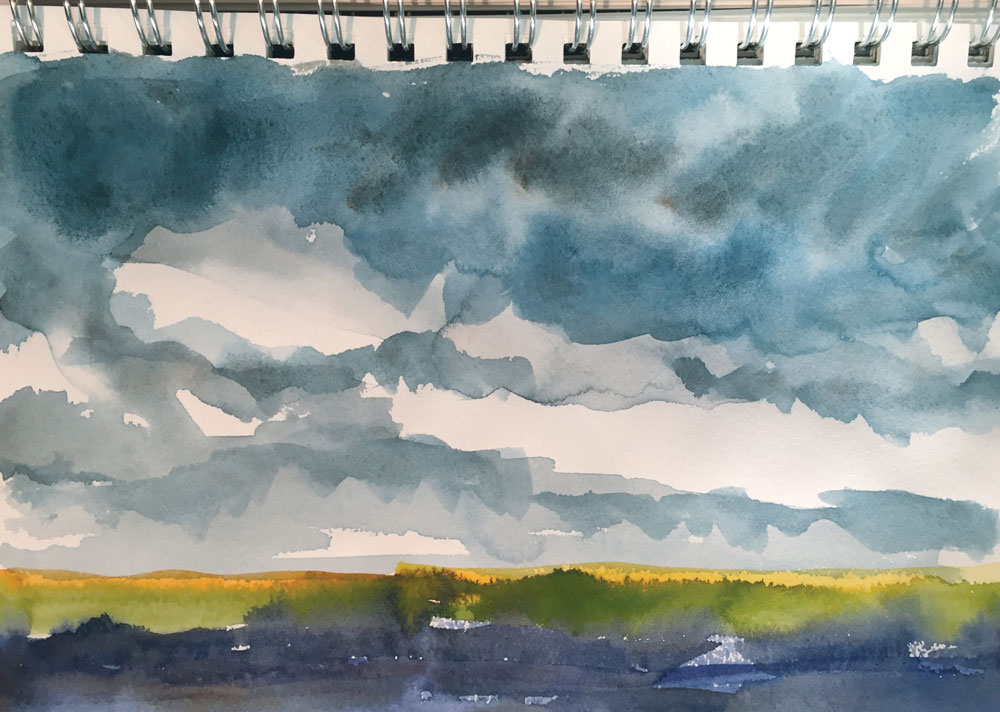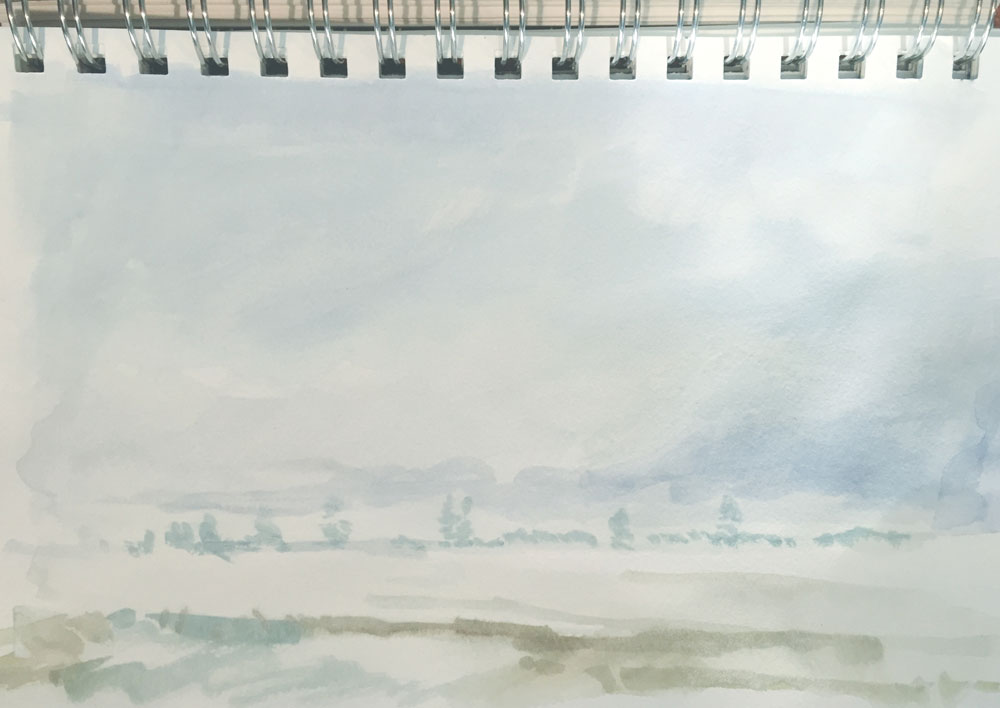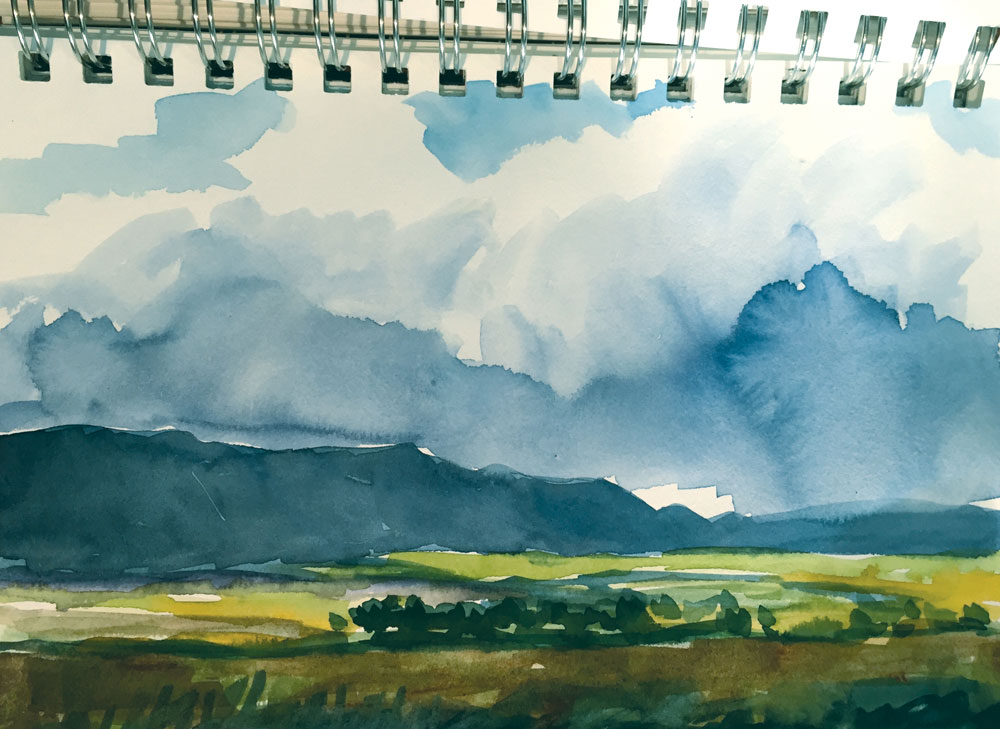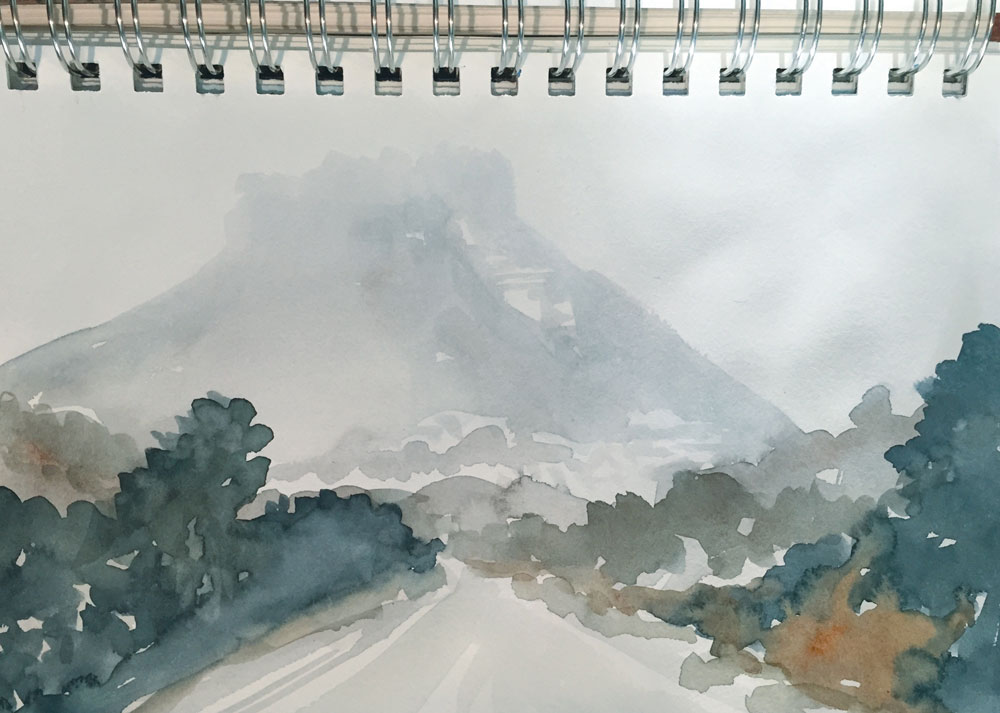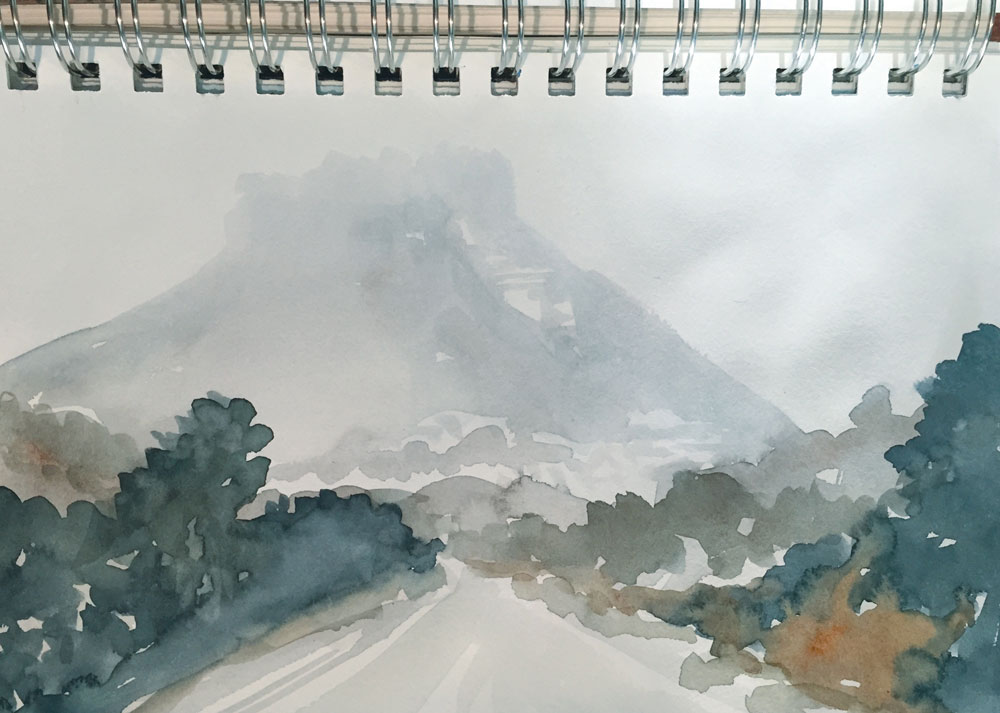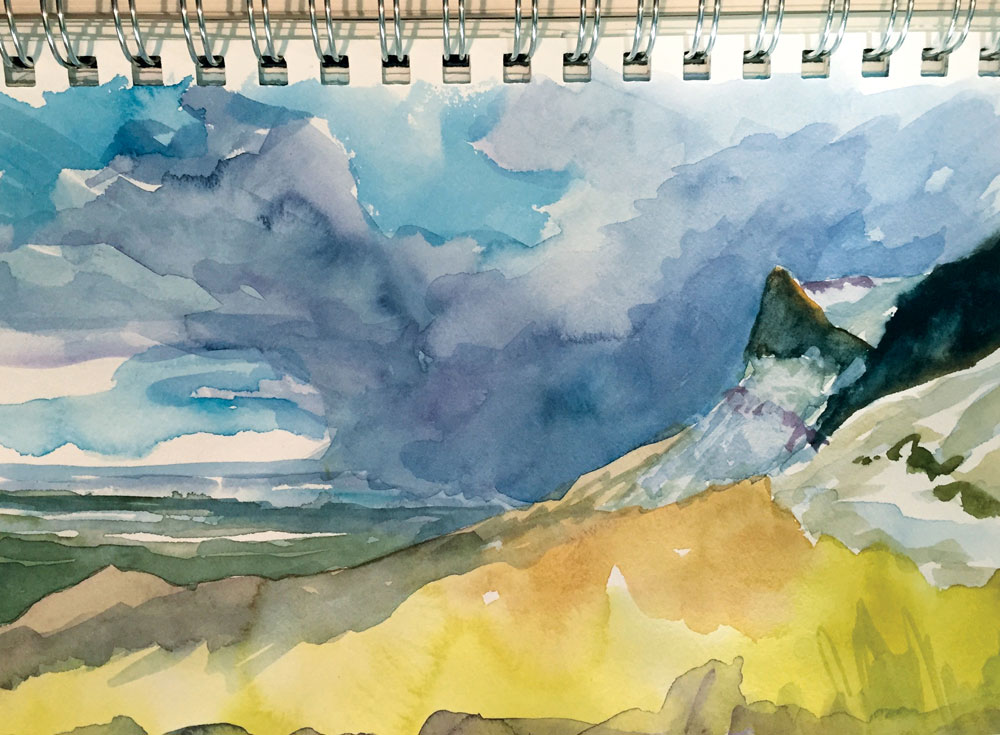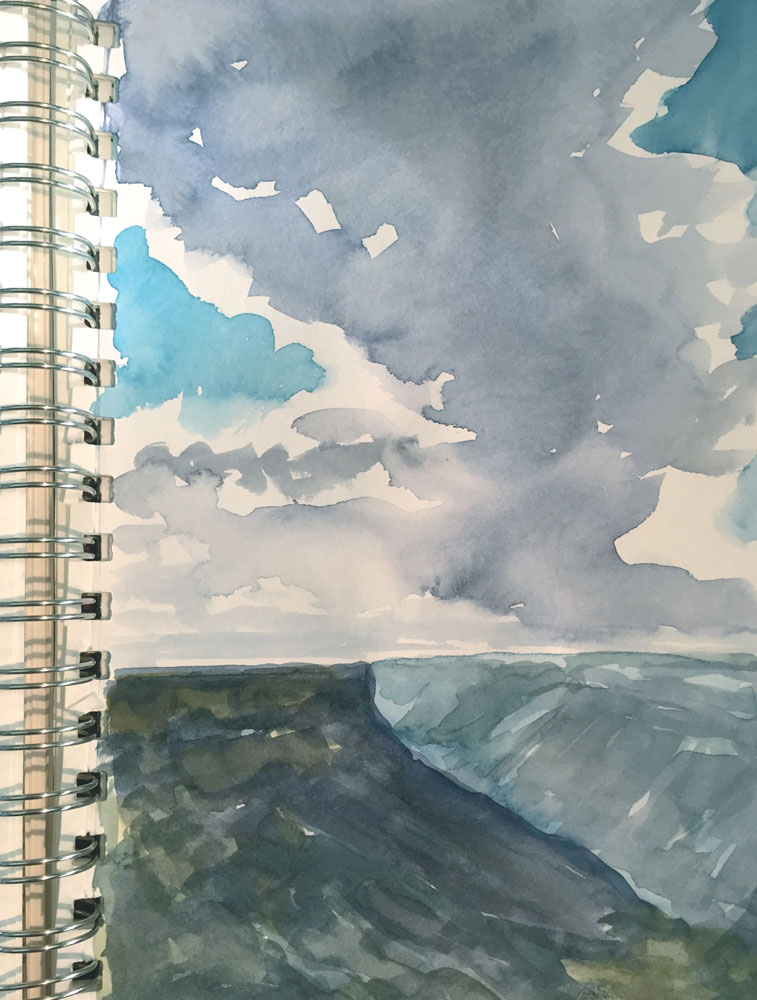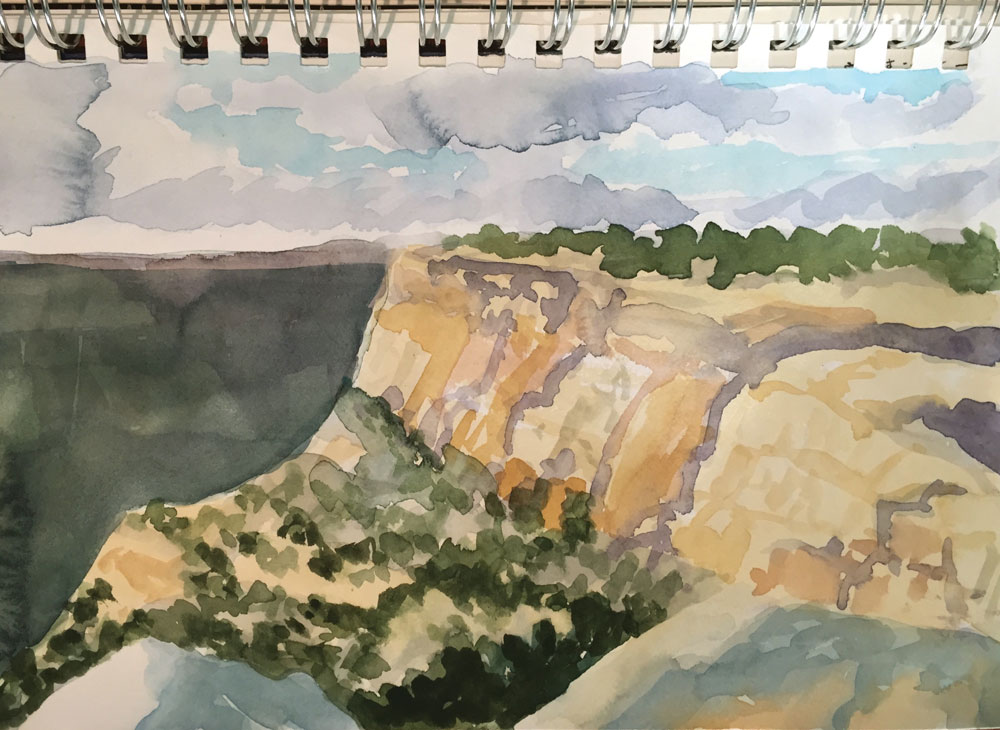 I painted all of these over the course of three evenings and three early mornings, in the pages of my journal — a "Super Deluxe Mixed Media: sketchbook by Bee Paper, a new notebook brand that I discovered almost by accident last year and has now become my new favorite.
And the paints…  I used a completely new array of colors, inspired by the palette of artist Gennine Zlatkis (a cool gal who also lives in Santa Fe and with whom I've become delightfully acquainted via Instagram).
These are colors I likely never would have considered trying before. I mean why change, when you've been getting decent results, with what you've been doing?
Umm…. Because you learn new things when you try new things?
Because changing things up is when you make new discoveries?
(Like I did just yesterday when I decided to take a different route to the post office, and discovered a beautiful new path.)
And Oh! the EXCITEMENT of new colors, the playful discovery in seeing what they do, how they mix and melt into each other!
FUN!
Here's the palette.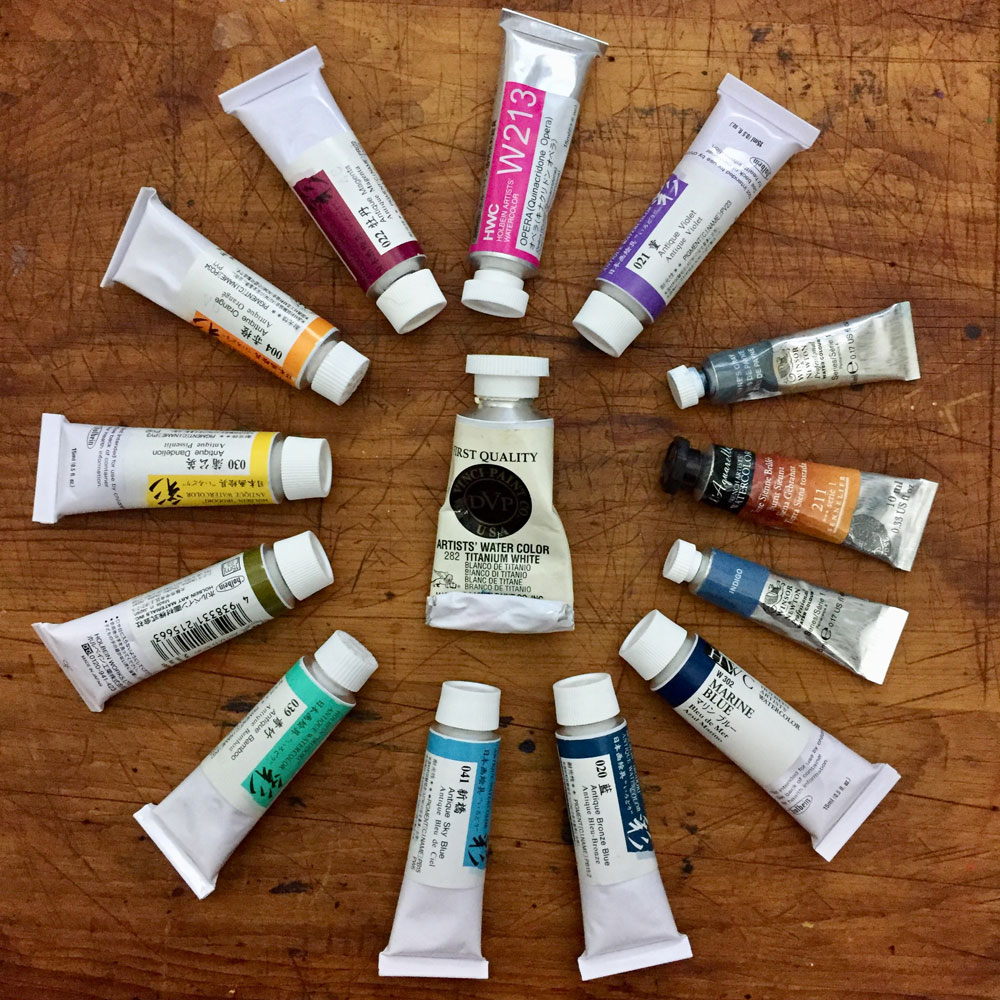 In addition to the Gennine's Holbein colors, I added four from Winsor Newton 
Clockwise from the hot pink tube:
Holbein Opera
Holbein Antique Magenta
Holbein Antique Violet
Winsor Newton Payne's Grey
Winsor Newton Burnt Sienna
Winsor Newton Indigo
Holbein Marine Blue
Holbein Antique Bronze Blue
Holbein Antique Sky Blue
Holbein Antique Bamboo
Holbein Antique Elm Green
Holbein Antique Dandelion
Holbein Antique Orange
Holbein Antique Magenta
Central: Winsor Newton Titanium White
None of these little sketches were painted en plein air. Rather — as I allude to above — I did these at the kitchen table of my little getaway. I actually did use my phone while there, but only for reference, so I could look at the many photos I'd taken during my drive. These sketches pretty much tell the tale of my trip — the views and weather I experienced as I made my way for several hours across northwestern New Mexico and up into the San Juan mountains of southwest Colorado.
These aren't fancy paintings; the pages of my journal are sturdy, but they aren't really made for sophisticated or polished watercolor paintings. And that's just fine, for these are staying in my journal, as I did them for me and my own pleasure, my own delight — a record of a  handful of perfect days of uninterrupted creative solitude. Just my pup, my muse, and I.
That's a little slice of heaven, right there.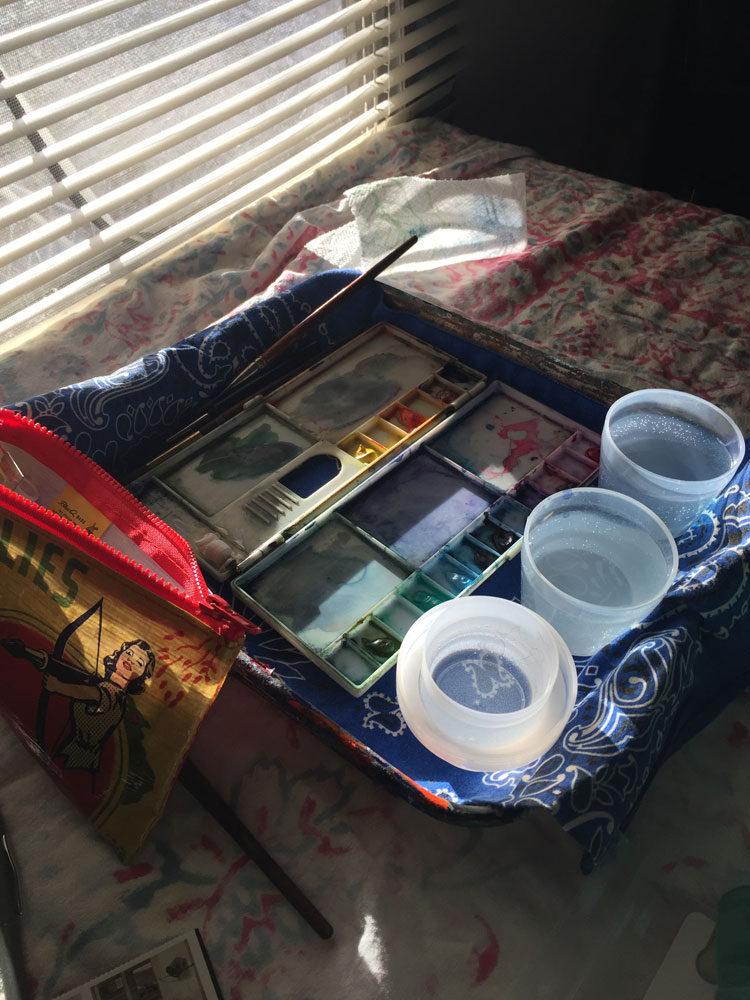 ---
By the way, special thanks to everyone who followed along with my little painted heart project a few weeks back.
Thanks to all who won a heat — your purchases helped fund my little roadtrip!
And extra special thanks to those who bid but weren't able to snag one. I'm sorry not everyone who wanted one was able to get one. 🙁
(Maybe next year?)
Meanwhile, thank you! I appreciate you — ALL of you!