Thank you everyone who expressed concern and relief after reading my last blog post with the tale of my birthday/new year car accident. I'm blessed — and grateful — for not only the non-tragic outcome of that event, but for all of you. Thank you.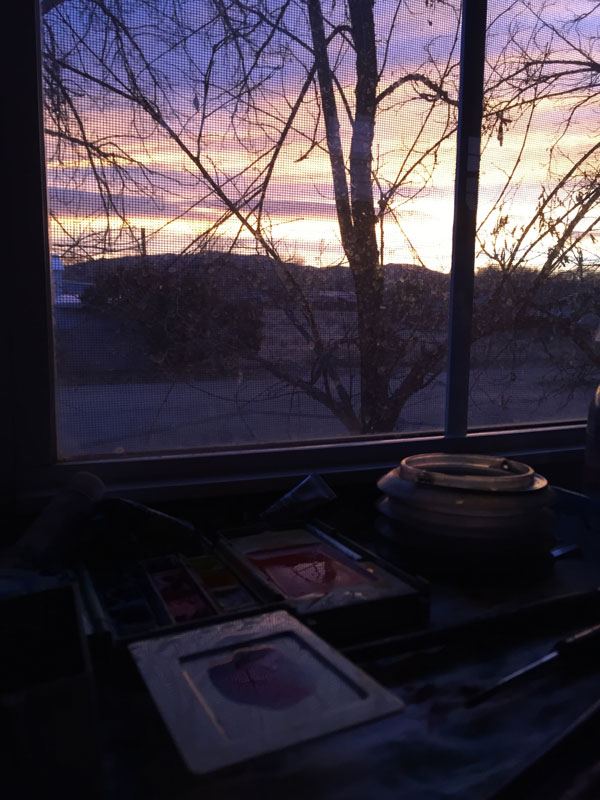 And thank you, too, those of you who were intrigued by my little watercolor heart project.
Your inquiries and interest in purchasing them (especially with an eye to Valentines Day) has led me on a bit of a delightful whirlwind for the past few days.
What I've decided is I'm just not quite ready to part with my little 2-1/2″ x 2-1/2″ painted hearts. There's a few reasons for this, one being that I may eventually want to collage them them into a massive grid of hearts (one idea of many….) Another is that they feel a bit like journal or diary entries, and so I want to keep them close for now.
But…
I'm touched by those of you who expressed a desire for a painted heart… by you who wanted a special gift for a friend who's been going through a tough patch…. Or you who wanted a unique handmade Valentine for your dear spouse… you who has a creative child who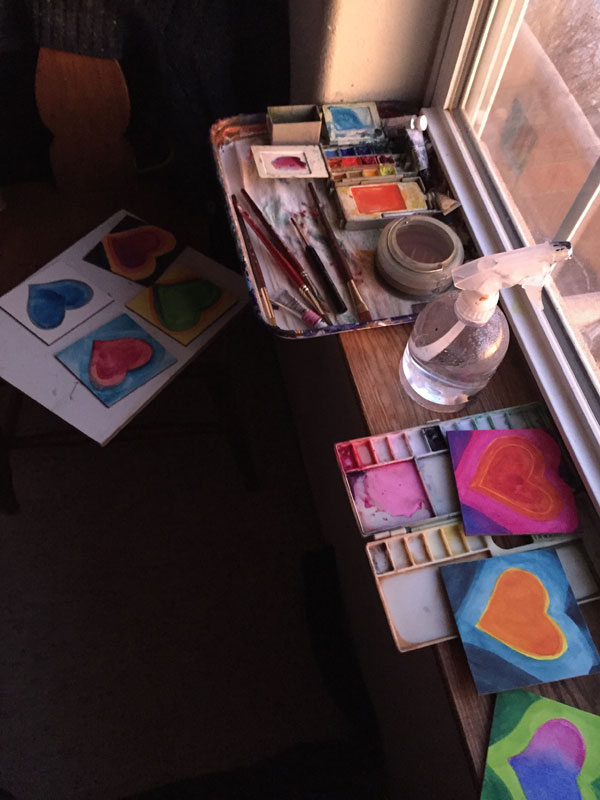 would just swoon and be inspired by a heart painted by a "real" artist…. and you who'd just like to put a bright splash of color on your wall to remind you that all is not dark in the world… In view of these inquiries, it seemed wrong to keep my hearts to myself.
I don't know if these will be of interest to anyone, but for the past few days I've been painting little watercolor hearts for you. They aren't as tiny as my paper hearts — these are painted on small 4″ x 4″ Ampersand aquabord panels, a beautiful, versatile substrate ideal for watermedia. I decided to paint them on panels because they'll be more durable that way and — best of all — because I'm able to varnish them, they won't need to be framed behind glass. I might have made them smaller, but 4″ x 4″ is the smallest sized aquabord I could find.
Perhaps you're wondering, are these painted hearts as soulful as the ones she painted for herself?
How is such a question answered?
All I know is that I feel like my soul guides my hand and eye any time I take time to touch brush to paint.
Certainly, these aren't sophisticated, elegant or "high" art. They haven't been slaved over.
They are cute, and colorful and about as cliché a symbol and image as one can image. They are quite simply sweet "nothings" — simple and imperfect, sentimental expressions — as are my other hearts.
And, like my other hearts, they just make me smile.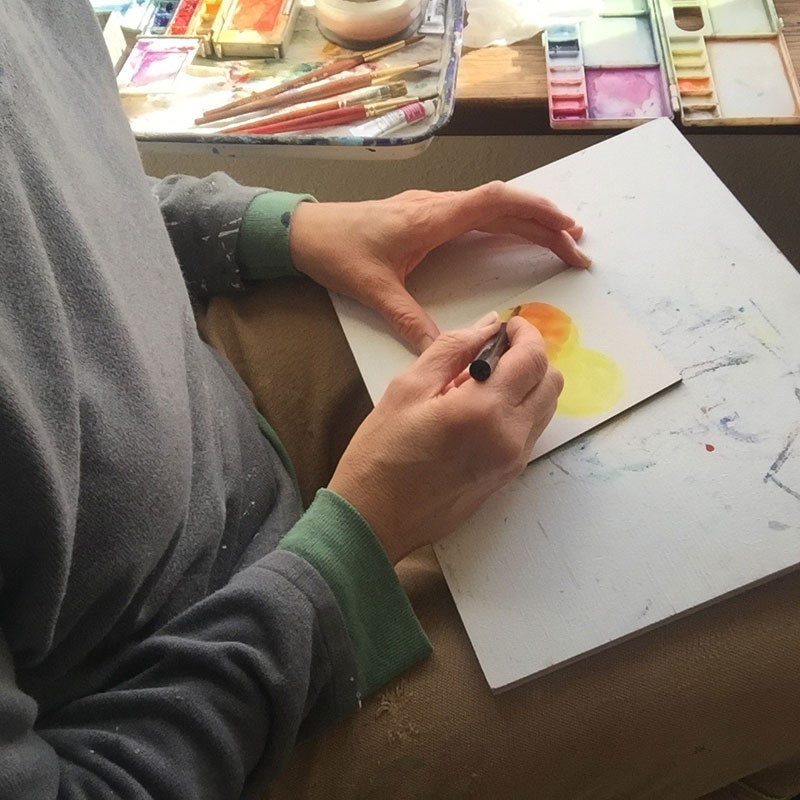 And honestly anything that makes me smile these days is worth it to me.
These, like the others, are painted in the same spot — in my little chair ("that knew my father in his youth and me in mine"), beside my window in my tiny bedroom loft.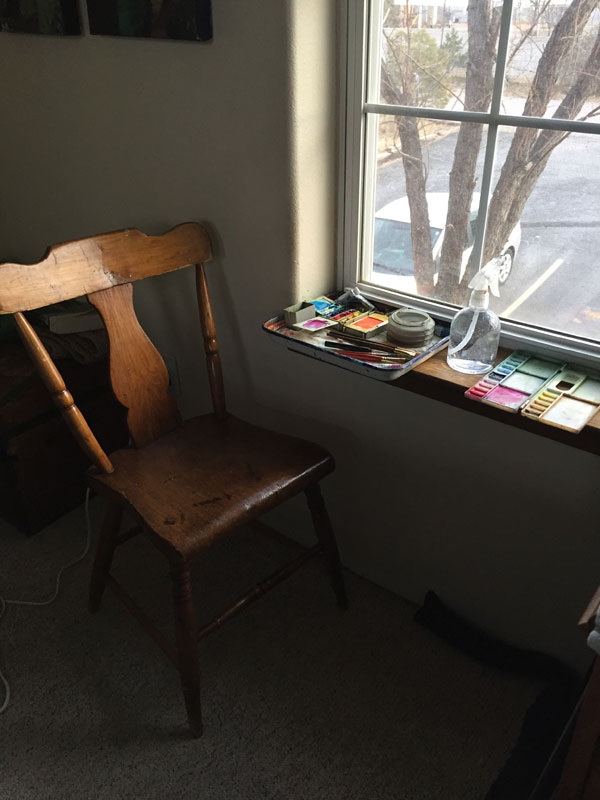 They're painted at the same time of day when I usually paint the others — in the early to mid-morning, either before or just after my walk/run/hike with the pup, as I'm sipping tea and settling into my morning; like the others, these are morning meditations on color to set the day right.
If anything, these hearts are painted with a bit more intention than the others.
All, though, are painted to bring a bit of light and joy and color into a darkened world.
There'll be 14 of these available, And really, I haven't a clue how to price them… So I've decided to let you who may be interested in them decide — which is why I've decided to put them on eBay rather than Etsy. There will be 2 per day for 7 days, with a starting bit of $14.14 each, to cover a bit toward my materials & tea (a critical ingredient for any painting endeavor, especially morning ones…).
Note that shipping is $10, to cover the cost of USPS Priority Mail + my packaging materials. Because these are original paintings, I pack them especially carefully.
Here's the links for the current auctions (I'll try to remember to update these here daily for the next 7 days):
Winter Watercolor auction #5
Winter Watercolor auction #6
Anyhow, the first two auctions started last night (Thursday, 1 February 2018) at 7pm and will conclude tonight (Friday, 2 February 2018) at 7pm, when the next 2 auctions will kick off. Look for new painted hearts each evening through February 7th; the final two auctions will conclude Thursday evening, February 8th at 7:00pm. All will ship out via Priority Mail and will arrive in time for V-Day, if that's important to you.
Any that sell will be packaged like a little gift…
Who knows? If there's any interest in these, maybe I'll make this an annual winter project. I can think of worse ways to spend a few winter hours each season than painting small colorful expressions of love and joy…
And if there's no interest in my little hearts? Well… I'll just keep painting them anyway… because… they make me smile… and that, in my book, is pretty priceless…