I interrupt the steady stream of weekend crane painting posts to share the gift of snow — High Country Snow.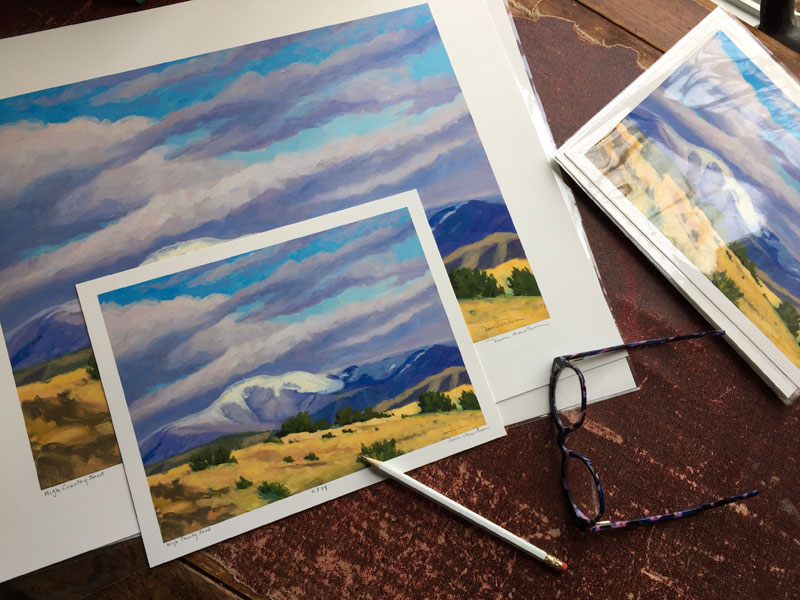 High Country Snow ~ by Dawn Chandler ~ limited edition prints (as well as the painting) now available.
I don't know the exact calendar, but it seems snow this season first fell on the high peaks of Northern New Mexico in early November — maybe even late October. (Now that I think of of it, Yes, it snowed on Halloween…)
What astonishes me is that there has been a constant cap of snow in the high country for weeks and weeks leading into Christmas.
In my quarter-century of living in New Mexico, I have never seen the mountains covered this consistently with late autumn snow like this.
As I write this, more snow is coming.
You know the old wisdom:
Red sky at morning, sailors take warning.
Out here in the land of drought and fire I propose a revision:
Red sky at dawn, rivers rush on.
Rain. Snow. We depend on them.
And so with every fresh white cloaking of the mountains, I utter a silent prayer of thanks.
And of course this time of year, when snow touches the mountains, they just seem dreamlike on account of their frosting."
As a Northeastern girl, with gorgeous childhood memories of white Christmases, every year the romantic in me hopes upon hope for snow on December 24th.
But even if Christmas weren't part of the equation, there's something about snow in the high peaks that touches off the romantic in me. 'Hard to look to those white slopes and not dream of cozy cabins, crackling fires, warm libations and candlelight.
Brings to mind a favorite snowy ballad…
The lamp is burnin' low upon my table top
The snow is softly fallin'
The air is still within the silence of my room
I hear your voice softly callin'
If I could only have you near
To breathe a sigh or two
I would be happy just to hold the hands I love
Upon this winter night with you
The smoke is rising in the shadows overhead
My glass is almost empty
I read again between the lines upon the page
The words of love you sent me
If I could know within my heart
That you were lonely too
I would be happy just to hold the hands I love
Upon this winter night with you
The fire is dying now, my lamp is growing dim
The shades of night are liftin'
The mornin' light steals across my windowpane
Where webs of snow are driftin'
If I could only have you near
To breathe a sigh or two
I would be happy just to hold the hands I love
And to be once again with with you
To be once again with with you
(That is, of course, "Song for A Winter's Night" by Gordon Lightfoot.)
These are among the many thoughts drifting like snow through my mind as I consider my most recent painting, High Country Snow.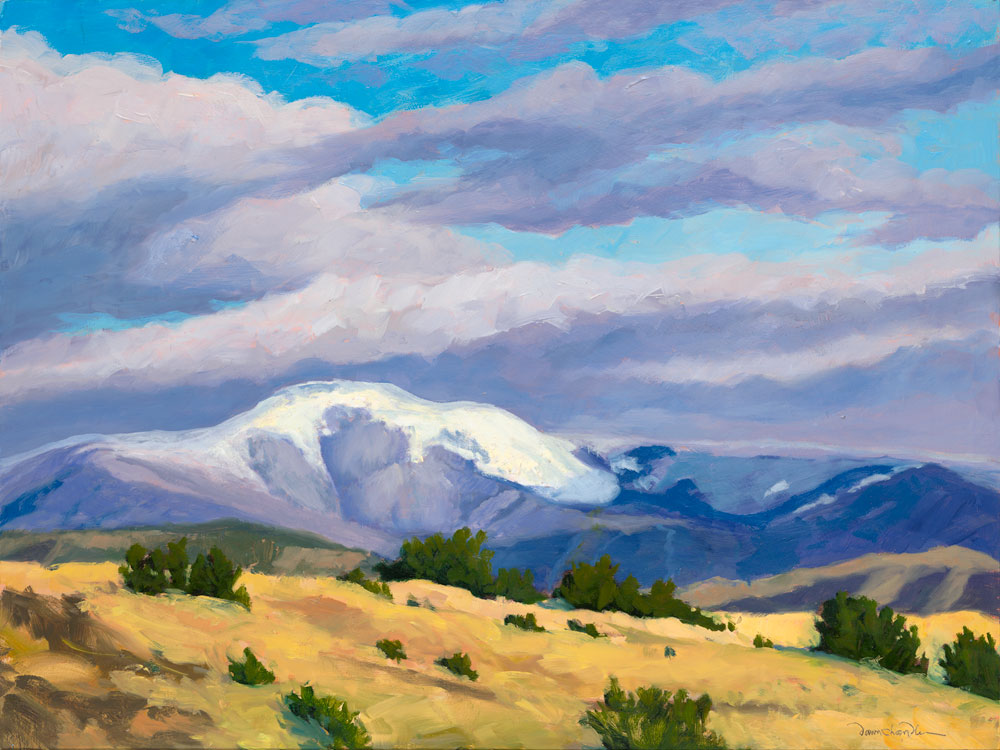 High Country Snow
by Dawn Chandler
oil on panel ~ 18″ x 24″
As if I even have to tell most of you that this is the 12,441 ft. Baldy Mountain in Colfax County, New Mexico — Philmont's Baldy Mountain (as opposed to, say, Santa Fe's Baldy Mountain, or any of the surely dozens of other "Baldy Mts. in this country!)
My friend (and ace photographer) Douglas Fasching sent me a photo of this scene years ago, and I've been meaning to attempt a painting of it ever Funny thing is he caught this image in April — so this is a springtime snow. But April's snows are maybe even more valued than late autumn snows, dampening and nourishing as they do the parched springtime wind-sucked high desert earth.
Doesn't matter.
Snow is snow and it's always welcome here.
And so this painting High Country Snow is a tribute to that rare sight of snow-capped mountains in New Mexico. And after this year's brutal Ute Park Fire summer fire across the heart of Philmont, this painting is, well, a sort of prayer, too.
A prayer for a whole lot more snow and rain to come to New Mexico in the new year, and bring green back to the high desert….
I've created a very limited edition of 12 medium (12″ x 16″) and 24 small (7.5″ x 10″) prints of High Country Snow; find them here.
And, of course, the original 18″ x 24″ oil painting is available, too — right here.
Or just go shop around at my online store at etsy.com/shop/dawnchandlerstudio
More cranes coming soon….
Meanwhile, LET IT SNOW, LET IT SNOW, LET IT SNOW!

---
Thanks so much for reading my blog and appreciating my art!
If you enjoy my musings here, and know others who might enjoy them too, please share this post!
Also, I invite you to discover more of my stories, insights and art via my Inside the Studio Notes — and of course here on my website, www.taosdawn.com. You can also find me on Instagram and Facebook.
Blessings ~
Dawn Chandler
---
All photos & paintings throughout this blog are by Dawn Chandler unless otherwise noted.