It's become a cherished late August ritual for me: Driving the Enchanted Circle through Northern New Mexico.
I started the tradition two years ago…. it was the last drive my sweet pup and I did together before she died.

As a tribute to her I made the journey again last summer on the anniversary of our last day together. A year later though rather than my eyes being clouded with tears, they were filled with color — the supremely rich color of New Mexico in late summer. This time my sight was dazzled by ultramarine-shadowed clouds, violet asters and roadside sunflowers. The first aspens were starting to turn up near Red River, and as I descended down the east side of Bobcat pass, the clouds began to open up and reveal cerulean skies.
I don't know how many times I've driven through the Moreno Valley, but it's surely in the hundreds. Shame on me that I'd never ventured to Eagle Nest Lake State Park. For Pete's sake it's only a mile off the main road! Yet always I've been in a hurry t to get somewhere else. (Sounds familiar).

Well this day not only was I going to visit the park, but I was going to have a picnic there.
Yet when I pulled in, nothing had prepared me for the masses of gold daisies that covered the slope down to the water.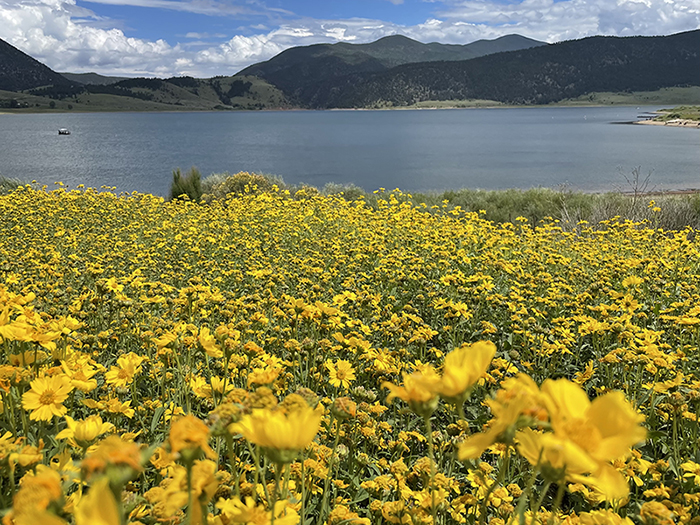 I knew immediately that I wanted to paint the scene, and took dozens of photos in an attempt to get a good angle.
Finally this winter I got around to painting it.
Each morning I worked on the painting, I started with a little warm-up watercolor which I painted on Multimedia Artboard.
Multimedia Artboard is an interesting substrate. Imagine a very stiff and starched piece of paper — it's kind of like that. It's thin, very rigid, durable, archival and is suitable for oil and water-based paints.
Theoretically it accepts watercolors, but watercolors react strangely with the surface.
Anyone who has painted with watercolors knows that they are notoriously difficult to control. But trying to control the flow of watercolor on Multimedia Artboard? Damn near impossible. And yet….I find that kind of thrilling. I put down the paint where I want it, then walk away wondering what I'm going to find when I come back. Always I'm surprised.
Here are six of my watercolor "warm-ups" of my Eagle Nest vista. Hardly a speck of control. Yet I love that loose and surprising energy of just letting the paint do its thing.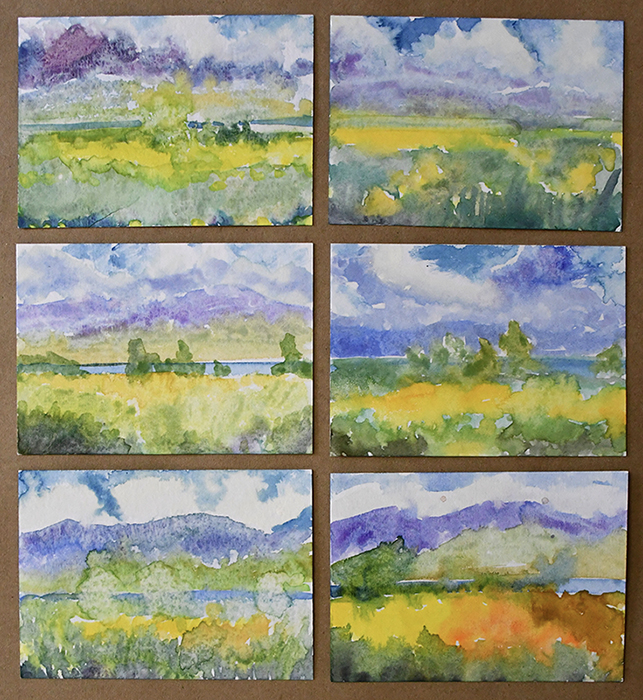 The "real" painting, titled Eagle Nest Gold, which I've done in my "traditional" representational style is of course much more controlled and a whole lot less wild than the watercolor warm-ups.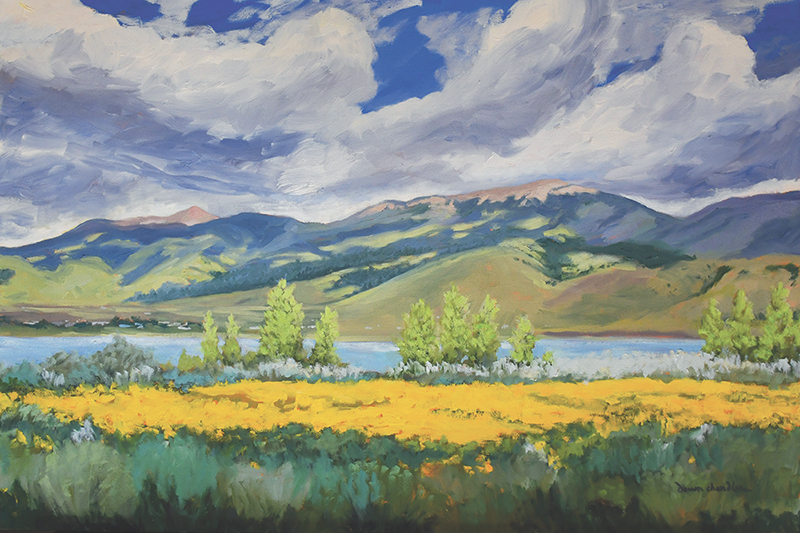 We're standing on the west edge of Eagle Nest Lake, looking northeast to Philmont's Baldy Mountain (left) and Touch-Me-Not (the long flat peak on the right).
Perhaps it seems unseasonable to be thinking of late summer as I write this in mid-April, just as everything is coming into green. Yet, As I consider this painting just now, I'm so looking forward to making my annual drive again in a few months. I'm swept back to that late August afternoon when I was surrounded by those intensely vivid gold flowers. Even now the memory of them catches my breath. I remember, too, how the clouds were in constant motion, creating a dance of shadows across the Sangre de Cristos.
What a glorious day that was — perfect for a special anniversary. I just wish my sweet pup could have been there with me.
But of course she was, if only in spirit. And she'll be there again, when I return.
Eagle Nest Gold is painted in oil on a 24" x 36" canvas and is available in my Etsy shop.
---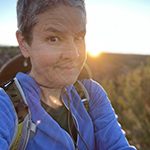 Thanks for finding your way here and for reading my musings. If you think others might appreciate them, feel free to share this post. And if you'd like to read more of my musings please consider subscribing to this, my blog.
Meanwhile, find more of my stories, insights and art here on my website www.taosdawn.com. Shop my art via my Etsy shop. And please consider joining me for Tuesday Dawnings, my weekly deep breath of uplift, insight, contemplation & creativity. Find other ways to keep tabs on me via my connect page.
Stay safe. Be kind.
~ Dawn Chandler
Santa Fe , New Mexico
Free from social media since 2020