Thirty minutes ago I emerged from the mall where my PO box is. I had just dumped my massive annual springtime greeting card mailing at the post office and was feeling a bit jubilant. Thirty minutes before that, an all-day soaking spring rain (a rarity out here) finally lifted, and now the world was all sparkly — another reason for feeling jubilant. So when I came across a huge puddle in the middle of the sidewalk, I didn't hesitate: I walked straight through it — but slowly. I looked down at my feet as I did so. I was reminded of being a little girl, doing the same thing, slowly, as if to savor the rarity of puddles. As though considering doing something naughty and wondering if I could get away with it. Or maybe the slowness came simply from a feeling of awe, of I can't believe I really get to do this!
This afternoon as I walked through the puddle I looked up from my sloshing boots to see a slightly grizzled man in white t-shirt and worn Carharrt work pants approaching the sidewalk from the parking lot; we smiled at each other. He said, "You know, I used to do that when I was five, or six, or seven."
To which I responded, "And I figure why not do it when we're fifty or sixty?"
He threw up both his hands with joy and exclaimed or "seventy or eighty or ninety?!"
Go ahead. Walk through a puddle today — especially if they're a rarity where you live.
And maybe even if they aren't.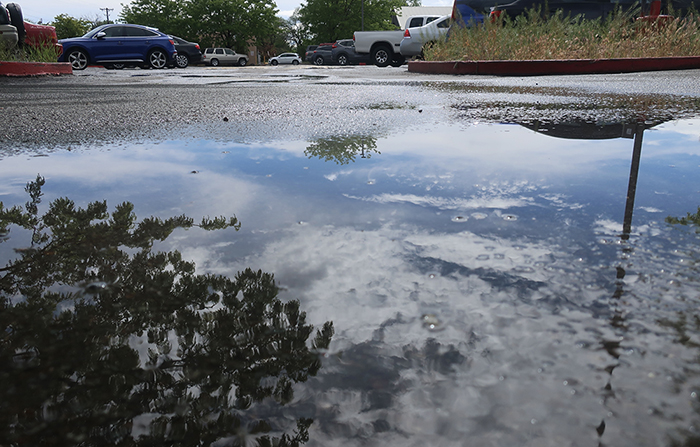 Psst…. See and read about one of my favorite puddles here.
---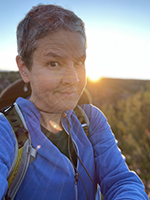 Thanks for finding your way here and for reading my musings. If you think others might appreciate them, feel free to share this post. And if you'd like to read more of my musings please consider subscribing to this, my blog.
Meanwhile, find more of my stories, insights and art here on my website www.taosdawn.com. Shop my art via my Etsy shop. And please consider joining me for Tuesday Dawnings, my weekly deep breath of uplift, insight, contemplation & creativity. Find other ways to keep tabs on me via my connect page.
Stay safe. Be kind.
~ Dawn Chandler
Santa Fe , New Mexico
Free from social media since 2020