We had been camped on the far edge of the high south meadow. The evening before we were lead up a west slope trail, where, just beyond the ridge in the blaze of sun sinking quickly before us, we stood at a fence line, and watched color radiate from a point just beyond Wheeler.*
That night, we slept in the company of evergreen and aspen.
For five nights we slept upon the earth.
For six days we breathed deeply the high country air.
Morning glistened with the promise of winding trails and clear streams; of paintbrush and iris and penstemon; of trailside conversation, songs and laughter and perhaps even — no, definitely — a bear sighting both magical and maybe a little too close for comfort.
All in a day.
All in a week.
All on the trails of Northen New Mexico.
This memory is from a series of days in July, 2015 when I had the joy of backpacking again at Philmont — the place where I first fell in love with New Mexico back in my teens and college years. This time I returned to the trails of Colfax County with thirteen other women, nearly all of us former camp staff members; every one of us possessing a deep soulful connection to "The Ranch."
We had chosen a "South Country" itinerary for our trek, in part because the South Country is a bit more verdant than Philmont's North Country,' and some of us just really wanted to enjoy again the lushness of those high mountain meadows and streams.
Little did we know when planning our itinerary that 2015 would be The Year of Rain.
The Year of Green.
I'm talking Ireland-type green, as captured over there —>
in my 2016 painting, When Rain [Finally] Comes to New Mexico
(which I jokingly subtitled "Yes, It Really Was That Green" )
Day three of our hike brought us to Apache Springs Camp, tucked away in Philmont's far southwest corner — a place I had visited only once before c.1983, and then for only a few hours. It's a beautiful, beautiful spot, and I regret not venturing there in my youthful summer's days off decades before.
Just a few weeks ago I finished a new painting from this journey — the painting pictured above. It captures a moment during our morning departure from Apache Springs, Most of us had made it down to the cabin already, but a couple of us straggled behind, lingering in the light dancing across that long stretch of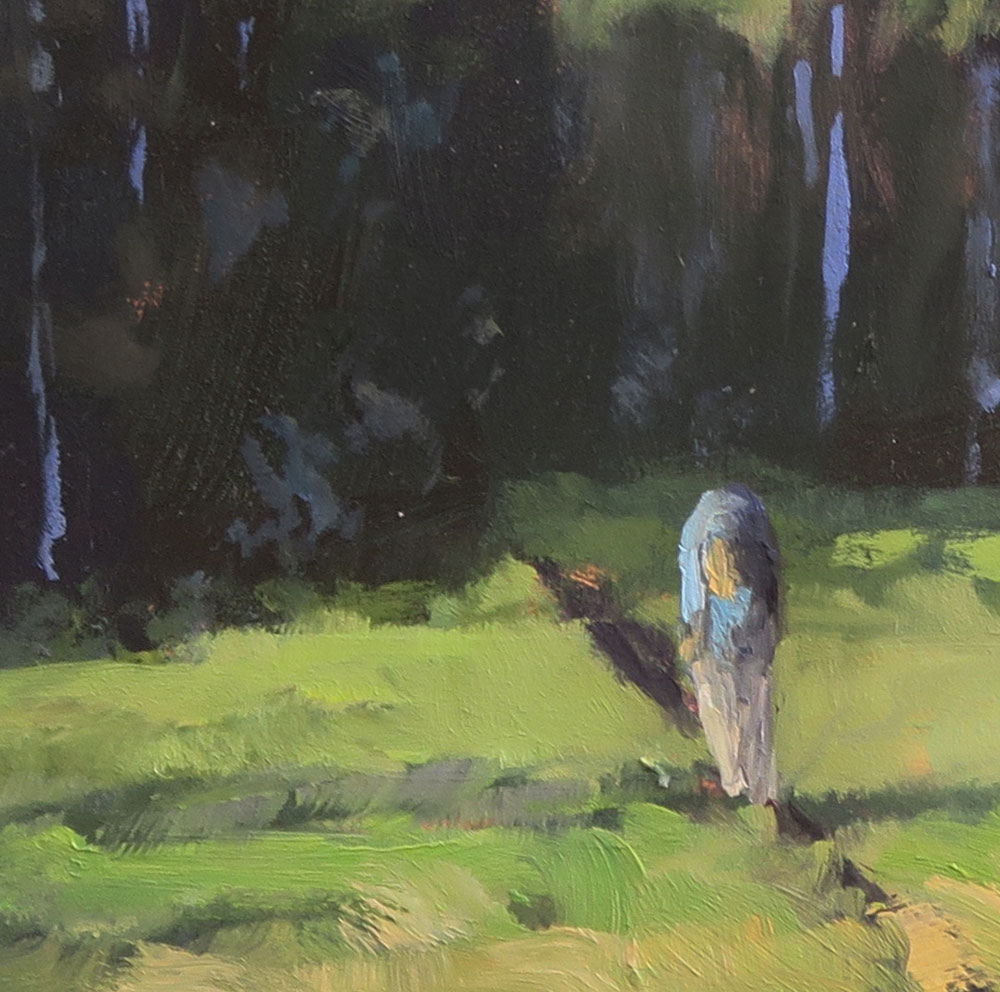 aspen-edged meadow.  No surprise that the forester among us had the wisdom to linger longest in the light. For I'm pretty sure that solitary hiker is Mary Stuever: former Philmont Ranger turned New Mexico Forester, gifted author of The Forester's Log.
Several possible titles for this painting are ricocheting through my head, but I can't quite settle on one.
But perhaps you have some suggestions for a title?
If so, I welcome them.
(Feel free to, comment below or via of my studio FaceBook page where I'll share this post shortly.)
Meanwhile, there's so many more paintings I've been meaning to do of this trip . . . Here's what I've completed so far,:
And again. . . .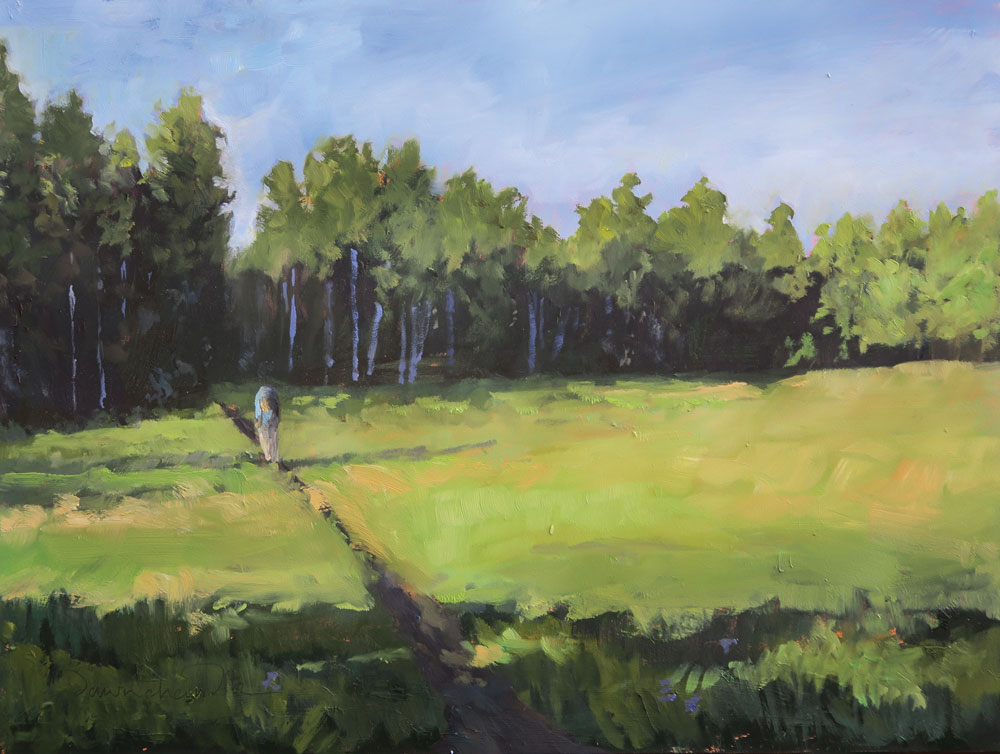 Save
Save
Save
Save
Save