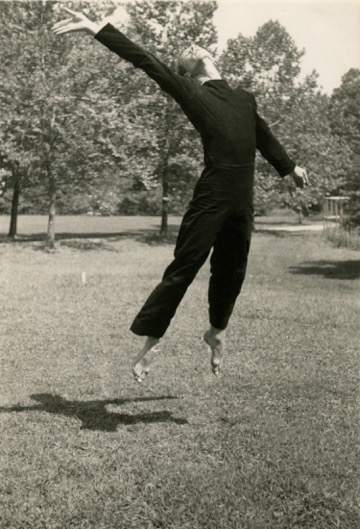 What are you passionate about?
How would you teach your passion?
How would you share it with others?
Light a spark in someone else, so that they might get a glimmer of excitement about it?
This is exactly the challenge that came my way a year ago, and changed completely the trajectory of 2021 for me.
It started in December 2020, when I received a curious message from a woman who had come across my art on Etsy.
She said she loved my paintings, especially my semi-abstract New Mexico landscapes. Might I be interested, she wondered, in providing "Art Experiences" for the guests of their new hotel in Santa Fe, Bishop's Lodge.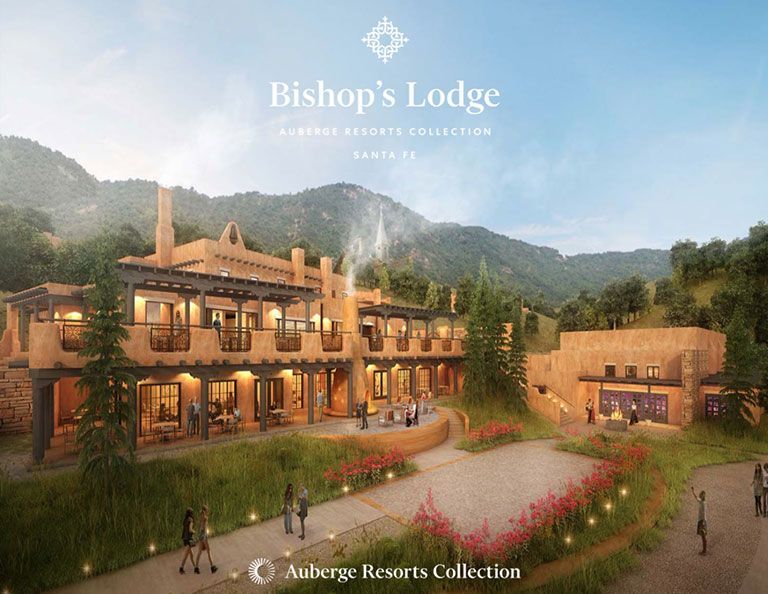 Only vaguely familiar with Bishop's Lodge, I knew that it was an historic property in the hills north of Santa Fe. I had a vague notion of it having been an inn for some decades, and my sense was that it had seen better days. I'd never been there, and wasn't even sure if I'd ever even driven by it.
A quick search online revealed that the Lodge had been purchased a few years ago by Auberge Resorts, a company that specializes in luxury destinations, and that they were putting the property through a massive renovation and upgrade, due to open in the summer of 2021.
Hmmmm…..
"Yes," I responded, "I am interested."
Never mind that I had no idea what she meant by "art experiences."
A conversation or two later and I learned that what she was looking for is an immersive art-making experience to take place on-site at the Lodge. Each session would last 2 – 3 hours for up to a half-dozen guests. The sessions would be scheduled several weeks (or even months) in advance. In any given month I might have several sessions booked, or, possibly, none at all. It would just depend on the interests of the individual guests.
Among those guests who sign up for my Art Experience, some might have an art background, though most probably would not.
I would provide all materials. It would be ideal if, at the end of the Art Experience, the guests had a finished artwork to take home with them.
I was intrigued.
"What kind of art experience are you looking for?" I asked.
"Well, I really love your sense of color…

... maybe you could create an Art Experience around color?"
And right there she touched on my passion.
My heart palpitated.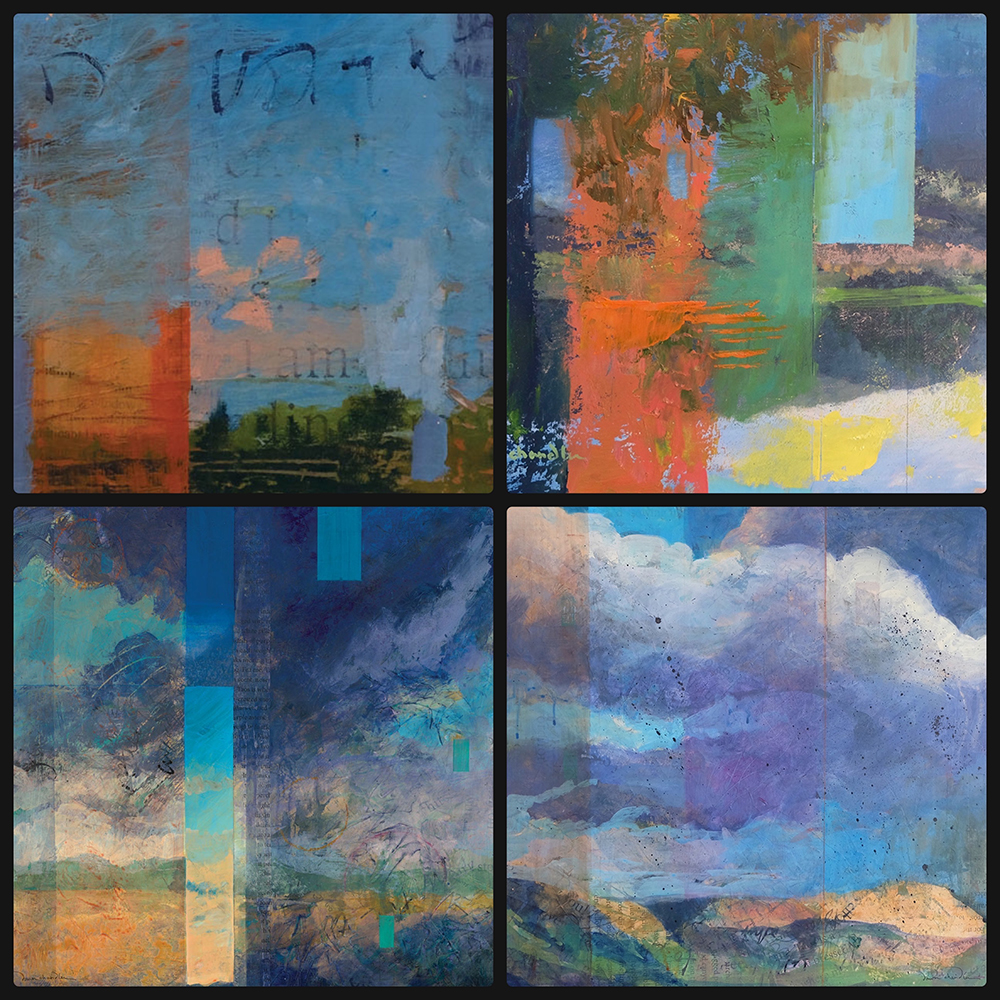 But how to teach color? and in just two or three hours?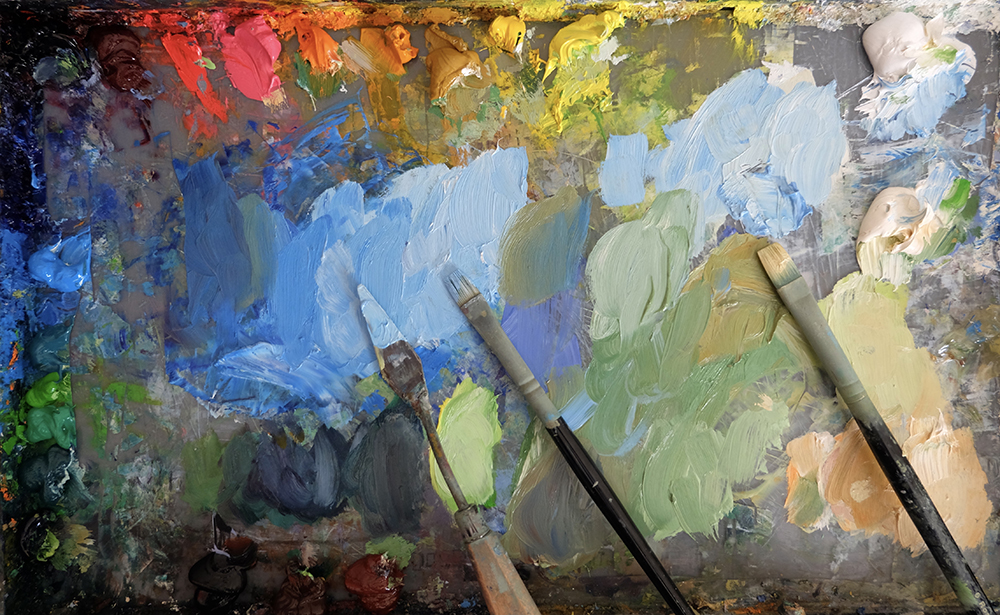 Surely if anyone could figure it out, I could?
Couldn't I?
Yes.
I accepted her invitation to create an Art Experience of color for the guests of Bishop's Lodge.
Thence began my new year.
….And with it, insomnia as I wondered how the hell I was going to do it.
---
Images above: Merce Cunningham teaching at Black Mountain College, c. 1940s; artist's rendition of Bishop's Lodge Resort, before renovations were completed; detail of Drive Across the High Desert, oil on panel by Dawn Chandler; digital collage of several mixed-media semi-abstract landscape paintings by Dawn Chandler; Dawn Chandler's oil-painting palette.
---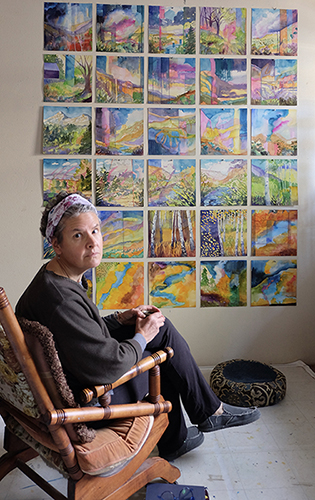 Thank you for being here and reading my musings. If you enjoyed this post and would like to read more, I invite you to subscribe to this, my blog.
Meanwhile, find more of my stories, insights and art here on my website, www.taosdawn.com. Peruse and shop for my art via my Etsy shop. And please consider joining me for Tuesday Dawnings, my weekly deep breath of uplift, insight, contemplation & creativity.
Stay safe. Be kind.
~ Dawn Chandler
Santa Fe , New Mexico
Free from social media since 2020