I was cruising along on I-25 and had just crossed back into New Mexico when somewhere between Raton and Springer something way overhead caught my eye:
Wait… what is that?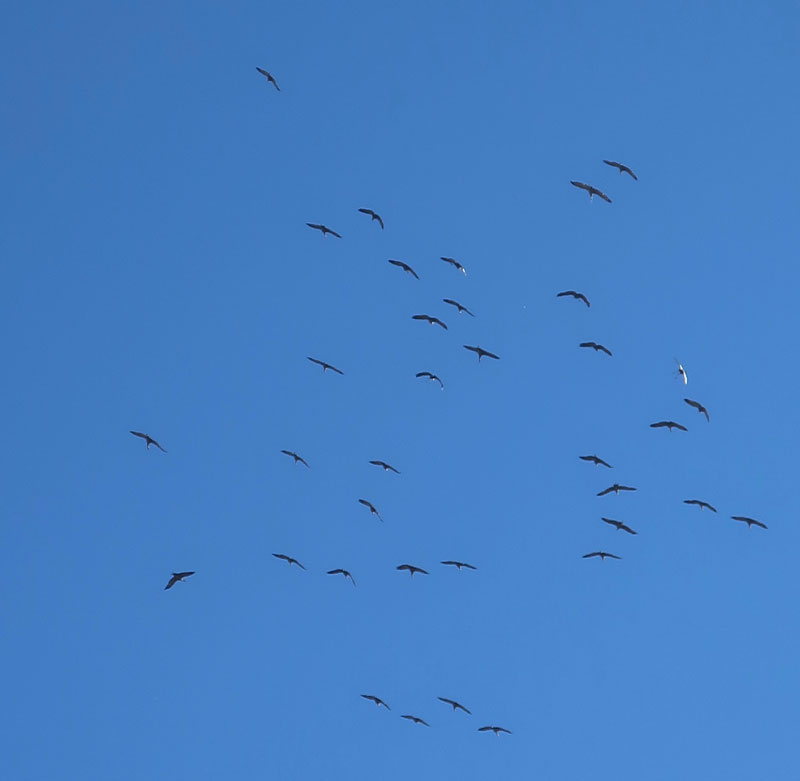 Dozens and dozens of birds, gliding at an impossible altitude.
What ARE they?….
I had never seen anything like them before.
in my astonishment I had to pull over, get out of my car, and just watch them.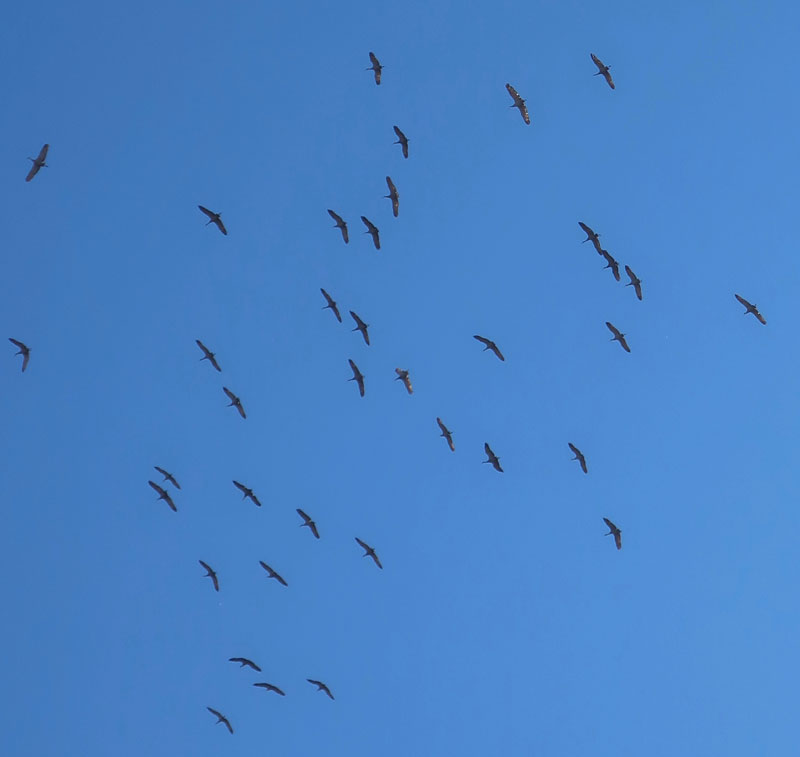 Yet what was most astonishing of all?
No one else pulled over. No one else even appeared to look up, to notice them. Cars and trucks and 18-wheelers and RVs and SUVS and sports cars all whizzed by with passengers looking anywhere by up.
Do they not see this? Are they not astonished?
Or was this a common — and therefore tired — sight for everyone but me?
Not likely.
I think mostly these beings went unseen — as do, alas, so many of our fellow souls.
This was to me my very first encounter with the sandhill cranes and it occurred one autumn some seven or eight years ago when I knew absolutely nothing about them. And though it would be a few more years before i would encounter the cranes in such a way that I would become forever besotted with them, I've never forgotten this first crane spotting experience out on I-25.
Now, come mid-Autumn, I know to listen and to look for them…. as My Good Man and I did a couple of weeks ago, driving up through southern Colorado, west of Alamosa. There we delightedly heard, then saw, some of our New Mexico cranes resting on their journey home….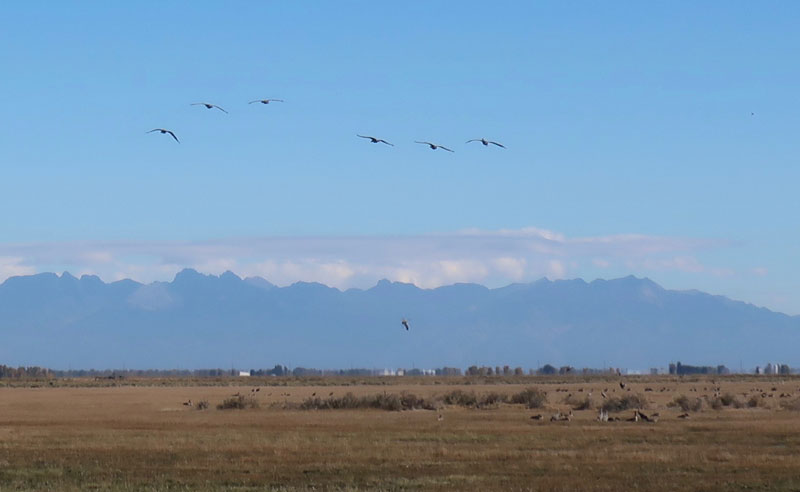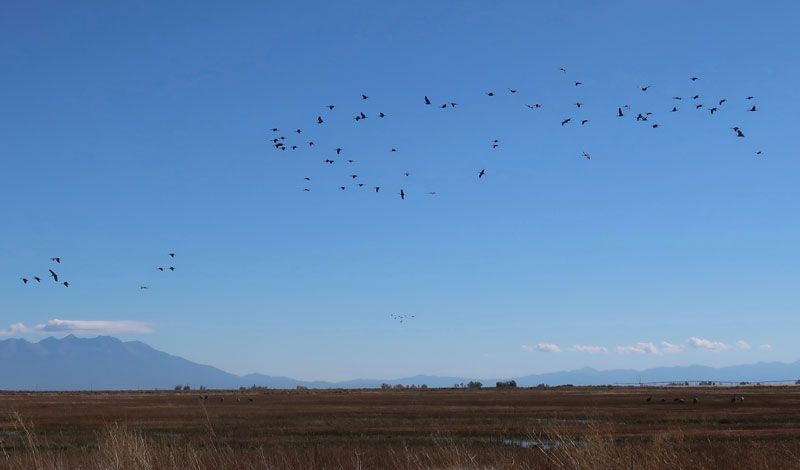 How about you?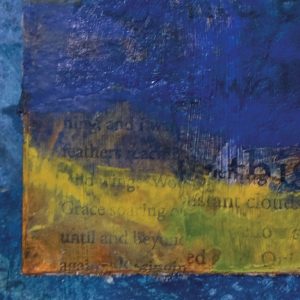 Have you ever heard the cranes — or even geese — and looked to the sky with pure hope and joy and wondered,
where are they. . . 
I hear them!

but where are they?
And then!
And then have had your heart leap as you spot them, their silhouettes sharpening and fading in and out of sunlight and cloud light as they catch an invisible current and glide, or as with the geese, their winged chevron waves across the sky ….
This small painting — Secretly, Joyfully, Clearly — celebrates that moment of hearing the cranes and geese, and searching the sky for the source of their song . And then that brilliant moment of discernment, before they fade into the sky once more…..
Maybe no one expresses that moment better than Mary Oliver….
Oh, to love what is lovely, and will not last!
What a task
to ask
of anything, or anyone,
yet it is ours,
and not by the century or the year, but by the hours.
One fall day I heard
above me, and above the sting of the wind, a sound
I did not know, and my look shot upward; it was
a flock of snow geese, winging it
faster than the ones we usually see,
and, being the color of snow, catching the sun
so they were, in part at least, golden. I
held my breath
as we do
sometimes
to stop time
when something wonderful
has touched us
as with a match,
which is lit, and bright,
but does not hurt
in the common way,
but delightfully,
as if delight
were the most serious thing
you ever felt.
The geese
flew on,
I have never seen them again.
Maybe I will, someday, somewhere.
Maybe I won't.
It doesn't matter.
What matters
is that, when I saw them,
I saw them
as through the veil, secretly, joyfully, clearly.
Mary Oliver, Snow Geese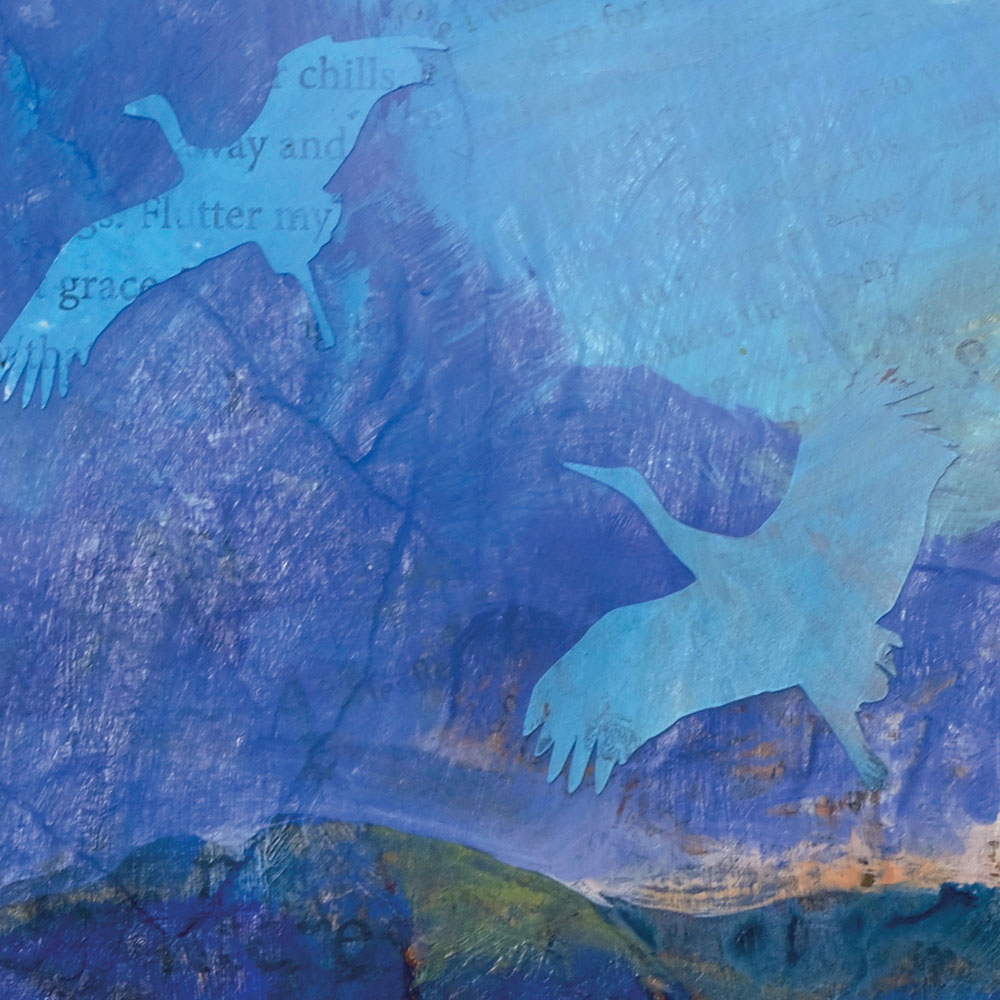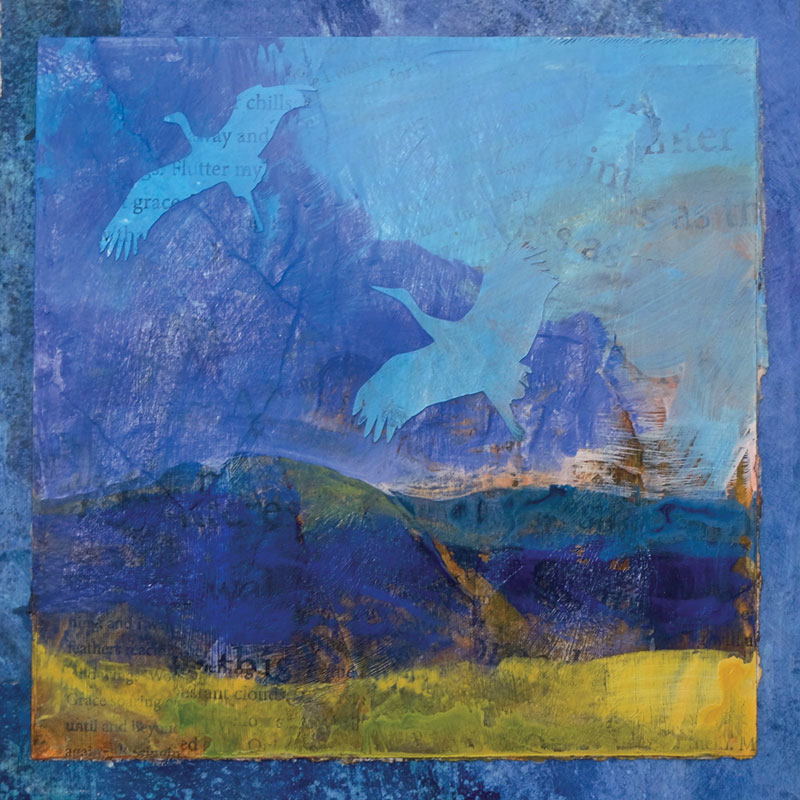 Secretly, Joyfully, Clearly by Dawn Chandler
mixed-media on panel ~   8″ x 8″
This painting is available here.
---
Read about my other crane paintings ~
new for you each saturday morning ~ honoring grace
---
Thanks so much for reading my blog. If you enjoy my musings here, please feel free to share this post!
Also, I invite you to discover more of my stories, insights and art on Instagram, Facebook and via my Inside the Studio Notes — and of course here on my website, www.taosdawn.com
With gratitude ~
Dawn Chandler