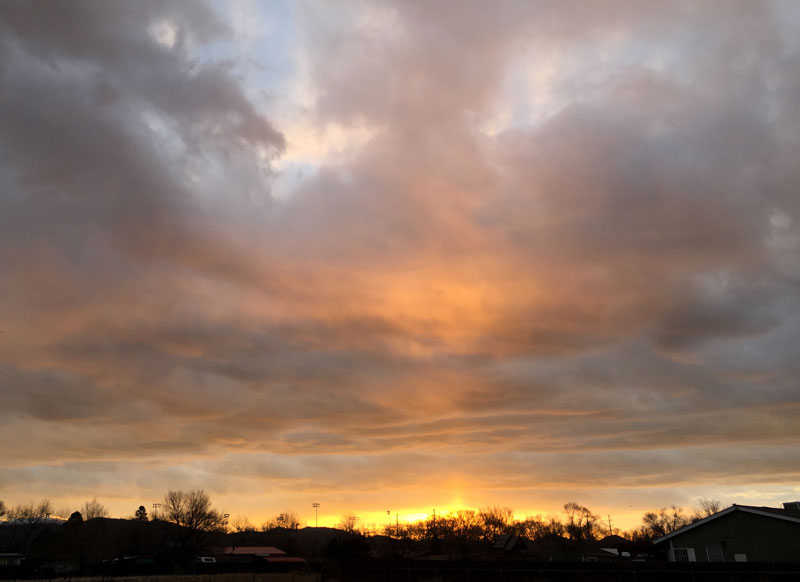 As I write this, a gorgeous snow is falling in the soft grey light of dawn. This is the second of two snow storms to move across New Mexico this week: The first arrived mid-morning of the 26th blessing us with four inches of snow. This storm arrived last evening, and when I looked out into the dark silence of midnight, already there was at least half a foot of a fresh blanket.
Two weeks ago, the mountains had already received more snow this season than they had all of last winter.
My heart is bursting with gratitude as I think of the replenishment of mountain streams and forest roots, as I imagine spring wildflowers embroidering across last summer's black burn scars.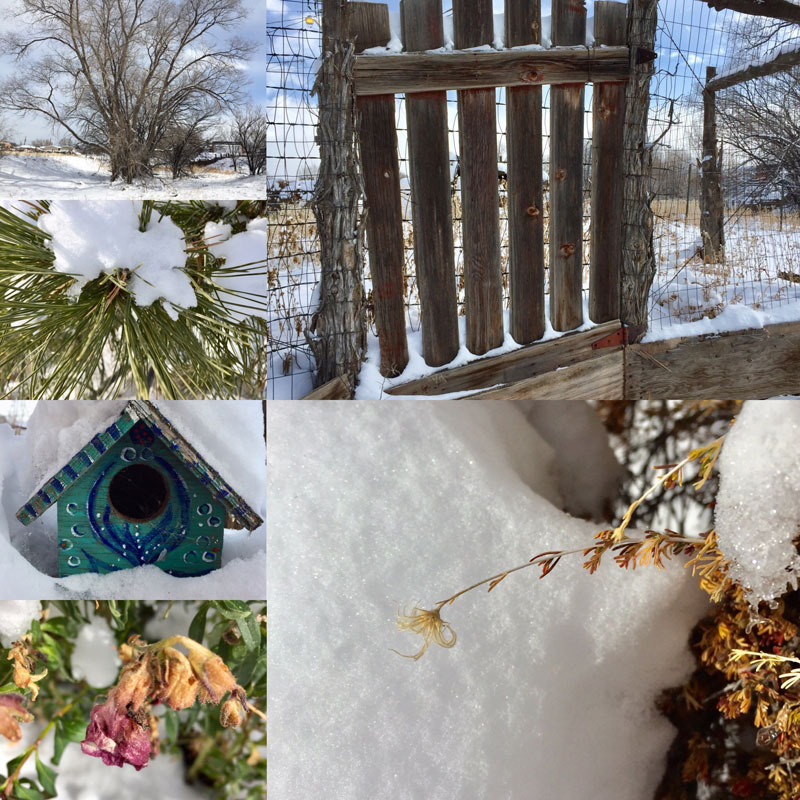 My intention was that as you read this morning's musings, I would be standing shivering (joyfully!) in the early morning shadow of ten-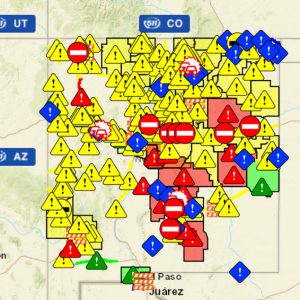 thousand geese and cranes rising. For today is my birthday, and my favorite way to celebrate this day (as you surely know by now if you are a regular reader) is to witness the sunrise wave of wings down at the Bosque.
However heavy snows and treacherous road conditions are causing me to put off this particular form of celebration — for now. Just for now.
But as I wait to witness wingsong again, the ribbons of the Rio Grande are recharging their life force. The shallow waters where the cranes roost are deepening; the fields where they feed are being nourished. And so winter weather cautions me to wait.
I do so patiently.
If I cannot watch the wings this day, then I shall conjure them here, in my little sanctuary of creativity, and let them come to life, lifting and rising from pages of paint and paper.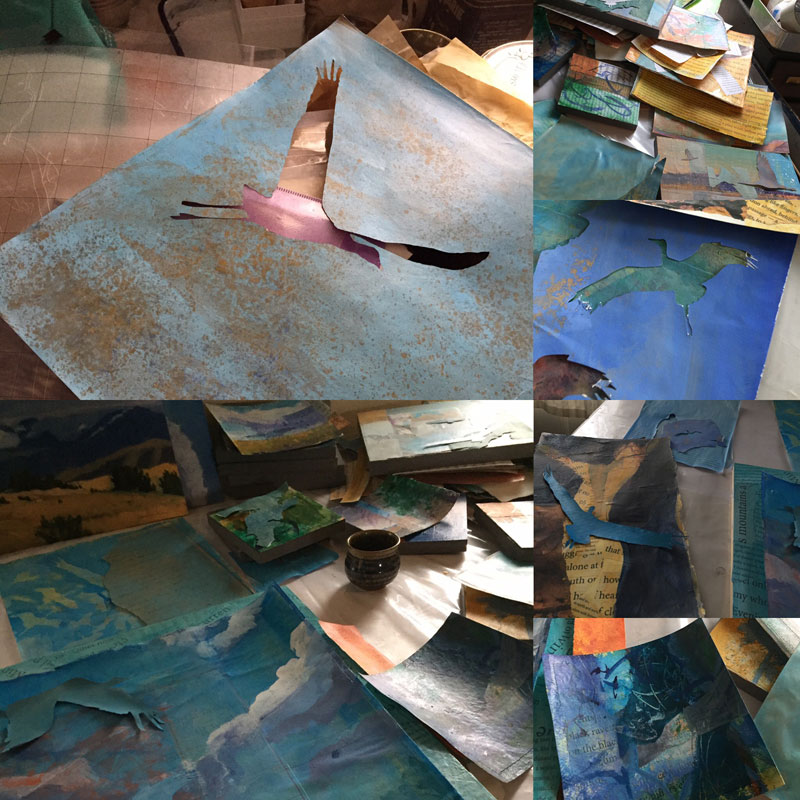 Meanwhile…. Happy New Year to you good people. You've helped make this 54th year a wonderfully good one for me. I appreciate you and count you among my many blessings.
As a small token of my appreciation, and in celebration of my special day, I've a small gift for any of you who wish to make use of it ~ 54% off all of my art. Just for today ~ December 29, 2018.
Here's the coupon code: DAWNROCKS54 ~ Or simply click here for the direct link for the coupon offer.
Come December 30, the coupon will expire (sorry, no exceptions) and come the new year, some of my prices will be going up.
So today's your chance to get that piece you've been longing for…
Oh… But what about my crane paintings?
It's been a while…. so here ~ I can think of none better to share on my favorite day of the year than this one….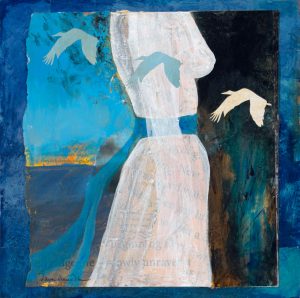 One of the intriguing aspects of painting for me is that I never know how a painting is going to turn out, or rarely even what it is going to be about. The exception is with my "traditional landscapes," where I have a general expectation that ultimately it's going to look (at least somewhat) like the scene I'm trying to capture. But when it comes to my mixed media, collage, and more abstract works, I rarely, if ever, have an end goal in mind. Rather,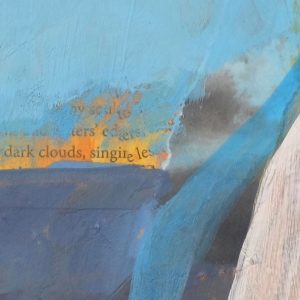 I'm open to what evolves from juxtaposing color, shape and line, and seeing what emerges.
I don't even remember how this painting began. Likely with complete abstraction. I'd bet that once I added light blue, I started seeing sky.
But this figure of the woman…. She is so literal… I imagine she emerged from several white abstract brush strokes… and then I started seeing the suggestion of a female figure in a white dress….
I drew her out with more paint… delineated her shape a bit more, then added a sash of blue…. blue reminiscent of a river, a passage of sky…
The cranes were the last design element I added. I recall my heart quickened when I added them. Whenever that happens, I know my Muse is happy.
I suppose many people see a female figure in a white dress and instantly assume she's a bride.
Or perhaps she's a ghost.
So often the first place where my mind goes with a woman in a long white dress is Emily Dickinson.
Our female figure here in this painting may be any of these.
Or all of these.
Or none.
Surely, though, she's a dreamer.
And a poet, dressed in the colors of cloud and sky….
And a lover of winged beings, one whose pulse quickens with the first sound above of them returning home again.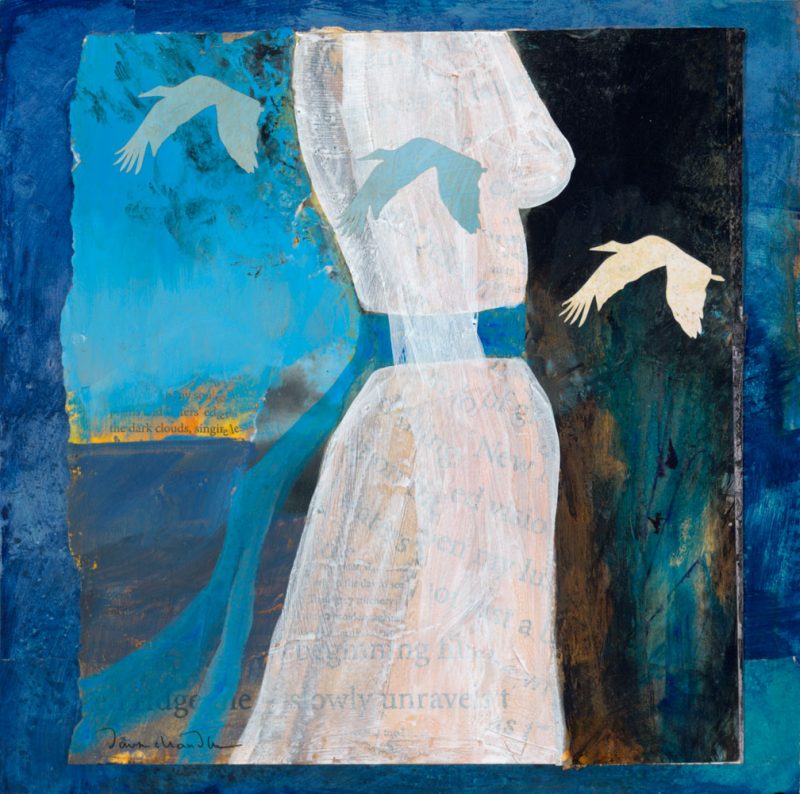 She Paused to Listen – They Were Coming Home Again ~ by Dawn Chandler
Mixed media on panel ~ 12″ x 12″
This painting is available here.
---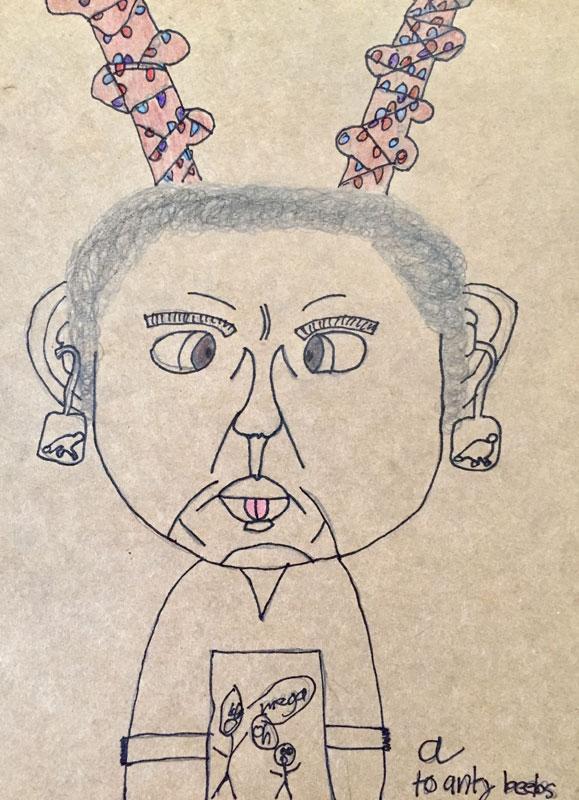 Pictured left: A strikingly accurate portrait of artist Dawn Chandler* ("Anty Beebs" ) by her nephew, up-and-coming rock-star artist, Alex Chandler, age 10.

* Note the crane earrings…
---
Thank you for reading my blog and appreciating my musings.
If you enjoy my posts and know others who might enjoy them too, please feel free to share this.
Happy New Year!
Dawn Chandler
p.s.: You can find more of my stories, insights and art via my Inside the Studio Notes — and of course here on my website, www.taosdawn.com, as well as on Instagram and Facebook.
---
All photos & paintings throughout this blog are by Dawn Chandler unless otherwise noted.